---
Gold Finds Support
By Colin Twiggs
October 28, 2008 5:00 a.m. ET (8:00 p.m. AET)
These extracts from my trading diary are for educational purposes and should not be interpreted as investment or trading advice. Full terms and conditions can be found at Terms of Use.
Spot gold made a failed break through support at $700, reversing within a few hours, before rallying to test resistance at $750. The subsequent down-swing respected support at $700 and was followed by a rally that broke the downward trendline; both bullish signs. Breakout above $750 would test the band of resistance between $815 and $820. The primary trend remains down, however, and reversal below $700 would warn of another down-swing to test the June 2006 low of $550.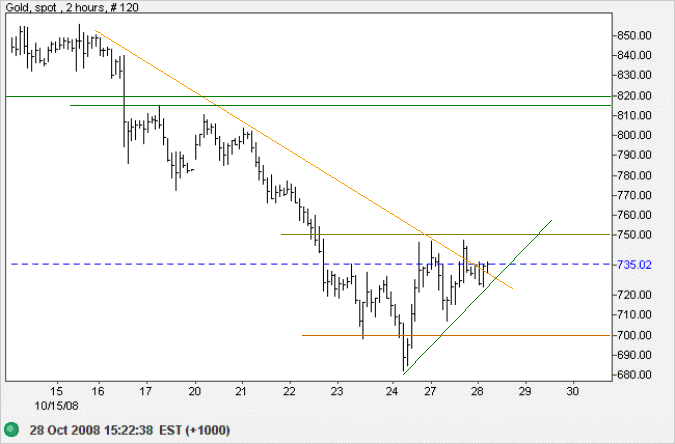 In the long term, the broadening descending wedge displays both a failed up-swing and penetration of the lower border, indicating that a test of $550 is likely.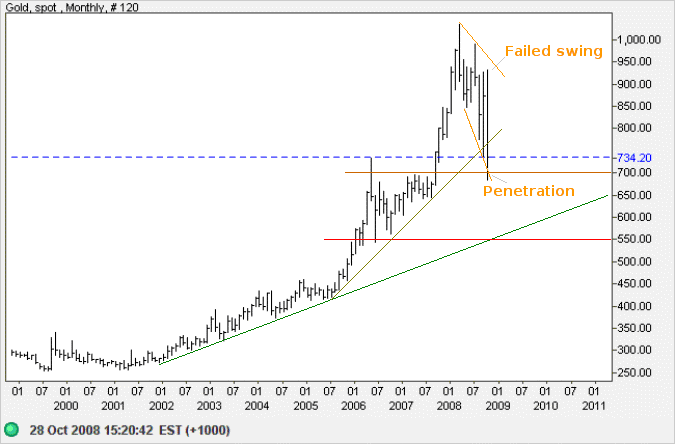 Source: Netdania
West Texas Intermediate Crude is in a strong downward trend channel, now testing support at $60. Failure would test the 2007 low of $50/barrel.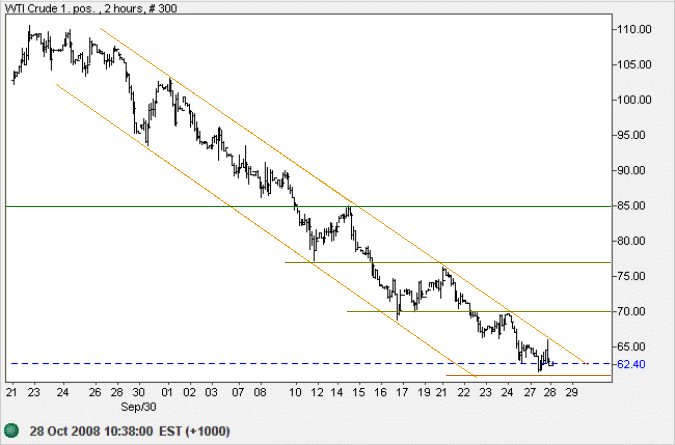 Upward breakout from the trend channel is less likely and would indicate a bear rally to test $77 — possibly $85. But the primary trend remains down, driven by expectations of a global recession. OPEC production cuts of 1.5 million barrels a day have had no effect so far and further cuts may be necessary to support prices.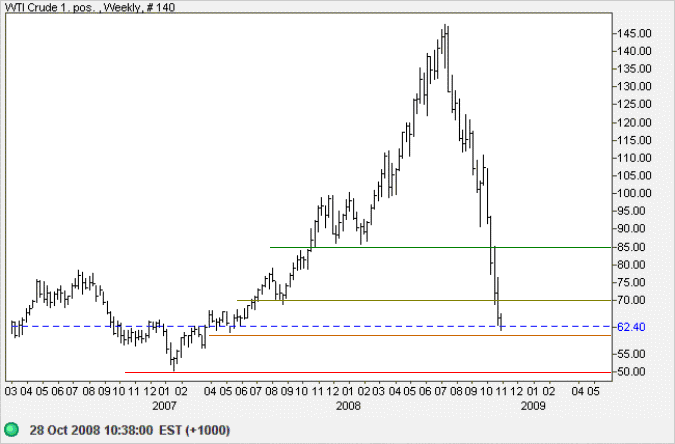 Source: Netdania
Euro
The euro found support at $1.2350 and is now testing the new resistance level at $1.25. The tweezer-shaped bottom is a bullish sign and breakout above the downward trendline would suggest a bear rally with a target of 1.2750, possibly $1.30.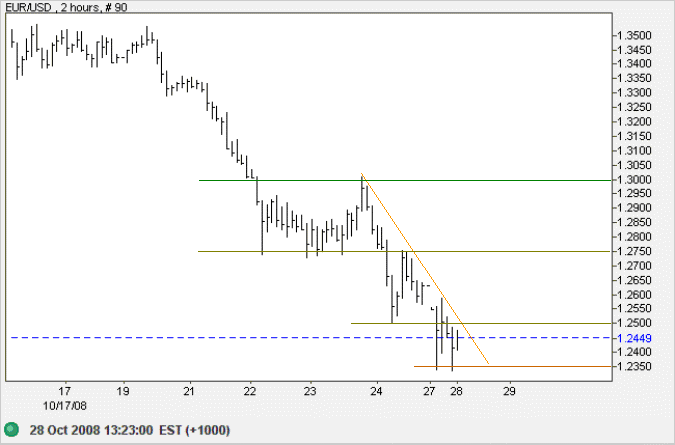 The primary trend is down, however, and a test of the 2005 low of $1.16 remains likely in the longer term.
Source: Netdania
Japanese Yen
Unwinding carry trades are causing the yen to strengthen. The dollar broke through support at 96, signaling a test of the 1995 low of 80 against the yen.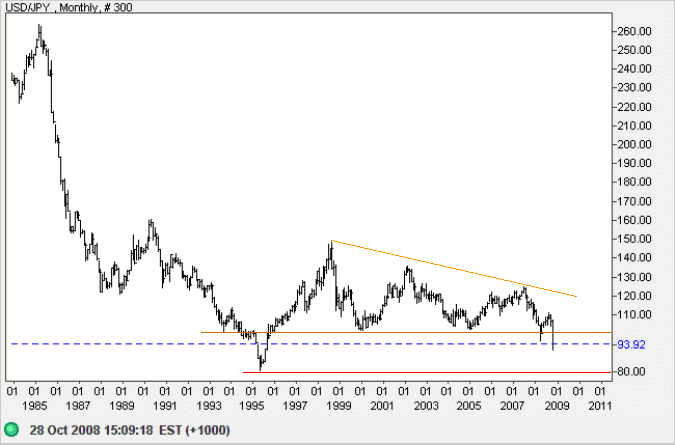 Source: Netdania
Australian Dollar
The Australian dollar found support at $0.60 against the greenback, retracing to test the new resistance level at $0.63. The RBA stepped in, buying dollars to support the little battler, but may still be swamped by large capital flows. Upward breakout is unlikely — and would test the medium-term trendline at around $0.6800.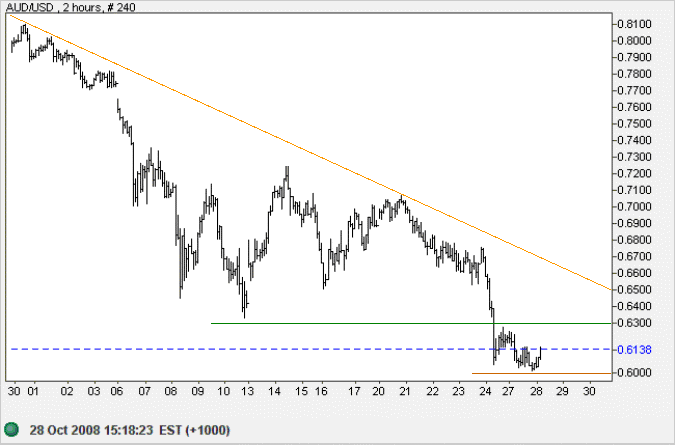 The primary trend remains down and further weakness may restrict RBA rate cuts. Expect rising import prices to cause an inflation spike. Breakout below $0.60 would test the band of support between $0.4800 and $0.5000, the 2001 lows.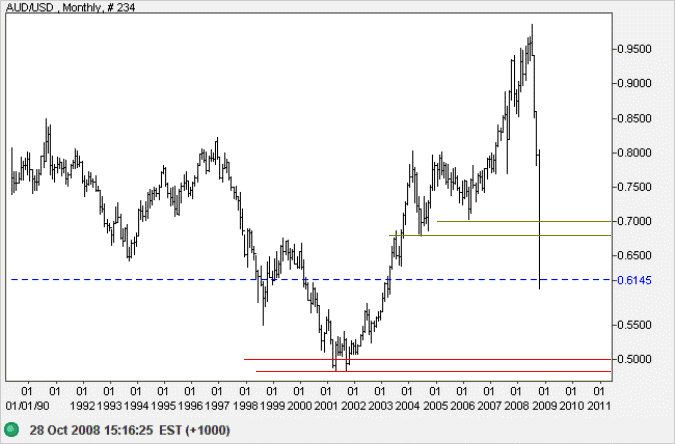 Source: Netdania
The Aussie is already testing its 2000/2001 low of 55 against the yen. Failure would leave the yen in blue sky territory — and the Aussie at the bottom of the harbor. I have no way of calculating a target if this occurs, but further falls would be unimpeded by support levels.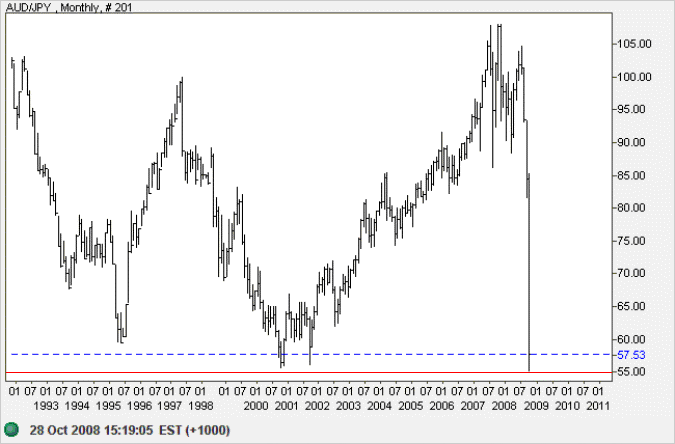 Source: Netdania
Expect the best. Prepare for the worst.
Capitalize on what comes.

~ Zig Ziglar