---
What's New
By Colin Twiggs
October 25, 2008
These extracts from my trading diary are for educational purposes and should not be interpreted as investment or trading advice. Full terms and conditions can be found at Terms of Use.
Some readers will find the new beta version disappointing because it does not yet include any new filters. We have developed a completely new interface that enables users to save and retrieve stock screens and would like you to test this and provide us with feedback before we release the full version.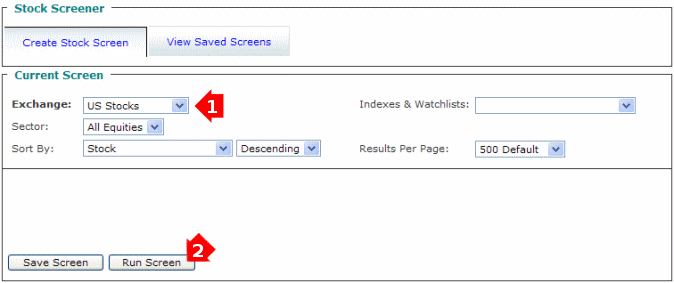 To test that the screener is working:
Select an Exchange
Click the Run Screen button
Stock Screener - Save Screen
To save a screen, first add filters using the Add Filters menu. These will be displayed in the Current Screen section.

Second, click the Save Screen button.
And create a unique name for your saved screen.

The saved screen will then be displayed on the View Saved Screens tab.
Stock Screener - Saved Screens
To view your saved screens, select the Saved Screens tab at the top of the Stock Screener.

The Saved Screens tab offers you the option to either Run, Edit, or Delete a saved screen.

Run
The Run command will use your latest settings for:
Exchange
Index
Watchlist
Sector
If unsure of these settings, rather select Edit and then Run Screen after you have checked/adjusted them.
Please give us your feedback. Try the new stock screener, then click the button below.

The expectations of life depend upon diligence;
the craftsman that would perfect his work
must first sharpen his tools.

~ The Analects of Confucius