---
Crude Pauses
By Colin Twiggs
June 3, 2008 5:30 a.m. ET (7:30 p.m. AET)
These extracts from my trading diary are for educational purposes and should not be interpreted as investment or trading advice. Full terms and conditions can be found at Terms of Use.
The recent rally on spot gold fell short of resistance at $950 and, together with the strong retracement, indicates weakness. Reversal below this week's low would signal another test of support at $850. In the longer term, breakout below $850 would signal a primary down-trend but, considering the weakness of the dollar and the strength of oil, this remains unlikely. Breakout above resistance at $950, on the other hand, would indicate a primary advance to test $1000.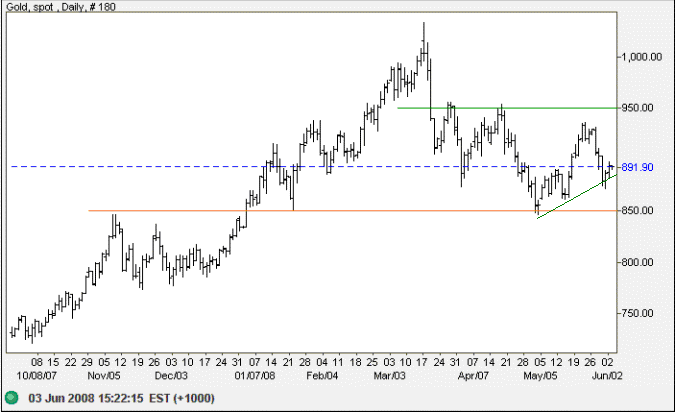 What we are most likely witnessing is a large consolidation similar to the formation in 2006. Respect of support at $850 would confirm this.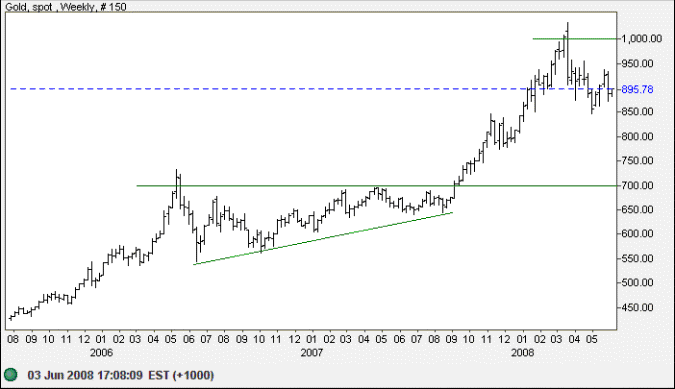 Source: Netdania
West Texas Intermediate Crude found short-term support at $125. Reversal above $130 would signal another rally. Breakout below $123 is not expected, but would warn of a secondary correction. A word of caution: rising trendlines show an accelerating up-trend, or self-reinforcing cycle — likely to culminate in a sharp upward spike followed by an equally sharp drop as the market corrects.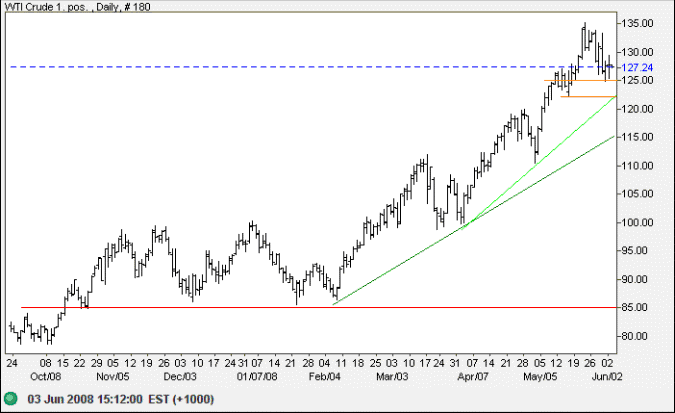 The euro formed a short-term consolidation at $1.55. Downward breakout would test primary support at $1.53; reversal above $.56 would signal continuation of the rally (to test $1.60). In the longer term, further consolidation between $1.60 and $1.53 is expected. Central banks are likely to intervene to prevent further appreciation of the euro above $1.60, while the US economy is expected to weaken further before recovering.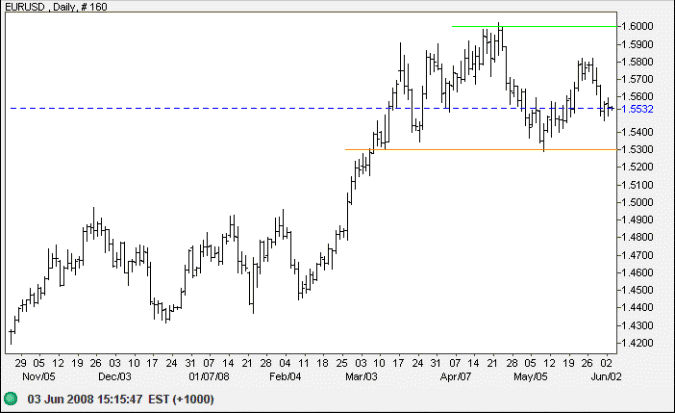 Source: Netdania
The greenback is consolidating between 103 and 106 yen. Downward breakout would test long-term support at 100, while a rise above 106, while not expected, would signal reversal to a primary up-trend.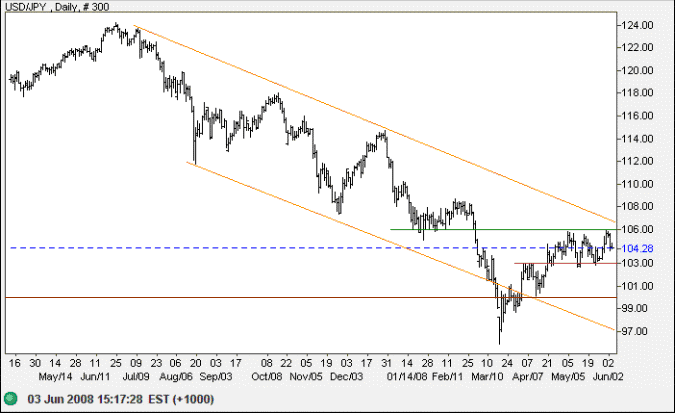 Source: Netdania
The Australian dollar retraced to test the new support level at $0.95. Respect of support is likely — and would confirm the breakout. Expect a test of parity in the weeks ahead.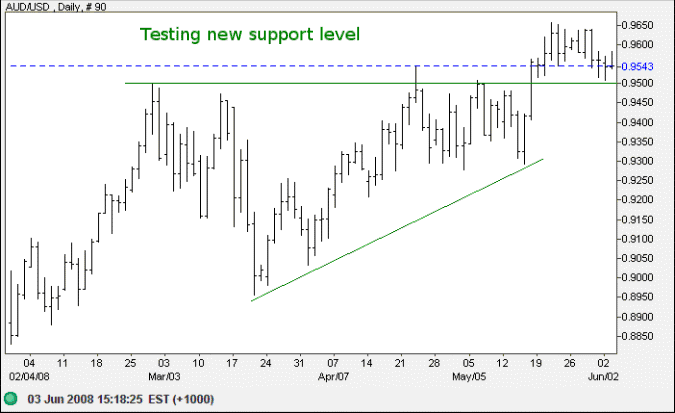 Source: Netdania
The Aussie made a false break above 100 yen. Respect of support at 99, however, would be a bullish sign — and reversal above 100 would offer a target of 108. Failure of support, on the other hand, would test 96 — and a fall below 96 would warn of a test of long-term support at 86/88.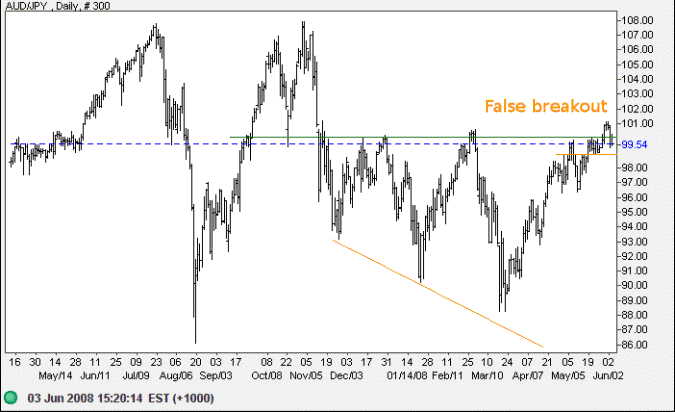 Source: Netdania
In the distance, I see a frightful storm brewing in the form of untethered government debt. ...... Unless we take steps to deal with it, the long-term fiscal situation of the federal government will be unimaginably more devastating to our economic prosperity than the subprime debacle and the recent debauching of credit markets that we are now working so hard to correct.

~ Federal Reserve Bank of Dallas President, Richard Fisher
To understand my approach, please read About The Trading Diary.