---
Gold Finds Support
By Colin Twiggs
May 20, 2008 3:30 a.m. ET (5:30 p.m. AET)
These extracts from my trading diary are for educational purposes and should not be interpreted as investment or trading advice. Full terms and conditions can be found at Terms of Use.
Spot gold respected support at $850, before recovering above $890 to signal a (medium-term) rally. The short-term target is $930 ($890+[890-850]) and the medium-term target $960. Another correction that respects support at $850 would confirm a healthy up-trend; while failure would warn of a test of primary support at $770. Breakout above $960, on the other hand, would signal another primary advance.
Source: Netdania
June 2008 Light Crude broke out above its narrow consolidation at $125 per barrel and is likely to test $130. Reversal below $124, while not expected, would signal another retracement to test support at $120. Rising trendlines show an accelerating up-trend, or self-reinforcing cycle. We are likely to witness a sharp upward spike if the acceleration continues — followed by a steep drop as the market corrects from its excesses.
The long-term chart of Brent crude shows price at the upper border of the trend channel. Further rises above the channel would again warn of a blow-off spike.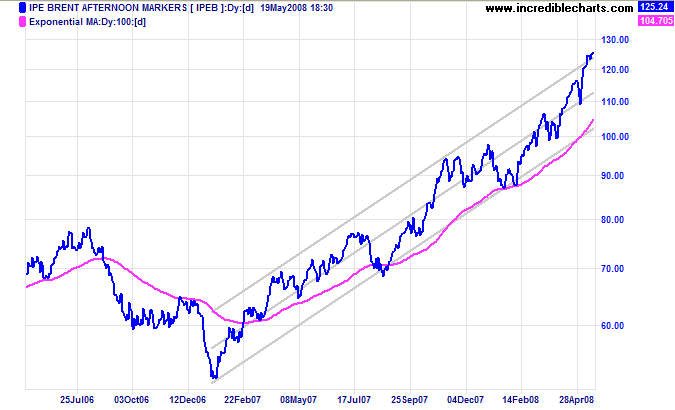 The euro respected support at $1.53, following a similar pattern to gold, with a high above $1.56 signaling a medium-term rally. A further correction that respects $1.53 would indicate that the primary up-trend remains in good health and a test of $1.60 can be expected; while failure would warn of a test of primary support at $1.43. In the longer term, resistance at $1.60 is expected to hold — with central bank intervention to prevent further depreciation of the dollar.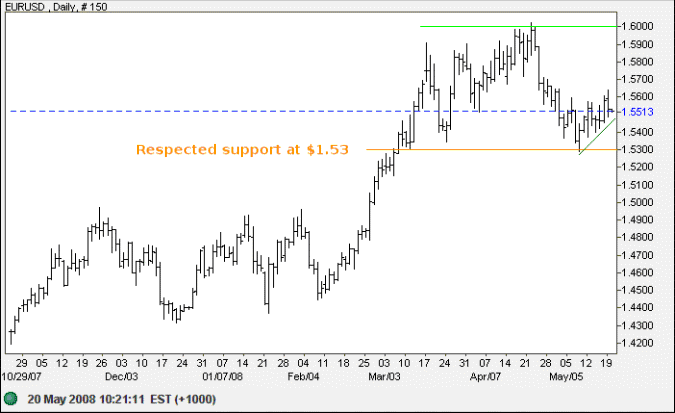 Source: Netdania
The greenback is consolidating below 106 yen. Failure of short-term support would mean another test of 100, but any further falls are likely to result in central bank intervention. Breakout above 106, while not expected, would indicate that the primary down-trend is weakening.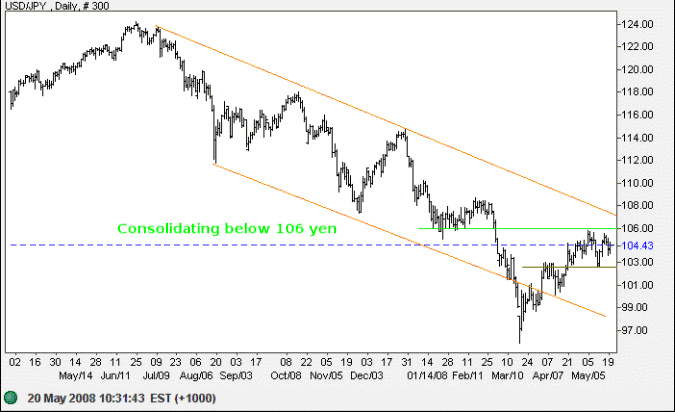 Source: Netdania
The Australian dollar broke through resistance at $0.95, offering a target of parity. In the short-term, expect a retracement to confirm the new support level (at $0.95). Reversal below $0.93, however, would indicate that the signal had failed.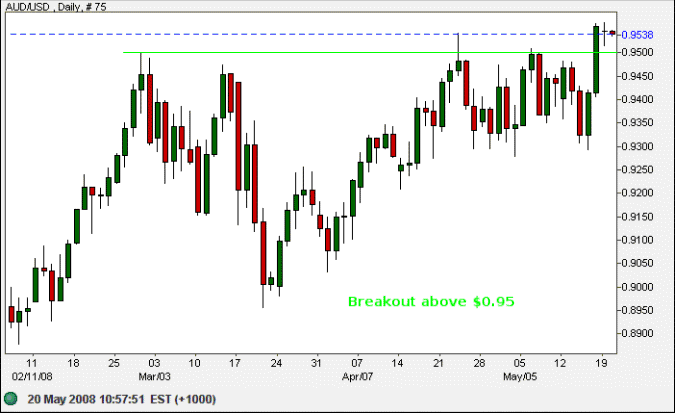 Source: Netdania
The Aussie has encountered strong resistance at 100 yen. Breakout would offer a target of 108, while reversal below 96 remains as likely — and would signal a test of long-term support at 86/88.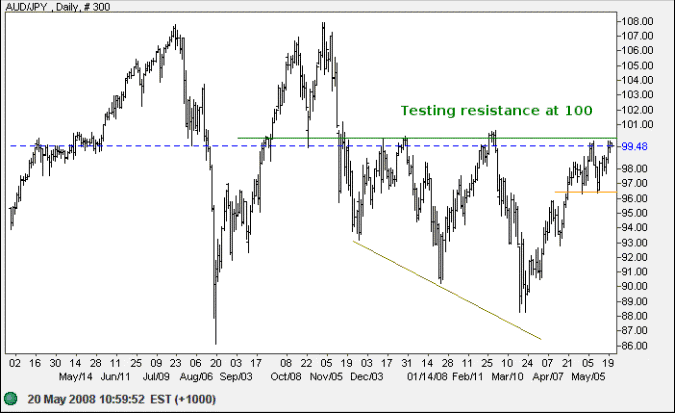 Source: Netdania
Know what you want to do, hold the thought firmly, and do every day what should be done, and every sunset will see you that much nearer to your goal.

~ Elbert Hubbard
To understand my approach, please read About The Trading Diary.