---
Oil Soars While Gold Weakens
By Colin Twiggs
May 6, 2008 11:30 p.m. ET (1:30 p.m. AET)
These extracts from my trading diary are for educational purposes and should not be interpreted as investment or trading advice. Full terms and conditions can be found at Terms of Use.
Spot gold found support at $850 after penetrating $870 to confirm the down-trend. Failure of $850 would signal a test of primary support at $770. Expect resistance around $900, at the upper trend channel. Recovery above $950 is now unlikely, and would signal the start of another primary advance.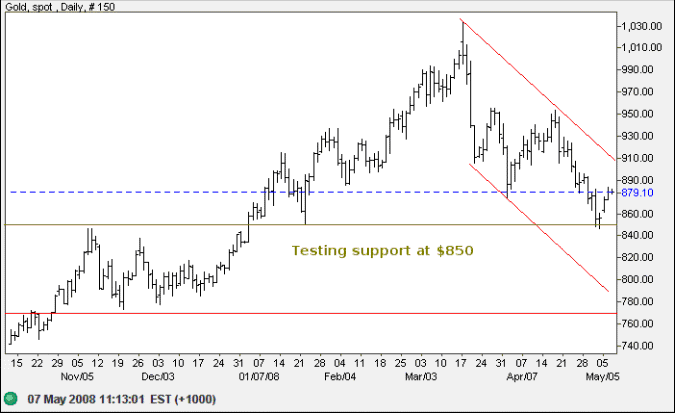 Source: Netdania
The dollar is also likely to strength against the euro and other currencies.
June 2008 Light Crude reflects strong buying pressure, breaking through resistance at $120 after a short retracement. The gap between the recent low and the first line of support at $108 signals strong buying pressure. I first came across this useful measure of trend strength in Bill McLaren's work.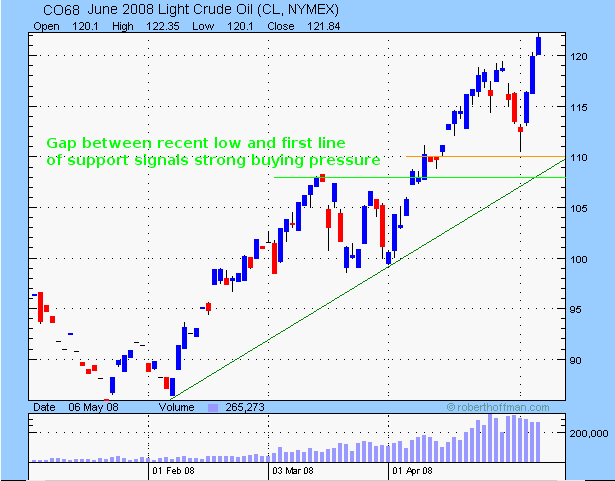 The euro found medium-term support at $1.53 after brushing aside short-term support at $1.55. Failure would confirm a secondary correction, while respect of $1.53 would indicate another test of $1.60. The weakening gold price favors a downside breakout, with initial support at $1.50, followed by primary support at $1.43.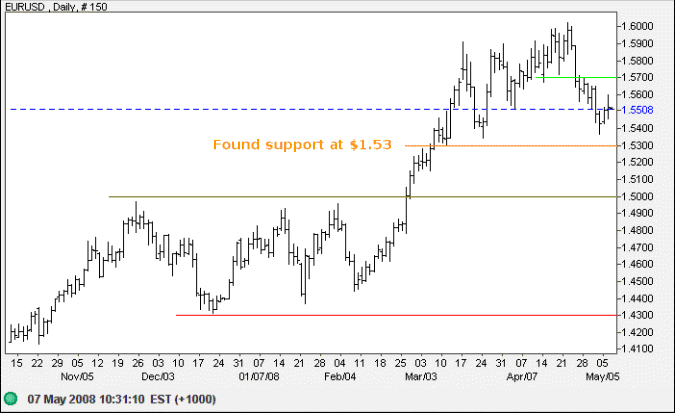 On the weekly chart we can see how far the euro had rallied above its long-term trendline. A secondary correction is likely to find strong support at $1.43.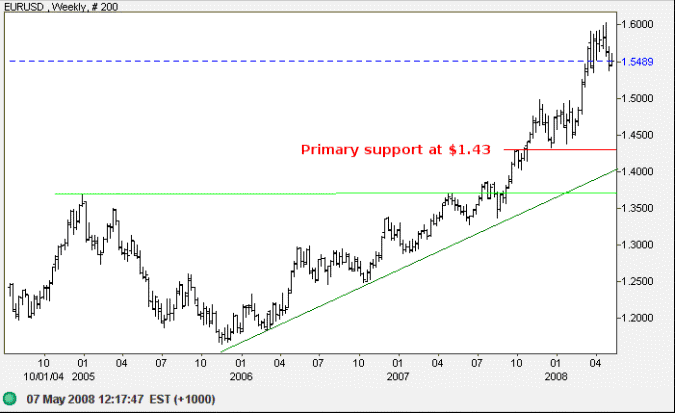 Source: Netdania
The greenback continues to test resistance at 105 yen. Upward breakout is likely to test the upper trend channel and resistance at 109. Reversal below 103 is less likely and would signal a test of the lower channel border at 99.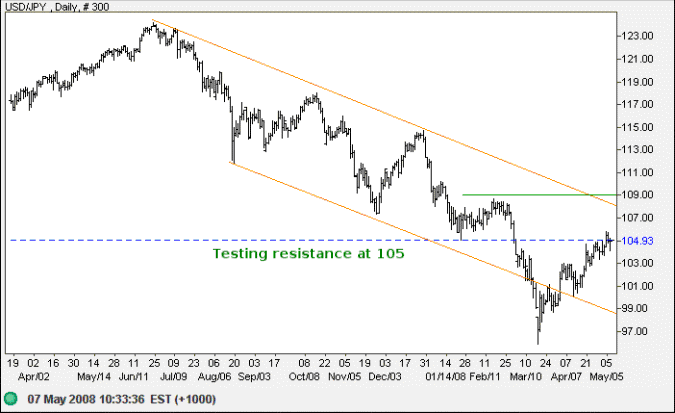 Source: Netdania
The Australian dollar continues in an ascending triangle against the greenback, with short-term support at $0.93. Expect an upward breakout, confirmed if a retracement respects support at $0.95. The target would be 0.95+(0.95-0.90)=1.00 (parity). Reversal below $0.93 is unlikely, and would test support at $0.8950.
Source: Netdania
The Aussie is testing the upper border of a descending right-angled broadening pattern against the yen. Expect strong resistance at 100. Upward breakout would signal a test of 108 yen, while reversal below 96.50 would signal a test of long-term support at 86.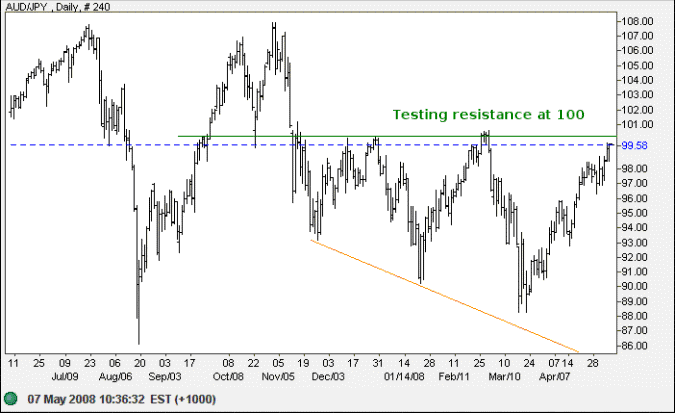 Source: Netdania
Money doesn't make you happy.
I now have $50 million,
but I was just as happy when I had $48 million.

~ Arnold Schwarzenegger
To understand my approach, please read Technical Analysis & Predictions in About The Trading Diary.