---
Euro Bullish Formation
By Colin Twiggs
April 15, 2008 4:00 a.m. ET (6:00 p.m. AET)
These extracts from my trading diary are for educational purposes and should not be interpreted as investment or trading advice. Full terms and conditions can be found at Terms of Use.
Spot gold rallied off support at $870. A break of the short-term rising trendline would warn of another test of $870. Respect of this support level would be a positive sign, while failure would signal a test of primary support at $800/$775.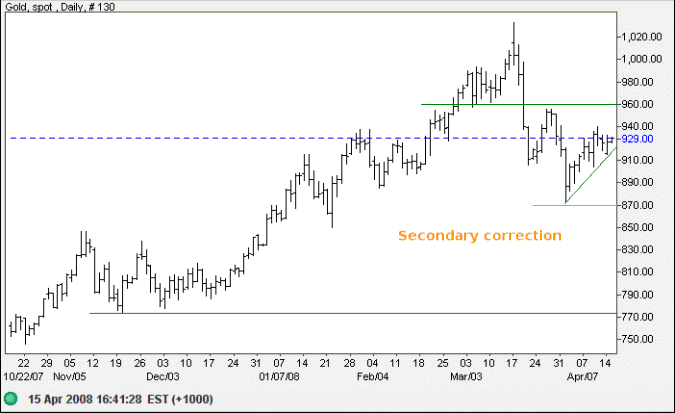 Source: Netdania
Gold and the euro have moved in sync since 2006. Further weakness in the dollar will ensure that gold resumes its upward path — in line with the euro.
June 2008 Light Crude broke through resistance at $108, offering a target of 108+(108-99)=$117. Short-term retracement to test the new support level is normally a 60% probability.
The euro shows a bullish ascending triangle below resistance at $1.59. Expect an upward breakout with a medium-term target of 1.59+(1.59-1.53)=$1.65. Reversal below the lower border, to test support at $1.50, remains unlikely.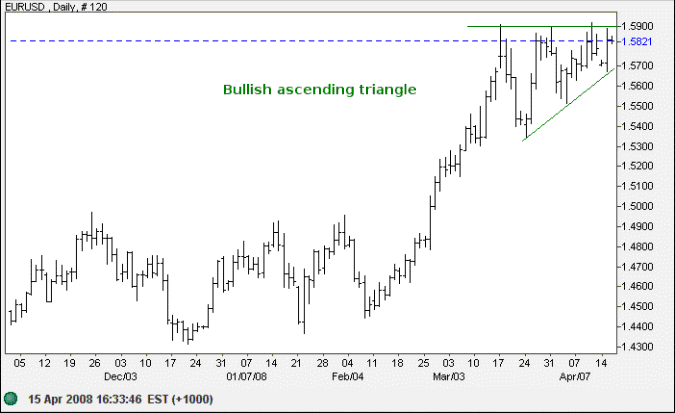 Source: Netdania
The greenback is testing support at 100 yen. Failure of support would re-test primary support at 96, while reversal above 103 would rally to the upper border of the trend channel. In the longer term, a break below $96 would offer a target of 90.
Source: Netdania
The Australian dollar is headed for a test of resistance at $0.95; breakout would offer a target of 0.95+(0.95-0.90)=1.00 (parity). Penetration of the short-term rising trendline is not expected and would warn of another test of support at $0.90.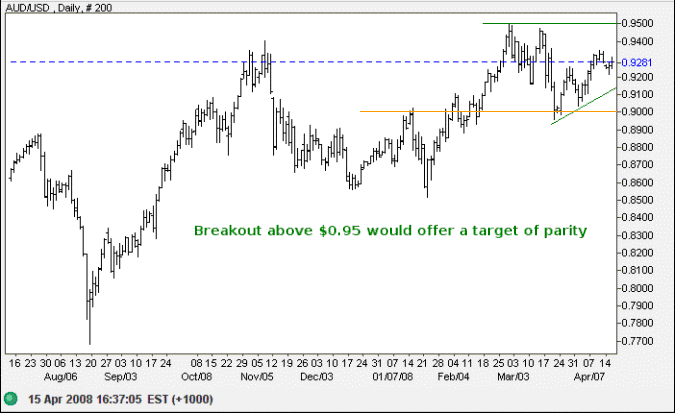 Source: Netdania
The Aussie continues in a descending right-angled broadening pattern against the yen, with strong resistance at 100. In the short term, recovery above 96 would signal that the rally is intact, while reversal below the recent low at 93 would warn of a failed up-swing and downward breakout. The long-term target (for a downward breakout) would be 86-(108-86)=64.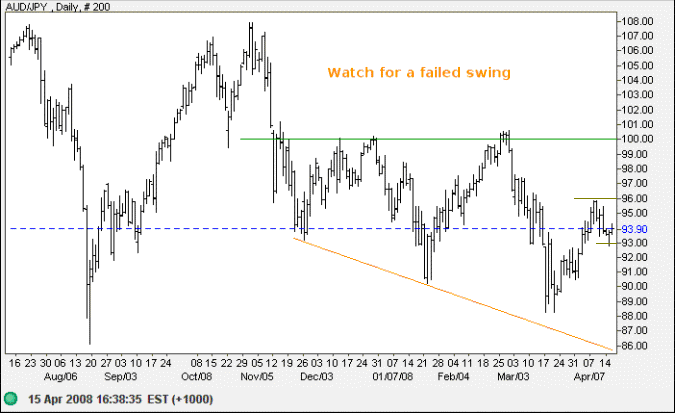 Source: Netdania
The first requisite of a sound monetary system is that it put the least possible power over the quantity or quality of money in the hands of the politicians.

~ Henry Hazlitt
To understand my approach, please read Technical Analysis & Predictions in About The Trading Diary.