---
Gold Looks For Support
By Colin Twiggs
April 8, 2008 11:00 p.m. ET (3:00 p.m. AET)
These extracts from my trading diary are for educational purposes and should not be interpreted as investment or trading advice. Full terms and conditions can be found at Terms of Use.
Spot gold broke support at $900, signaling the start of a secondary correction. The primary trend remains intact and would only reverse if support at $775 is penetrated. Expect medium-term support at $850.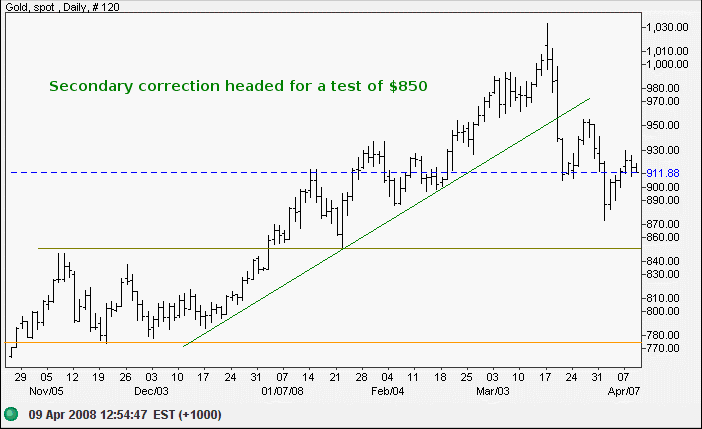 Gold and the euro have moved in sync since 2006. Precious metals were affected by across-the board profit-taking in commodities, while the euro has been relatively unscathed. Further weakness in the dollar should ensure that gold resumes its upward path — in line with the euro.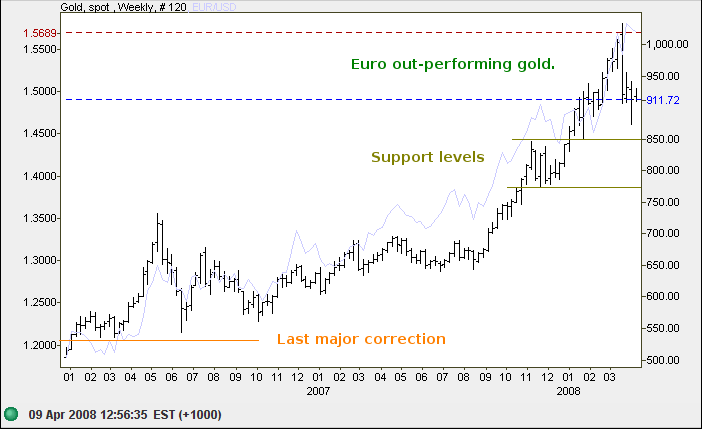 Source: Netdania
June 2008 Light Crude is testing resistance at the previous high of $108. Strong volume signals selling pressure and a likely reversal to test support at $99/100. A rise above $108.50, while not expected, would indicate a strong up-trend.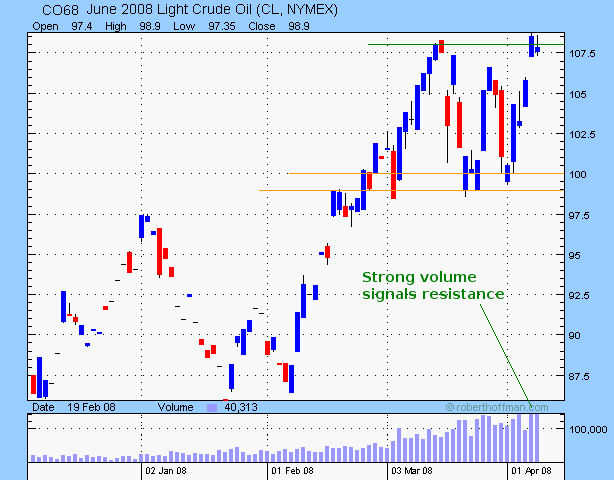 The euro shows a bullish ascending triangle below resistance at $1.59. Breakout would offer a short-term target of 1.59+(1.59-1.53)=$1.65. A failed swing, where price reverses without testing the upper border of the formation, while not expected, would warn of a downward breakout and a test of $1.50.
Source: Netdania
The greenback formed a narrow rectangle below 103 yen. Upward breakout would test the upper border of the main trend channel, while reversal would test 95 — with a likely downward break to test the all-time low of 80.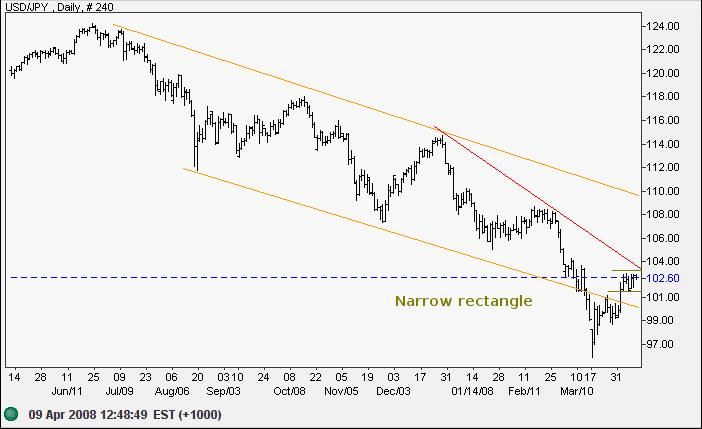 Source: Netdania
The Australian dollar respected support at $0.90 and is headed for a test of resistance at $0.95. The higher low confirms that the up-trend is intact; breakout above $0.95 would offer a target of parity — 0.95+(0.95-0.90)=1.00.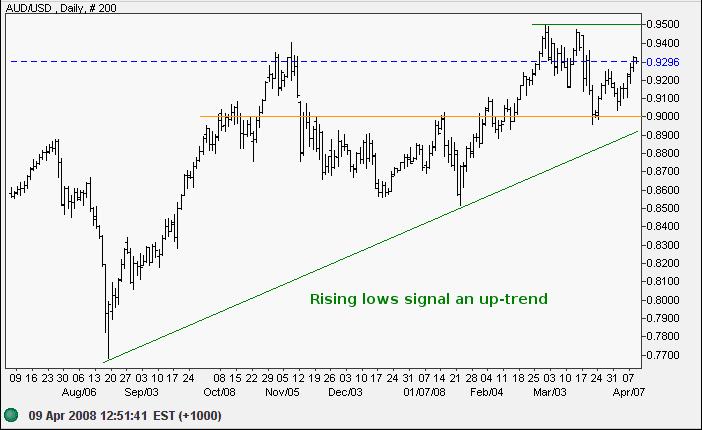 Source: Netdania
The Aussie continues to display a descending right-angled broadening pattern against the yen. Expect strong resistance at 100. A failed up-swing would warn of a downward breakout — and a long-term target of 86-(108-86)=64.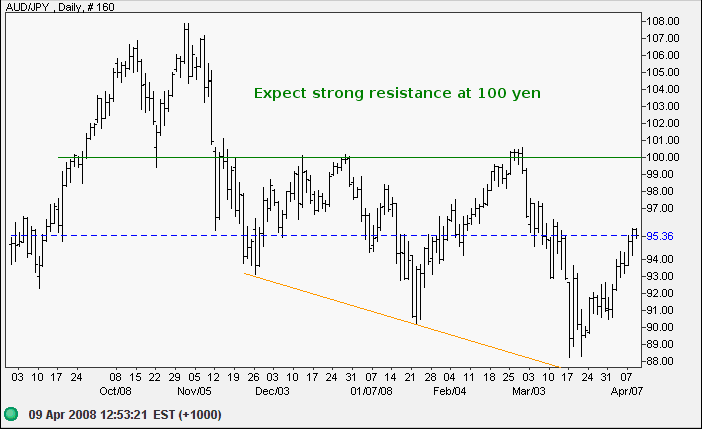 Source: Netdania
The presence of politicians at the inauguration of the Olympics seems inappropriate. I do not intend to take part.

~ Polish Prime Minister Donald Tusk — a view subsequently endorsed by German chancellor Angela Merkel: March 29, 2008.
To understand my approach, please read Technical Analysis & Predictions in About The Trading Diary.