---
Fear Remains High
By Colin Twiggs
April 3, 2008 5:30 a.m. ET (9:30 p.m. AET)
These extracts from my trading diary are for educational purposes and should not be interpreted as investment or trading advice. Full terms and conditions can be found at Terms of Use.
The spread between the fed funds rate and 3-month T-bills remains high, warning of an unstable market. Investors continue to prefer the safety of treasury securities against significantly higher yields in the inter-bank and commercial paper markets.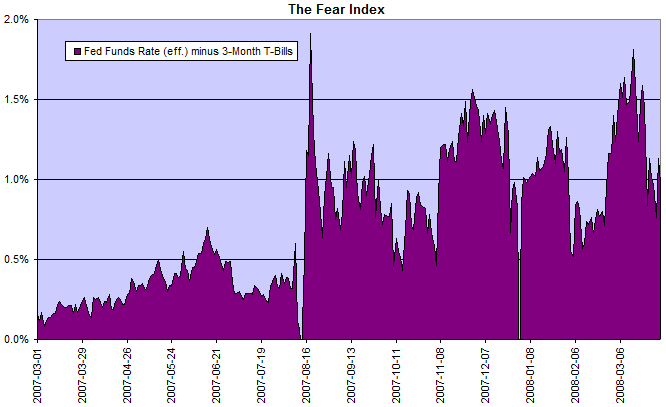 Ten-year treasury yields have found support at 3.40% — the first positive sign for some time. Expect a test of the long-term moving average. The high yield differential indicates that bank margins have improved, but financial markets will continue to suffer the after-effects of the 2006/2007 negative yield differential for most of 2008.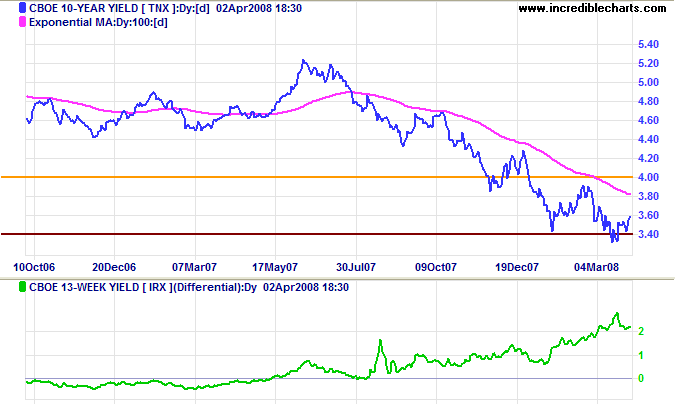 Three-month treasury bill yields are consolidating between 1.20% and 1.50%, but the strong down-trend continues. Recovery above 1.50% would be a positive sign, while a fall below 1.20% would warn of further trouble ahead.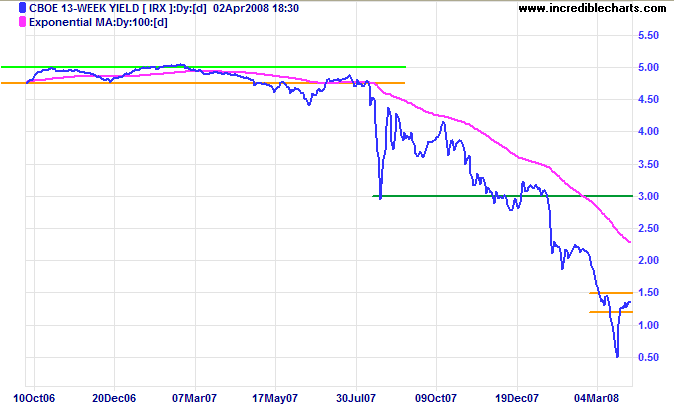 The spread between asset-backed and financial commercial paper signals the market's continued aversion to risk. The fed funds rate dipping below its target of 2.25% indicates that further rate cuts may be necessary.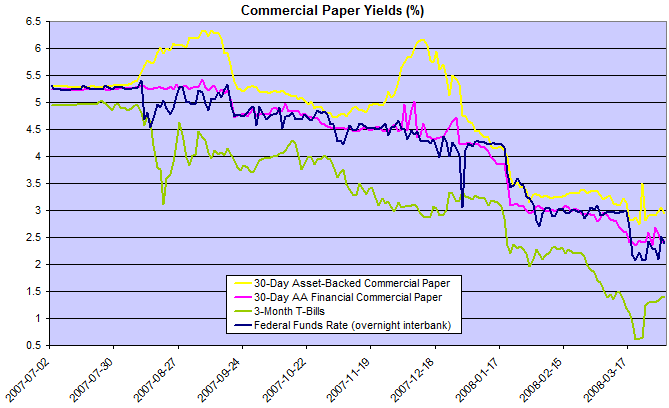 Total asset-backed commercial paper is falling as investors shun new issues and roll-overs, forcing banks to take the debt back onto their balance sheets.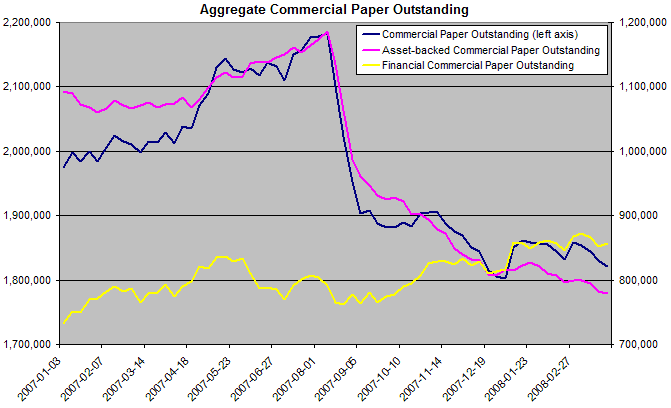 Corporate bond spreads remain high. This will impact on current earnings as well as curtailing new investment.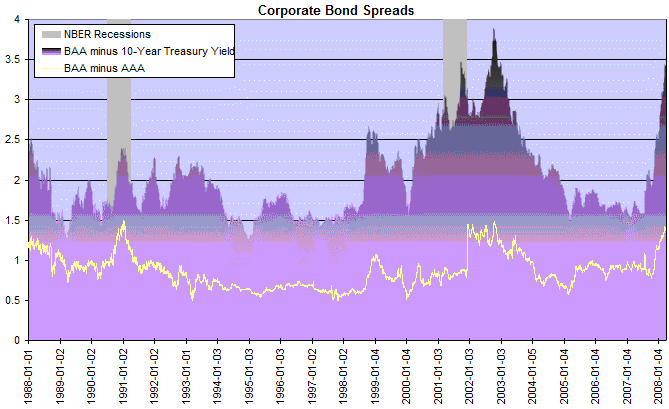 The 30-Year Fixed Mortgage Rate is declining after its recent spike, but the spread with 30-Year Treasury Bonds remains high — indicating continued risk aversion.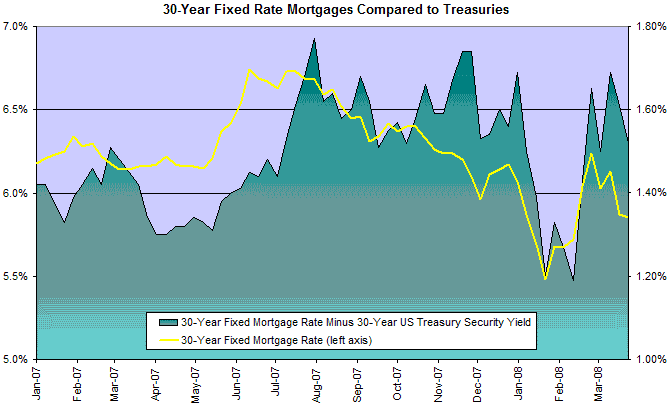 The S&P/GRA commercial real estate index shows signs of recovery in December 2007, but spreads between AAA rated (10-year) commercial mortgage-backed securities and the swap rate remain above 250 points. Further contraction of the commercial real estate market is expected.
Bank credit growth is rising. Unfortunately we cannot tell how much is merely restoration of SIV assets to the balance sheet.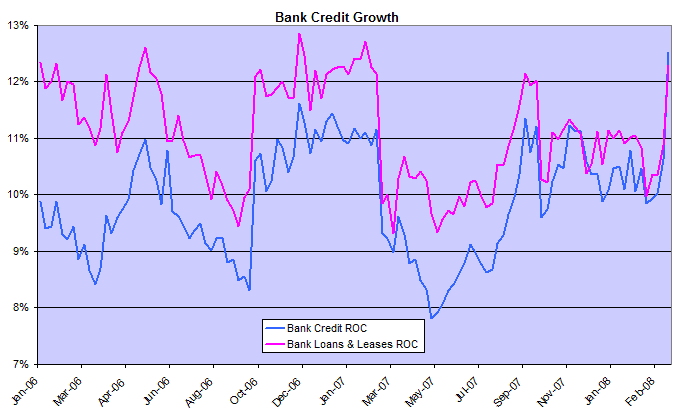 Bank consumer credit gives a clearer picture, falling to practically zero in March 2008 — typical of an economy headed into a recession.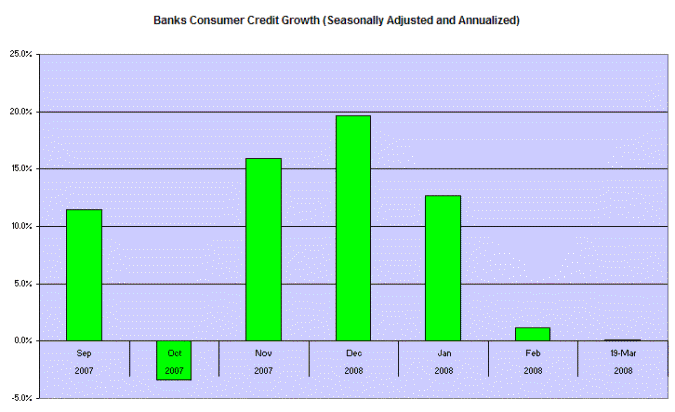 Jonathan Wright's recession prediction model shows probability of a recession in the next four quarters is at a low 1 percent. Please note that the model looks one year ahead and the spike in late 2007 relates to the current crisis.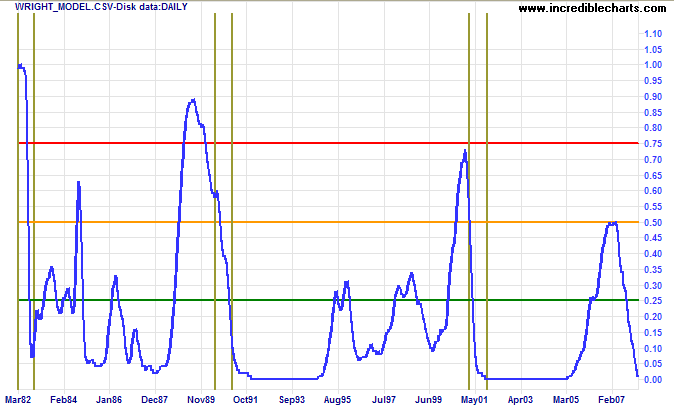 I would prefer to stop publishing the model, as I believe it failed to adequately predict the current recession in a relatively low interest rate environment: the 2007 reading should have reached as high as 80%. Some readers, however, have indicated that they still find the chart useful; so I continue to include it for their benefit.
You shouldn't be worried. You should be angry. We've just come off a multiyear orgy of irresponsibility and recklessness that's unprecedented in the history of finance. Where was the government? Where were the regulators? How did this happen?

~ Barry Ritholtz, CEO at Fusion IQ.
To understand my approach, please read Technical Analysis & Predictions in About The Trading Diary.