---
Euro Responds To Fed Rate Cut
By Colin Twiggs
February 5, 2008 1:30 a.m. ET (5:30 p.m. AET)
These extracts from my trading diary are for educational purposes and should not be interpreted as investment advice. Full terms and conditions can be found at Terms of Use.
The recent Fed rate cut boosted the euro, but had the opposite effect on gold and crude oil.
Spot gold retraced to test support at $900. A rise above Monday's high would indicate that support has held and the metal is likely to test the target of 900+(900-850)=$950. Failure of support is not expected — and would signal a test of $850. Primary support is at $775 and remains unlikely to be tested.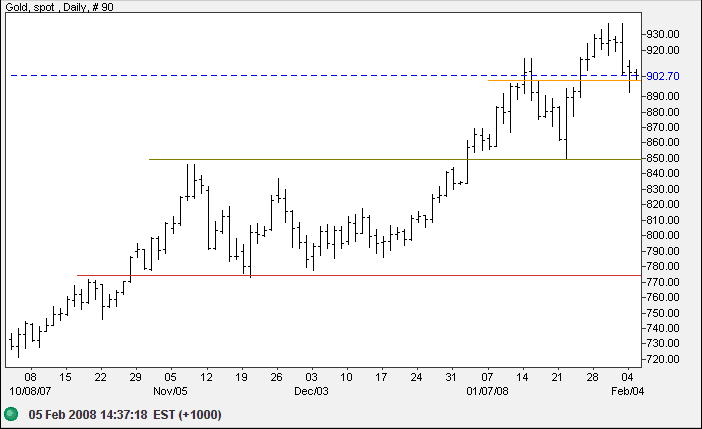 Source: Netdania
March 2008 Light Crude is testing primary support at $87/barrel. Breakout above $92.5 would signal another test of $100. Failure of support at $87 is not expected — and would warn that crude has started a primary down-trend.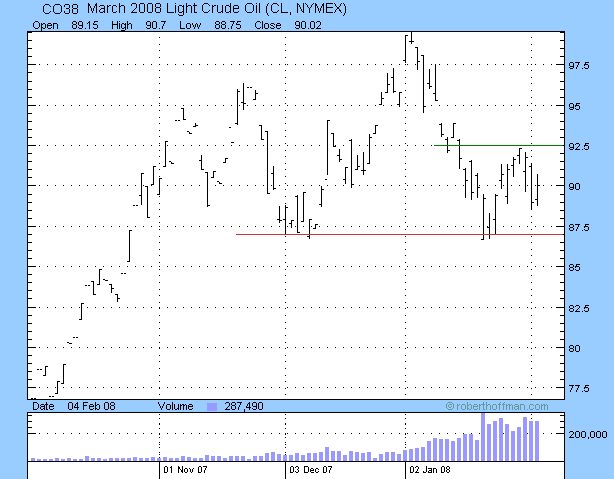 The euro is testing resistance at $1.49. Continued narrow consolidation below this level would be a strong bull signal. In the medium term, breakout above $1.49 (and the key psychogical level of $1.50) would offer a target of 1.50+(1.50-1.43)=$1.57. Downward breakout below $1.43, while not expected, would signal a primary down-trend.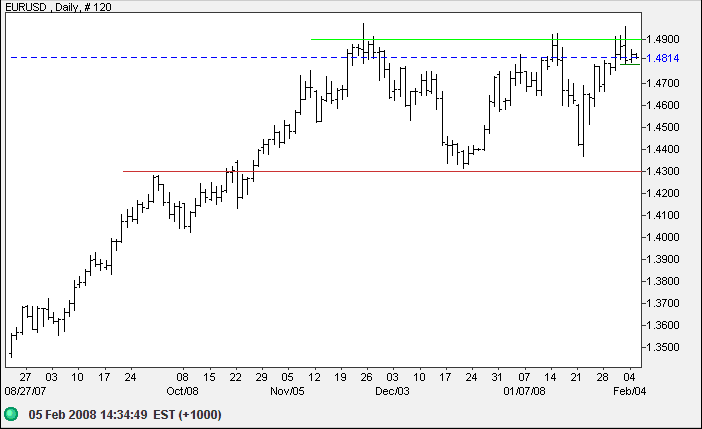 Source: Netdania
The dollar continues in a downward trend against the yen, with a long term target of 100. The short-term pennant favors another down-swing to test the lower border of the trend channel: watch for a breakout below 106.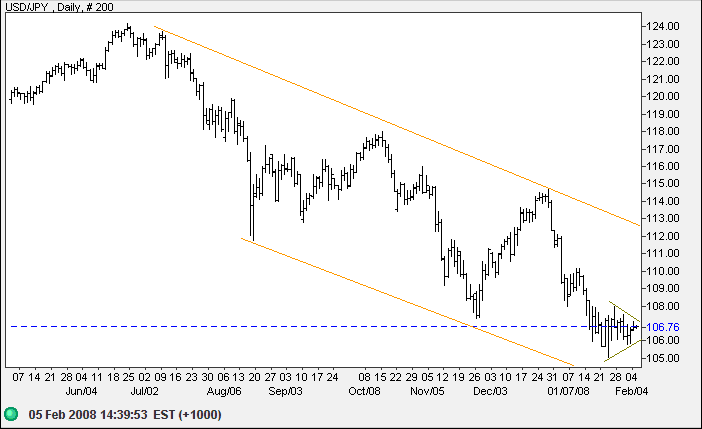 Source: Netdania
The Australian dollar has formed a broadening bottom (megaphone) pattern against the greenback. Breakouts may occur in either direction and offer reliable signals — as do failed (partial) up/down-swings. A rise above $0.91 would indicate a test of $0.94, while a fall below $0.85 would signal continuation of the down-trend. Today's (0.25 per cent) rate rise by the RBA is expected to boost demand for the Aussie, favoring an upside breakout.

The Australian dollar rallied strongly since respecting long-term support at 90 against the yen, but only a rise above 100 would signal reversal to an up-trend.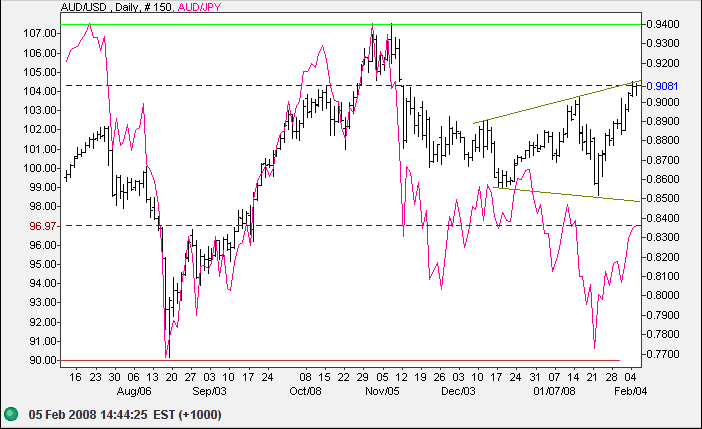 Source: Netdania
A wise man should have money in his head, but not in his heart.

~ Jonathan Swift (1667 - 1745)
To understand my approach, please read Technical Analysis & Predictions in About The Trading Diary.