---
Gold & Euro Await Another Cut
By Colin Twiggs
January 29, 2008 10:00 p.m. ET (2:00 p.m. AET)
These extracts from my trading diary are for educational purposes and should not be interpreted as investment advice. Full terms and conditions can be found at Terms of Use.
Gold, the euro, and crude all rallied after the Fed cut the funds rate to 3.5% on January 22. Expect further demand if the January 30/31 FOMC meeting makes additional cuts.
Spot gold rallied off support at $850 and is likely to reach a target of $950. Any (short/medium-term) retracement is likely to find support at $900. Primary support remains at $775 and is unlikely to be tested.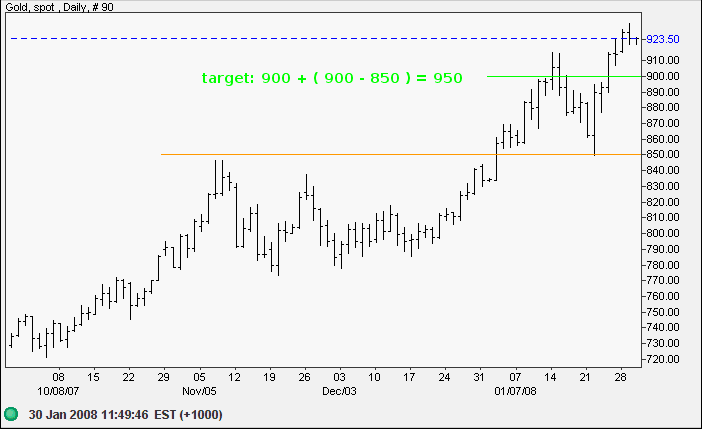 Source: Netdania
June 2008 Light Crude responded to the stimulatory measures announced by the Fed and the government, respecting primary support at $86/barrel and advancing towards another test of $100. Failure of support at $86 is not expected — and would warn that crude has started a primary down-trend.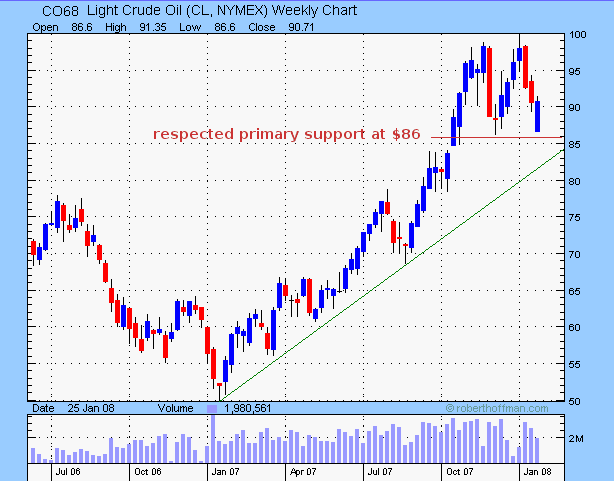 The euro is consolidating in a large symmetrical triangle below resistance at $1.50. Downward breakout, below $1.4350, would warn of a primary down-trend; while a rise above $1.49 would mean another test of the key psychogical level of $1.50. In the long term, breakout above $1.50 would offer a target of $1.57, but there may be a few false breaks (feints) ahead of the real breakout.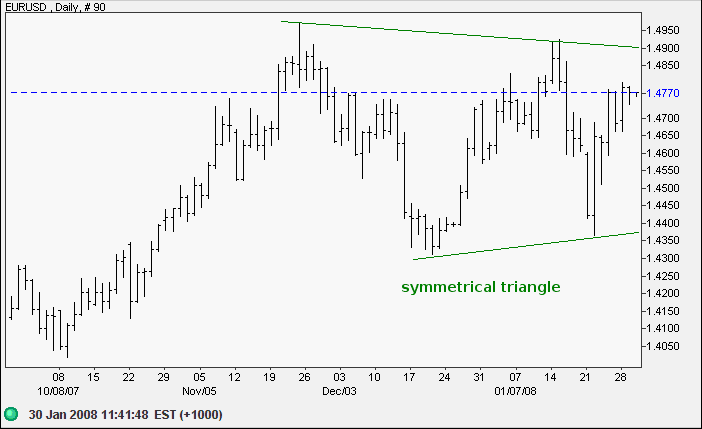 Source: Netdania
The dollar continues in a downward trend against the yen. Consolidation near the lower border suggests another bear rally; so watch for a rise above 108. The long term target for the down-trend remains at 100.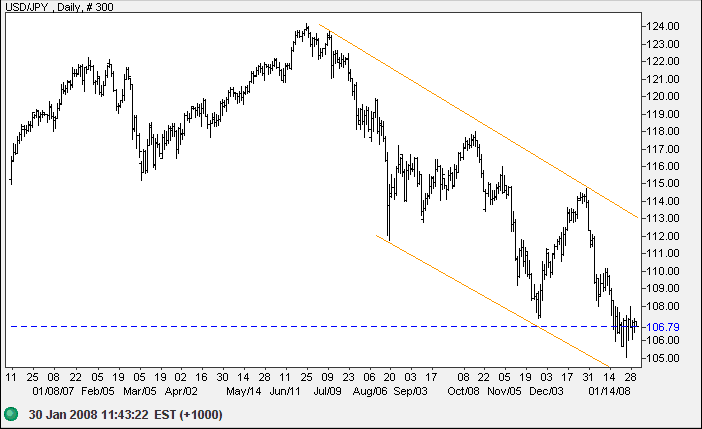 Source: Netdania
The Australian dollar is struggling with resistance at $0.8900 against the greenback. We have already seen one false break, so breakouts are not to be trusted unless confirmed by a retracement (that respects support at $0.8900). A rate rise by the RBA would boost demand for the Aussie.

The Australian dollar also successfully tested long-term support at 90/86 (the intra-day low was 86) against the yen. Failure of this level would warn of unwinding carry trades and offer a target of 90 - (107 - 90) = 73.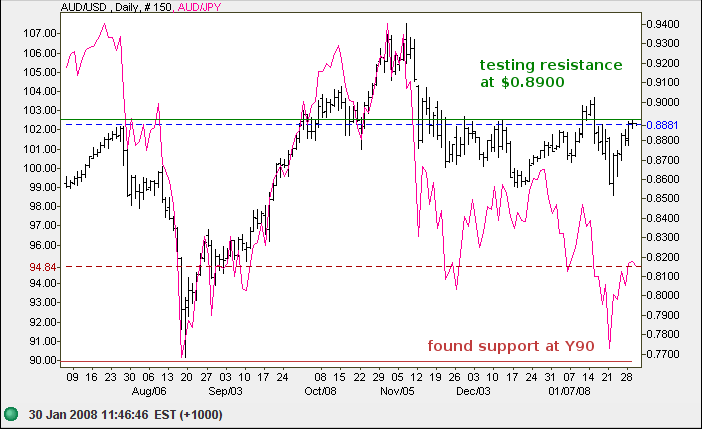 Source: Netdania
The history of fiat money is little more than a register of monetary follies and inflations. Our present age merely affords another entry in this dismal register.

~ Hans F. Sennholz
To understand my approach, please read Technical Analysis & Predictions in About The Trading Diary.