---
Gold & Crude Test Support
By Colin Twiggs
January 22, 2008 1:30 a.m. ET (5:30 p.m. AET)
These extracts from my trading diary are for educational purposes and should not be interpreted as investment advice. Full terms and conditions can be found at Terms of Use.
While equities tumble, gold and the euro are both retracing against the greenback. Expect a reversal if the Fed announces further rate cuts at the January 30/31 FOMC meeting.
Spot gold retraced from its target of $900. Expect medium-term support at $850/$840. Respect (of support) would signal continuation of the up-trend. Primary support at $775 is unlikely to be tested.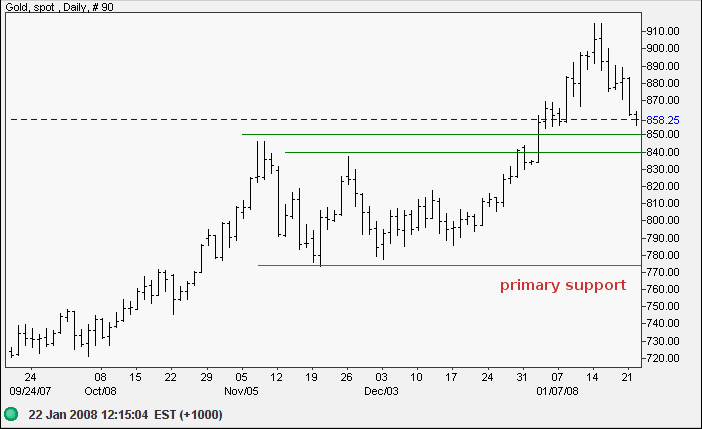 Source: Netdania
Crude is likely to lag gold and the euro as it is more susceptible to falling demand from a slowing US economy.
March 2008 Light Crude is testing support at $90/barrel. Respect of support would signal another test of resistance at $100. Failure of primary support at $87 would warn that crude has commenced a primary down-trend.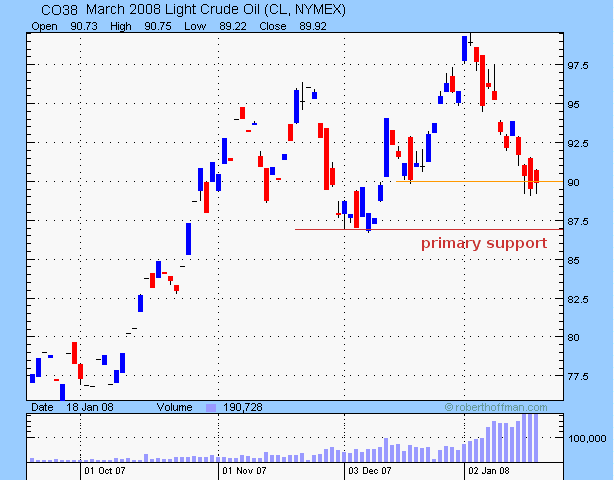 The euro is headed for a test of primary support at $1.43. Respect of support (possibly with one/more false breaks) is expected and would indicate another test of resistance at $1.50. Downward breakout is not expected — and would signal a primary down-trend.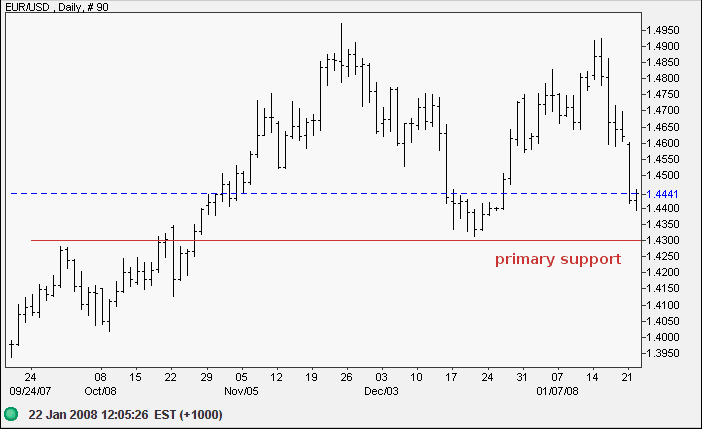 Source: Netdania
The dollar broke through support at 107 against the yen, signaling a test of key long-term support at 100.
Source: Netdania
Rising uncertainty in financial markets is likely to result in the unwinding of carry trades and the Australian dollar is testing long-term support at 90/86 against the yen (the intra-day low was 86). Failure of support would suggest long-term weakness and a target of 73 yen: 90 - (107 - 90) = 73.
The Aussie is also testing support at $0.8550 against the greenback. Failure would signal a primary down-trend, but the hawkish stance of the RBA should help support the Aussie.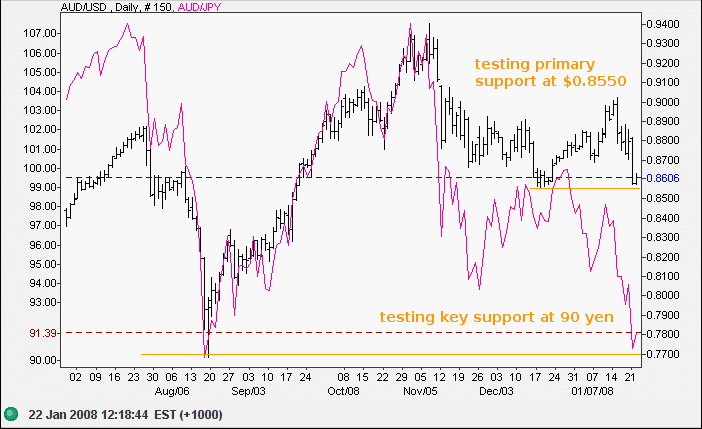 Source: Netdania
Regarding equities, the ASX has joined the general bear market, breaking below primary support at 5650 to signal the start of a down-trend. Expect support at 4800.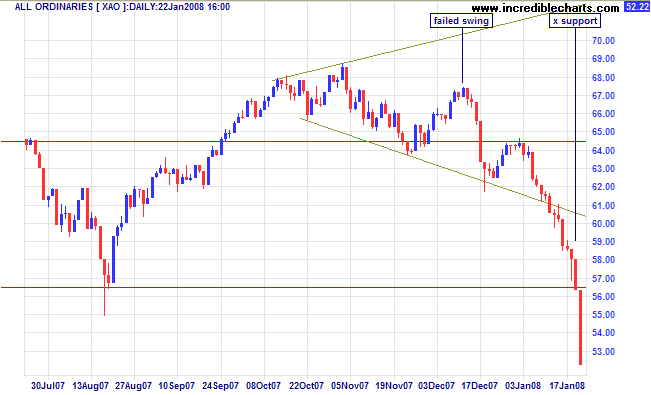 After every major undertaking........I would shake loose from Wall street and go off to some quiet place where I could review what I had done. If I had lost money, I wanted to make sure that I would not repeat the same mistake. If it had been a successful operation, getting away from the clattering tickers helped clear my mind and refresh me physically for any future action.

~ Bernard Baruch: My Own Story
To understand my approach, please read Technical Analysis & Predictions in About The Trading Diary.