---
Waiting For A Rate Cut
By Colin Twiggs
December 11, 2007 2:30 a.m. ET (6:30 p.m. AET)
These extracts from my trading diary are for educational purposes and should not be interpreted as investment advice. Full terms and conditions can be found at Terms of Use.
A further rate cut by the Fed is likely to boost the price of gold, crude oil and treasury bonds. Whether it will have the same impact on equities is uncertain, due to the precarious state of the housing and financial markets. Failure to cut rates, while not expected, would have a negative effect on equity markets.
Gold is consolidating in a triangle formation, where breakout will indicate future direction. A fall below $780 would signal the start of a secondary correction, while upward breakout would offer a short/medium-term target of $900 [830+(845-775)=900].
The primary up-trend remains intact.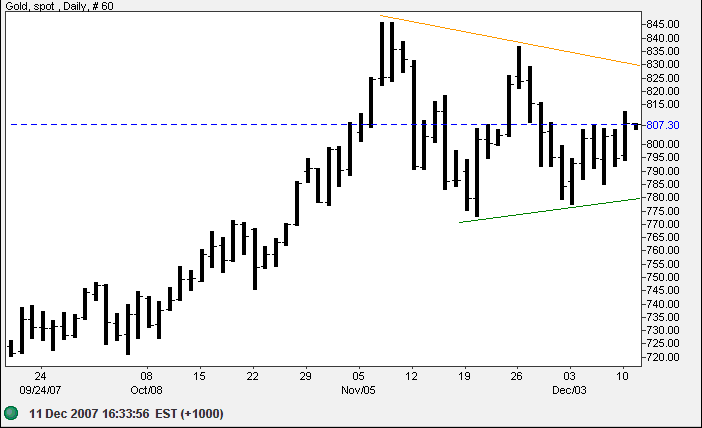 Source: Netdania
January 2008 Light Crude broke below $90 and the rising (green) trendline, warning of a secondary correction. Narrow consolidation is normally a continuation signal, but the position immediately below the former support level ($90) indicates hesitancy. A close below $87.50 would confirm the down-trend, while reversal above $90 would indicate recovery.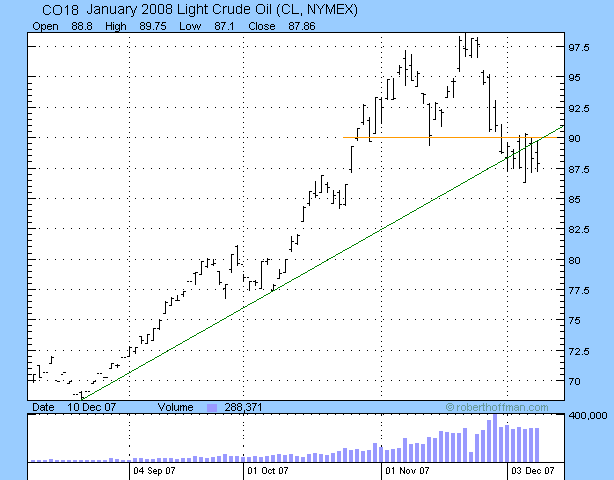 Gold and the euro also display consolidation patterns and a breakout on either of them would normally indicate the direction of crude as well, but crude is more susceptible to falling demand from a slowing US economy.
The euro twice respected support at $1.45 and a rise above 1.4775 would signal another attempt at $1.50. Reversal below $1.45, while not expected, would complete a head and shoulders pattern with a target of $1.40 [1.45-(1.50-1.45)=1.40].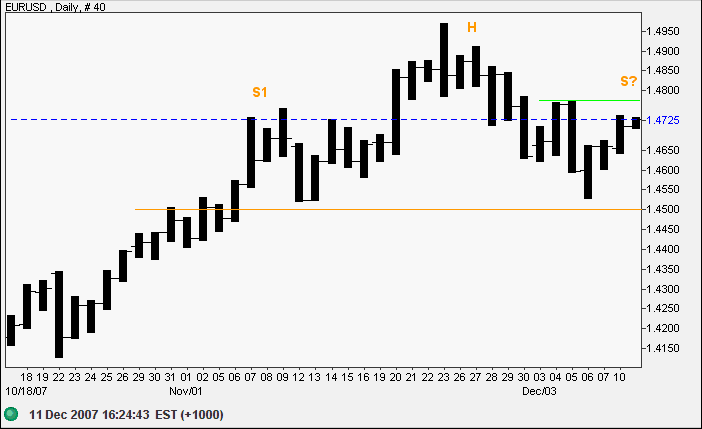 Source: Netdania
The dollar is trending lower in a broad channel against the yen. Respect of resistance at 112 would indicate that the down-trend is strengthening.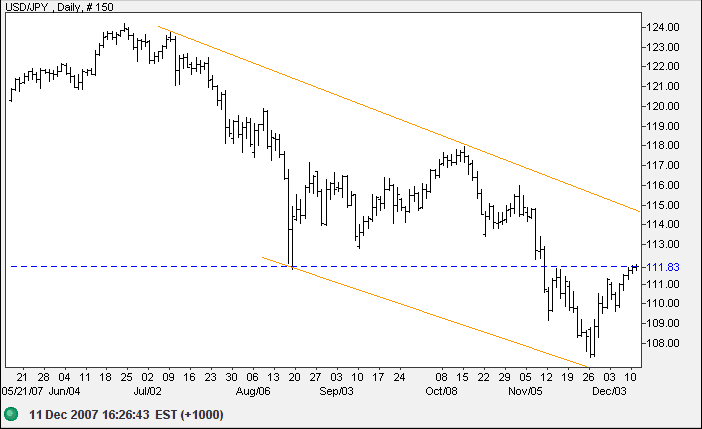 Source: Netdania
The Australian dollar made two failed breakouts below support at $0.8750 and is now headed for a test of resistance at $0.8900 — a bullish sign. Breakout above the resistance level would signal a rally to test $0.9400, while reversal below $0.8650 would confirm the secondary correction.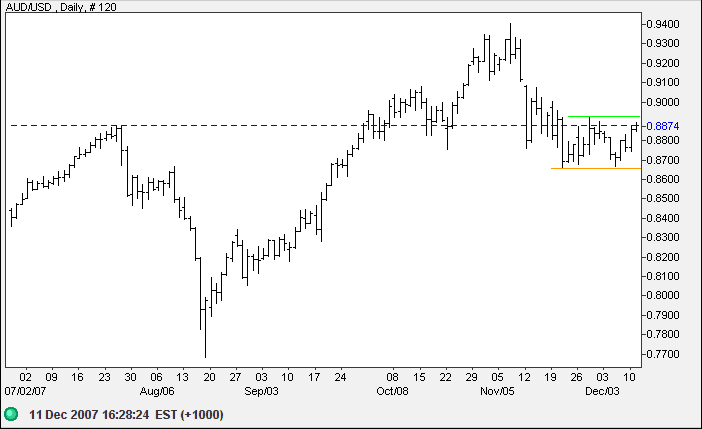 Source: Netdania
Be thankful we're not getting all the government we're paying for.

~ Will Rogers (1879 - 1935)
To understand my approach, please read Technical Analysis & Predictions in About The Trading Diary.