---
Low Volumes Signal Hesitancy
By Colin Twiggs
October 6, 2007 4:00 a.m. ET (6:00 p.m. AET)
These extracts from my trading diary are for educational purposes and should not be interpreted as investment advice. Full terms and conditions can be found at Terms of Use.
Declining housing starts and the subprime-induced credit squeeze are likely to impact on the economy for some time (6 to 18 months) despite the cut in the federal funds rate and the consequent fall in the dollar which should stimulate exports.
The wide premium between 3-month treasury bills and 90-day asset-backed commercial paper reflects the continuing uncertainty in financial markets.
The Dow Jones Industrial Average recovered to a new all-time high above 14000. The market may have sufficient momentum for one more rally, but I suspect that the party is over. Earnings disappointments in the financial, housing and homeware sectors are likely to continue through 2008 and there is concern that this will spill over into other sectors. Breakout above 14000 signals a test of the upper trend channel and a target of 15000 [14000+(14000-13000)], but this is a time for vigilance rather than euphoria.
Twiggs Money Flow signals medium-term accumulation, but the long-term bearish divergence warns of distribution. A rise above the (light green) July high, however, would indicate buying strength.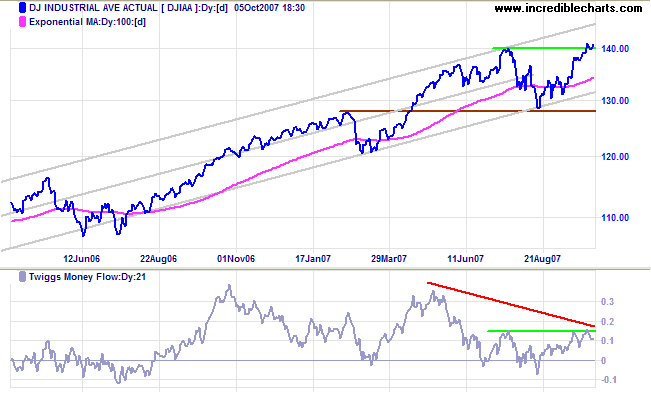 Short Term: The anticipated retracement was fairly mild, respecting support at 14000, but Friday's weak close and low volume warn of a lack of buyer enthusiasm. A close above 14100 would restore some confidence, while a fall below Wednesday's low would signal another correction.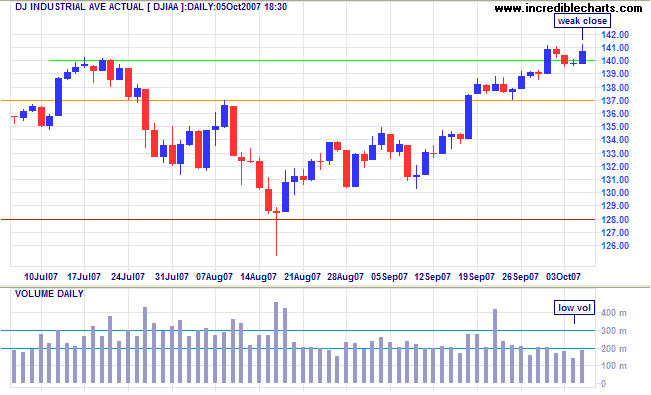 Dow Jones Transportation Average is testing resistance at 5000, hinting at a recovery. Fedex respected support at $104, with rising Twiggs Money Flow signaling medium-term accumulation. The market appears to anticipate that economic activity will improve as a consequence of the recent Fed rate cut.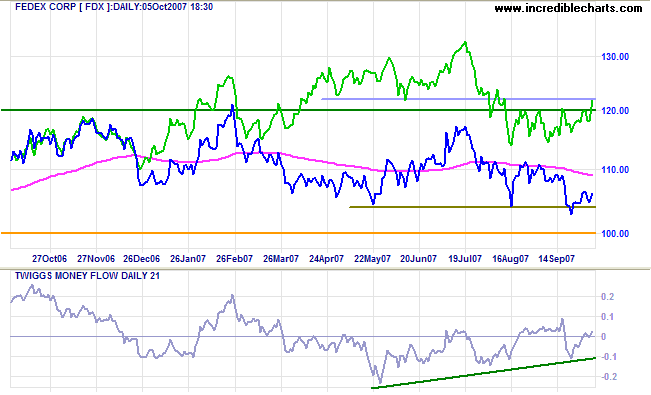 The Russell 2000 continues to under-perform the large cap Russell 1000 index. The declining Price Ratio signals long-term migration to the safety of large cap stocks.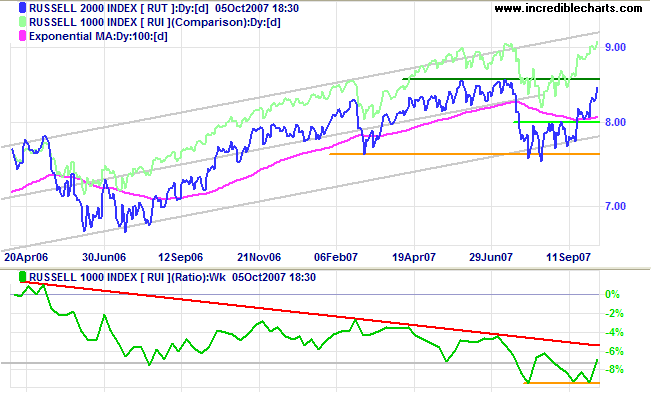 The S&P 500 performed better than the Dow over the last week, breaking through resistance at 1555 to a new all-time high. Again, however, low volumes signal a lack of real enthusiasm. A retracement that respects the new support level (1555) would be a bullish sign, confirming a target of 1700 [1550+(1550-1400)], while a close below 1540 would warn of another correction.
The FTSE 100 respected short-term support at 6500 and is headed for a test of resistance at 6750. Twiggs Money Flow displays a long-term bearish divergence, but medium-term accumulation. Reversal below 6400 is not expected, but would warn of a test of primary support at 6000/5850.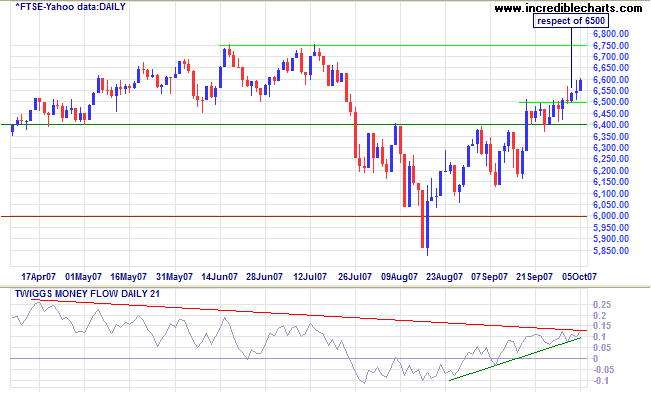 The Sensex is consolidating below 18000; breakout would signal a further advance. Twiggs Money Flow signals strong medium-term accumulation. Primary support remains at 14000.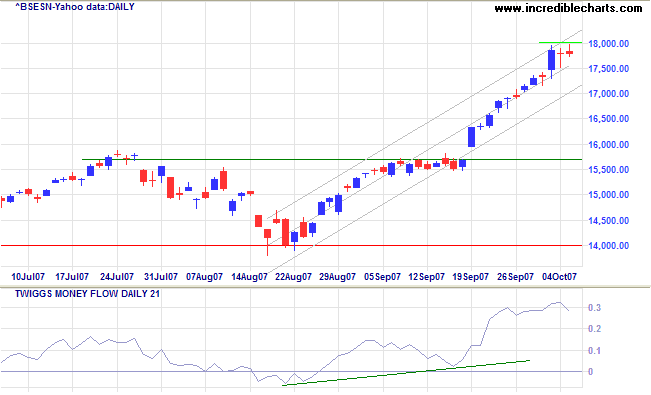 The Nikkei 225 is consolidating above 17000, at the upper border of the latest trend channel. A close above 17200 would confirm a test of resistance at 18300, while reversal below 17000 would signal a swing to the lower channel border. Rising Twiggs Money Flow signals short-term accumulation. This is a bear market rally and the outcome remains unpredictable: slow steady gains would be reassuring while a sharp rally could reverse just as quickly.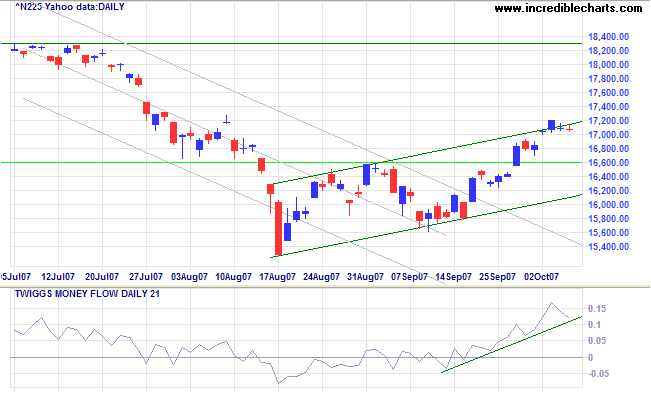 The Hang Seng respected the lower channel border and appears set for another rally. Twiggs Money Flow signals strong long and medium-term accumulation.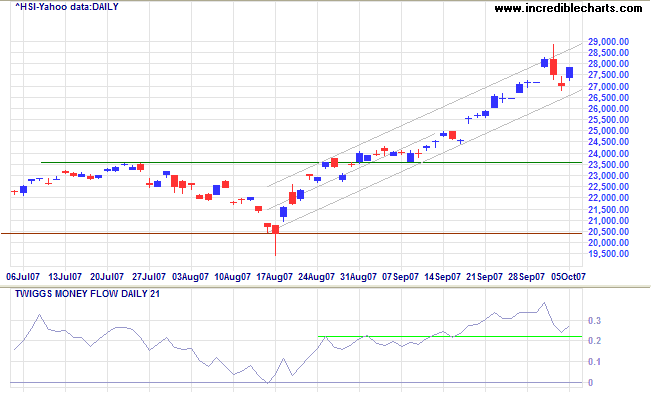 The Shanghai Stock Exchange was closed for the week for National Day holidays.
The All Ordinaries appears more resilient than the Dow and FTSE 100, with Twiggs Money Flow, signaling strong medium and long-term accumulation; a rise above 0.2 would be a further bull signal. The target, from the breakout above 6460, is 7300 [6500+(6500-5700)].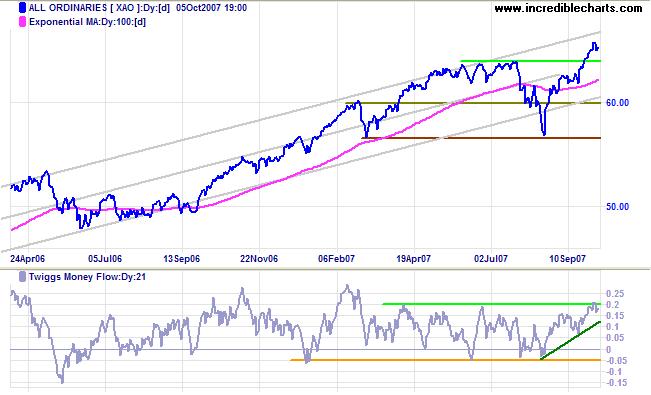 Short Term: Retracement over the past week was relatively mild, but low volumes signal continued uncertainty. Breakout above Tuesday's high would restore some confidence, as would a retracement that respect support at 6460. A close below 6460, while not expected, would warn of another correction.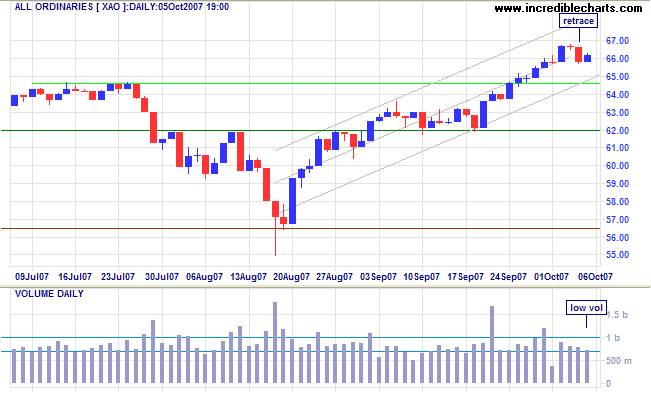 The decadent international but individualistic capitalism in the hands of which we found ourselves after the war is not a success. It is not intelligent. It is not beautiful. It is not just. It is not virtuous. And it does not deliver the goods.

~ John Maynard Keynes.
To understand my approach, please read Technical Analysis & Predictions in About The Trading Diary.