---
The Fed Steps In
By Colin Twiggs
August 11, 2007 4:30 a.m. EST (6:30 p.m. AEST)
These extracts from my trading diary are for educational purposes and should not be interpreted as investment advice. Full terms and conditions can be found at Terms of Use.
Concern over banks' exposure to the subprime mortgage market drove short-term treasury yields lower - the outflow from the banking system creating a liquidity squeeze. Central banks responded by injecting new money into the banking system, with the Fed entering into more than $40 billion of repurchase agreements on Thursday/Friday. The Fed buys mortgage-backed securities known as "repos" in the market and deposits payment with the seller's commercial bank - restoring the level of deposits available to the banking system.

Confidence has at least temporarily recovered, with the Dow Jones Industrial Average retreating above support at 13200 after a sharp fall early Friday. I have been expecting a swing to test the first line of primary support at 12800, but further intervention from the Fed could prevent this. Twiggs Money Flow continues with a large bearish divergence.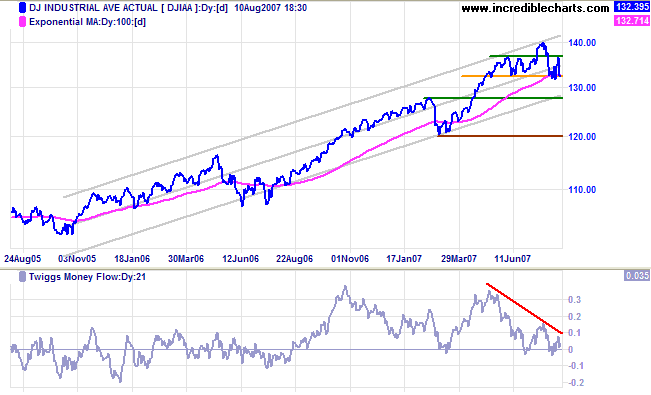 Long Term: The primary trend remains up, with support at 12800 and 12000.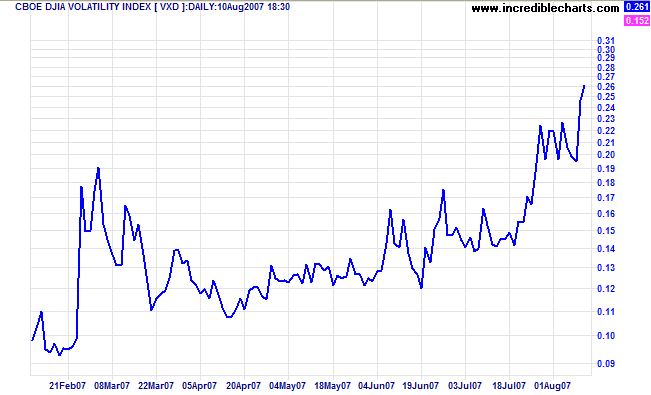 Short Term: With volatility at record levels we can expect a very treacherous ride over the next few weeks. Further oscillation between resistance at 13700 and support at 13200 is likely, while breakout outside the band would signal future direction. Normally an intra-day breakout would be sufficient, but several false breaks on the downside caution us to wait for a close below 13200 - or an intra-day fall below 13000.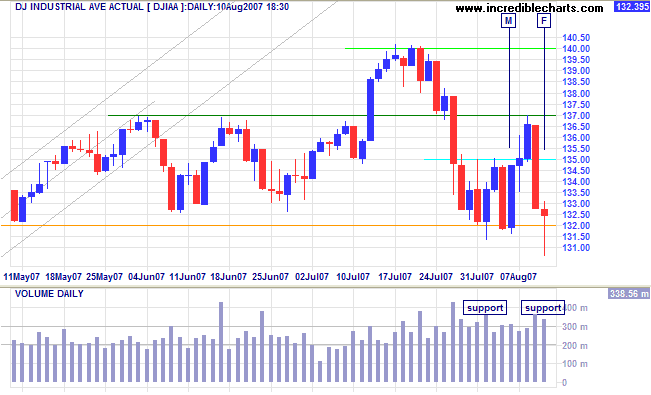 The Dow Jones Transportation Average is whipsawing around 5000, indicating that the down-swing may not reach primary support at 4700 and the primary trend remains positive. Fedex continues to look bearish - headed for a test of primary support - while UPS respects its rising trendline (while not expected, reversal of these two stocks below their 2007 lows would be a bear signal for the economy).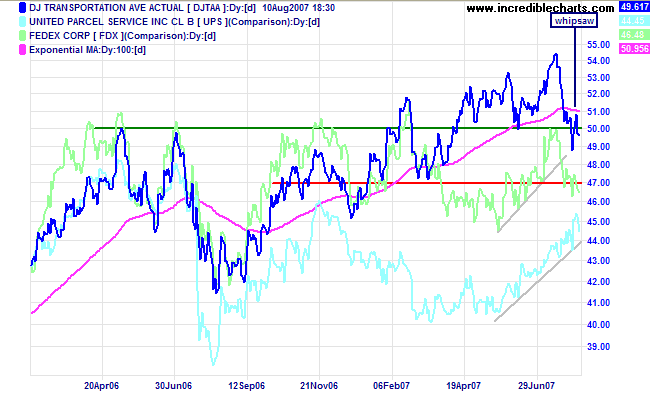 The Nasdaq Composite is testing support at 2500. A break below this level would warn of a test of primary support at 2340.

Long Term: The primary trend is up.
The S&P 500 also made a miraculous recovery on Friday, respecting support at 1430 before closing near the day's high. Expect a test of resistance at 1500. A fall below 1430 is less likely - and would signal a test of primary support at 1375. A Twiggs Money Flow fall below last week's low would signal weakness, while a rise above Wednesday's high would be bullish.

Long Term: The primary trend remains up.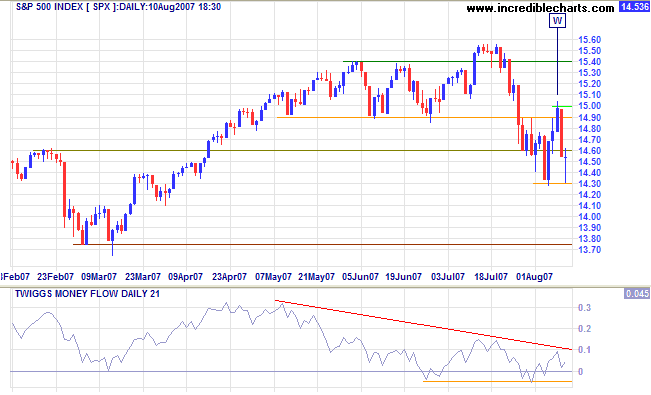 The FTSE 100 is testing primary support at 6000. Positive influence from US markets means the level is likely to hold in the short term. A Twiggs Money Flow fall below -0.1 would signal strong distribution, while a rise above zero would indicate recovery.

Long Term: The primary trend remains up.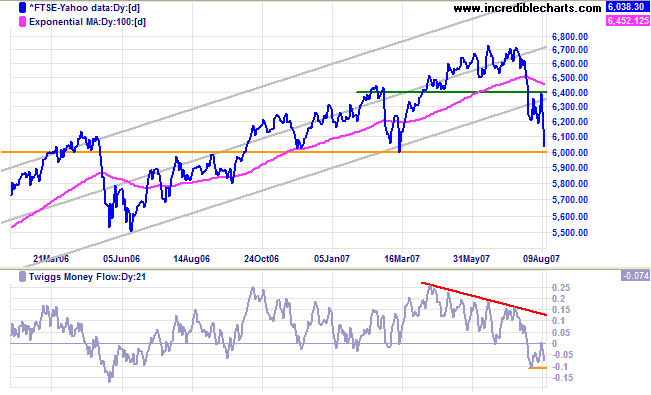 The Nikkei 225 is testing primary support at 16600. Twiggs Money Flow whipsawing around zero indicates uncertainty, but expect some positive influence from the US.

Long Term: The primary trend continues up.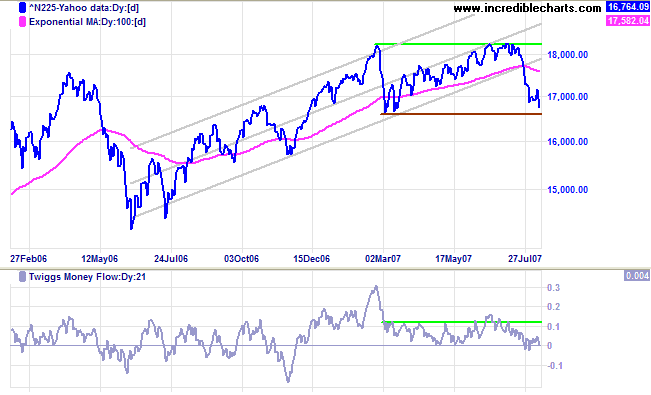 The Hang Seng broke through support at 22000, with Twiggs Money Flow falling below 0.1, signaling a test of support at 21000. However, we have to bear in mind that Friday's positive performance in the US may ease selling pressure. Reversal above 22800 would be a bullish sign.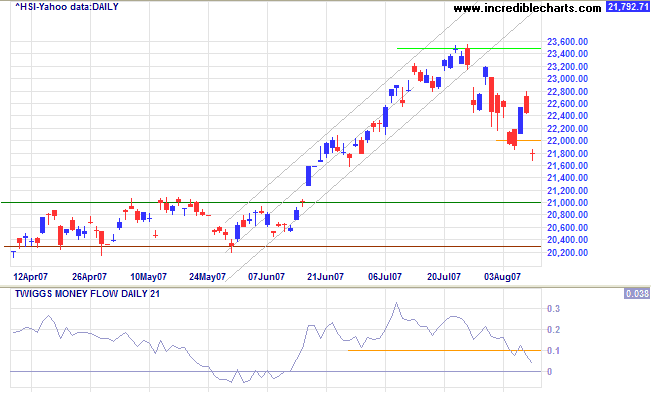 The Shanghai Composite index hesitated on Friday, with a hanging man candle signaling indecision. The target remains at 5000 (4300+[4300-3600]), but we may see a short retracement before then.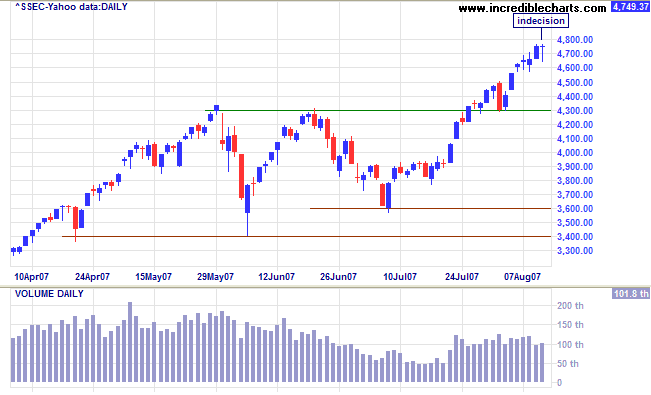 The All Ordinaries is testing support at 6000/5950, while Twiggs Money Flow (21-day) is improving. Failure of support would test the lower border of the trend channel and possibly primary support at 5650, while a rise above 6200 would signal a rally to 6450.

Long Term: The primary trend remains up.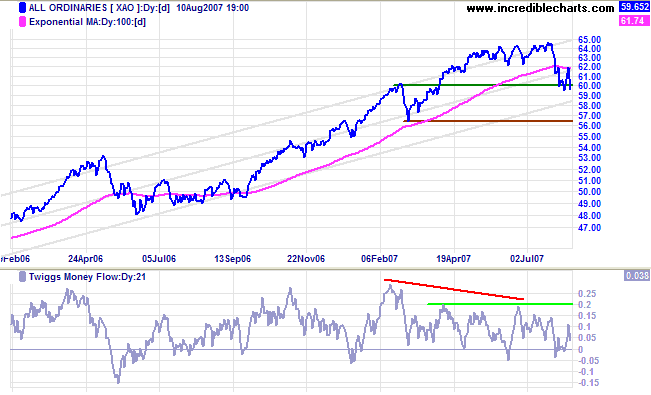 Short Term: A close below 5950 or an intra-day fall below Monday's low would warn of another down-swing. Considering Friday's positive close in US markets, a test of resistance at 6200 is equally likely.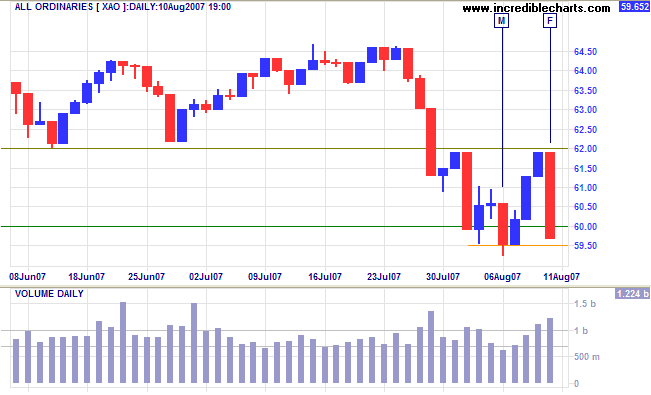 The show ain't over till the fat lady sings
(we could say that the Fed is the fat lady of the financial markets).

~ often attributed to New York Yankees catcher Yogi Berra, the phrase may first have been used by San Antonio sports broadcaster Dan Cook.
To understand my approach, please read Technical Analysis & Predictions in About The Trading Diary.