---
Gold, Oil, Currencies & Interest Rates
By Colin Twiggs
August 1, 2007 12:30 p.m. AEST (10:30 p.m. EST)
These extracts from my trading diary are for educational purposes and should not be interpreted as investment advice. Full terms and conditions can be found at Terms of Use.
Spot gold is consolidating mid-way between resistance at $690 and support at $640. A swing to test the lower border of the large consolidation or retracement to test the upper border remain equally likely. Long term direction would be signaled by a breakout from the large consolidation.
Source: Netdania
On the weekly chart, Light Crude is testing resistance at its 2006 peak of $78/barrel. Expect consolidation below the resistance level or a retracement to the rising trend line.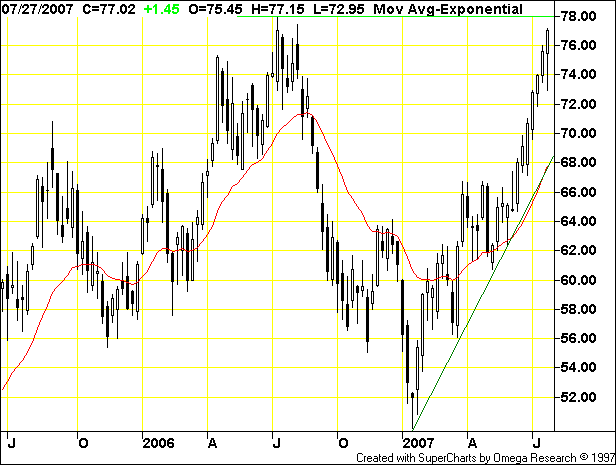 The euro penetrated the new support level at $1.37. Retracement to test the rising trendline indicates a gradual up-trend, but the medium term target of $1.41 (1.37+[1.37-1.33]) is still attainable.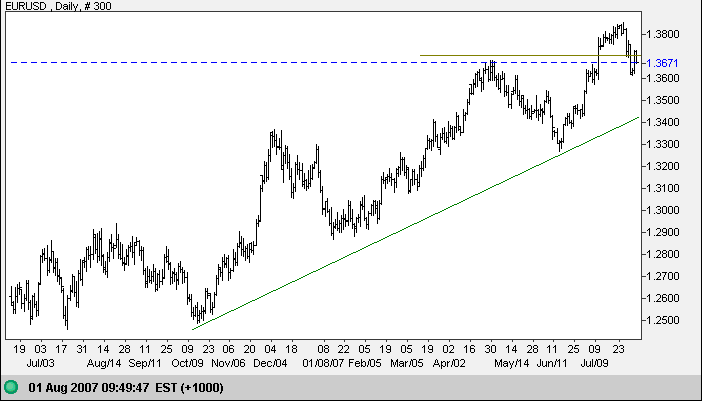 Source: Netdania
The dollar is falling against the yen. A test of primary support at 115 remains likely.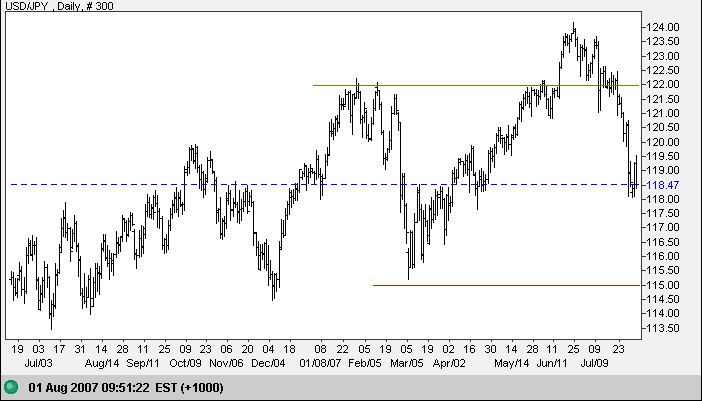 Source: Netdania
The Australian dollar fell sharply against the greenback, testing the rising trendline at 0.85, the first line of support. Penetration of support would signal trend weakness, while consolidation at the support level would be a bullish sign. In the longer term, a rise above 0.89 would offer a target of 0.93 (0.89+[0.89-0.85]).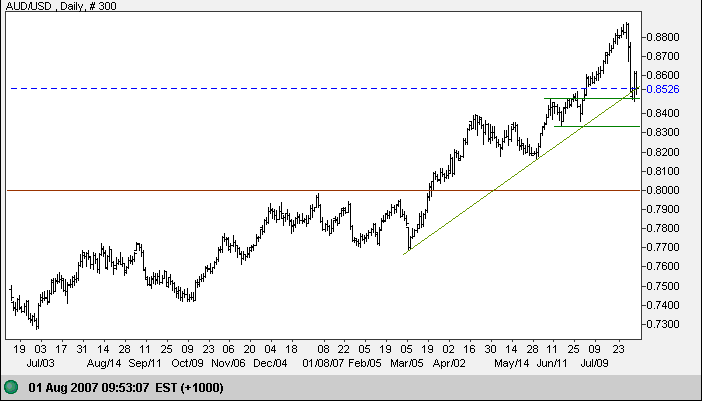 Source: Netdania
The ten-year treasury yield appears headed for a test of support at 4.50%, indicating that expectations of further rates rises are falling. The yield differential (10-year minus 13-week treasury yields) retreated below zero - a negative sign for the economy.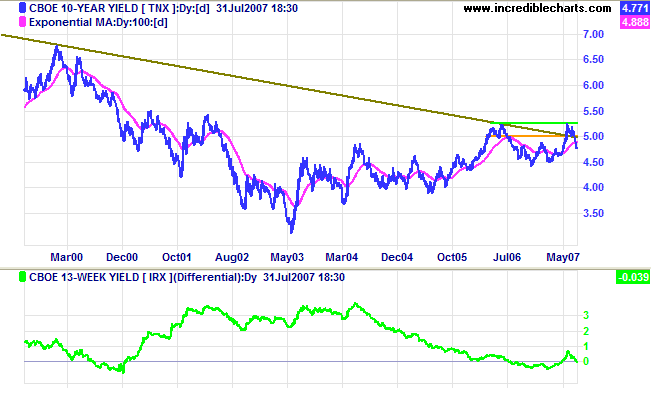 Short-term (13-week) treasury yields dipped sharply last week, reflecting the flow out of equities, but has recovered to above 4.80%.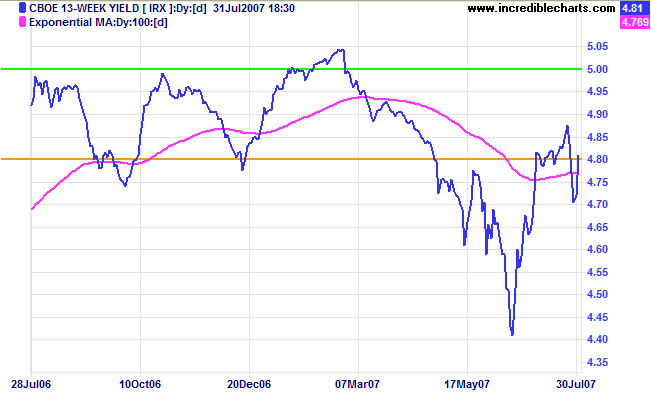 The Dow Jones Industrial Average attempted to rally off support, but was overcome by sellers. The close below 13250 warns of a secondary correction. Expect a test of primary support at 12800. A fall below 12000 is unlikely - and would signal reversal of the primary trend.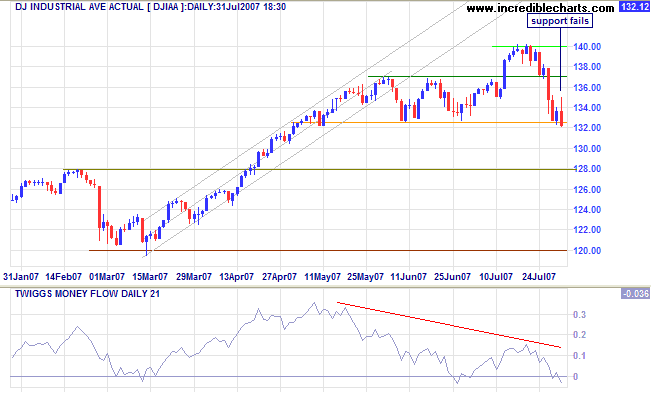 The Shanghai Composite Index, on the other hand, is headed for a test of 5000 (4300+[4300-3600]) after breaking through resistance at 4300. Reversal below 4300 is unlikely - and would re-test support at 3600.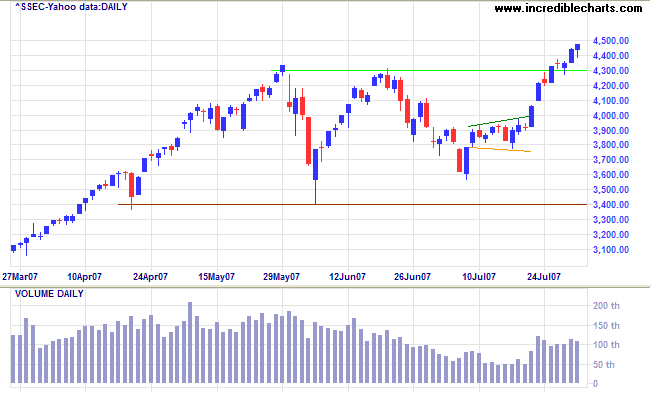 Probability of recession in the next four quarters is steady at 31 per cent according to the Wright Model.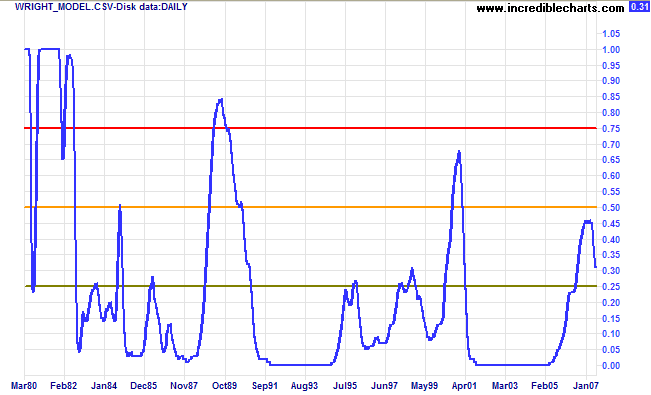 It is a tried rule, which will help to guide us in studying the secondary movement, that the change in the broad general direction of the market is abrupt, while resumption of the major movement is appreciably slower. The latter is frequently foretold by a line of accumulation in a bull market or a line of distribution in a bear market.

~ William Peter Hamilton:
The Stock Market Barometer (1922).
To understand my approach, please read Technical Analysis & Predictions in About The Trading Diary.