---
Gold, Oil, Currencies & Interest Rates
By Colin Twiggs
July 17, 2007 4:30 a.m. EST (6:30 p.m. AEST)
These extracts from my trading diary are for educational purposes and should not be interpreted as investment advice. Full terms and conditions can be found at Terms of Use.
Spot gold shows a small rectangular consolidation after breaking out of the down-trend, signaling continuation of the rally to test resistance at $695. Reversal below $635 is not expected - that would signal a primary down-trend. The weak dollar and rising crude prices should boost demand for gold.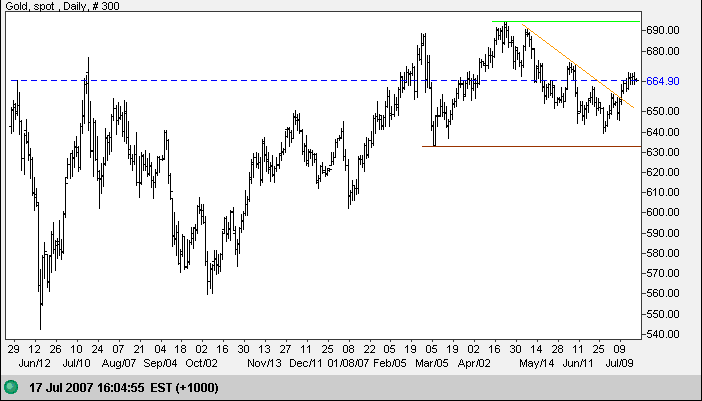 Source: Netdania
The weekly composite chart of Light Crude displays a strong up-trend. Expect a retracement to test the rising trend line followed by a test of resistance at the 2006 peak of $78.00.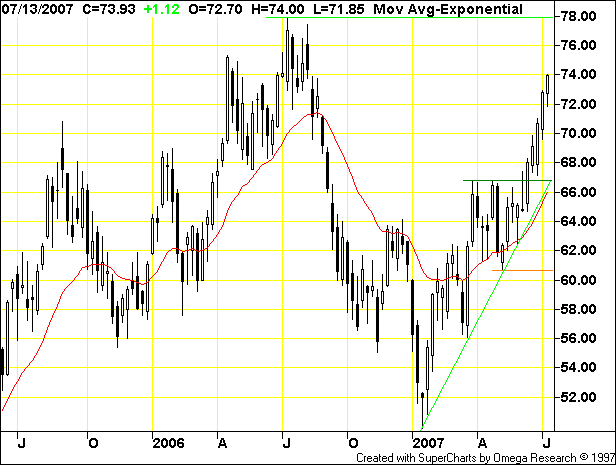 The euro broke through major resistance at $1.37, signaling long-term dollar weakness. The medium term target is $1.41 (1.37+[1.37-1.33]); long-term is $1.57 (1.37+[1.37-1.17]). Expect a retracement to test the new support level at $1.37; failure would mean all bets are off.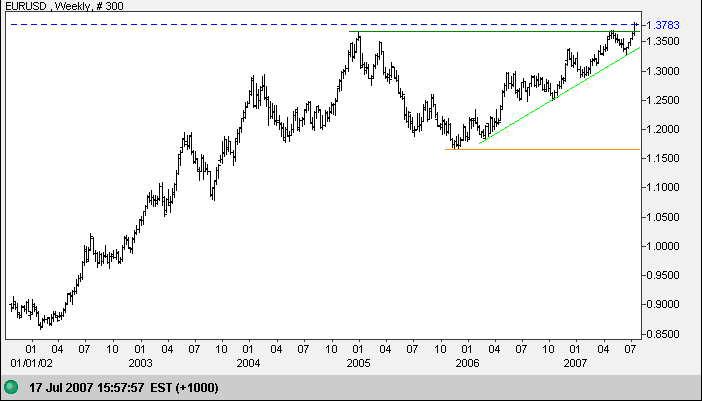 Source: Netdania
The dollar is also weakening against the yen, retreating below support at 122. A rally above 122.50 would indicate recovery, while reversal below 121 would warn of a major correction.

The primary trend remains up, with a long-term target of 135 (122+[122-109]).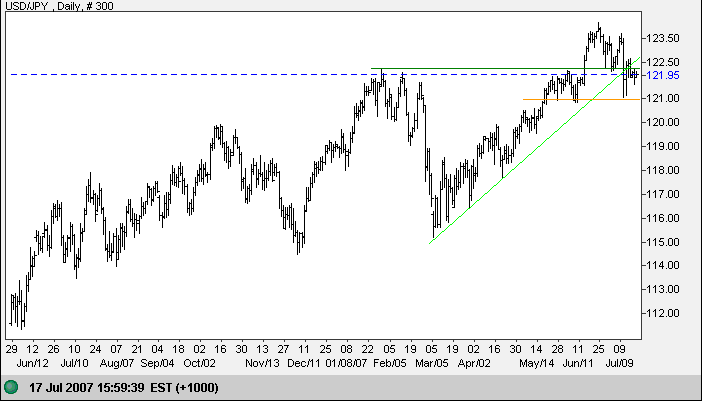 Source: Netdania
The Australian dollar sailed through its medium term target of 0.8650 (0.8400+[0.8400-0.8150]). The long-term target is 0.92 (0.80+[0.80-0.68]). We should see a retracement establish a new support level before then, but this may be well above $0.84.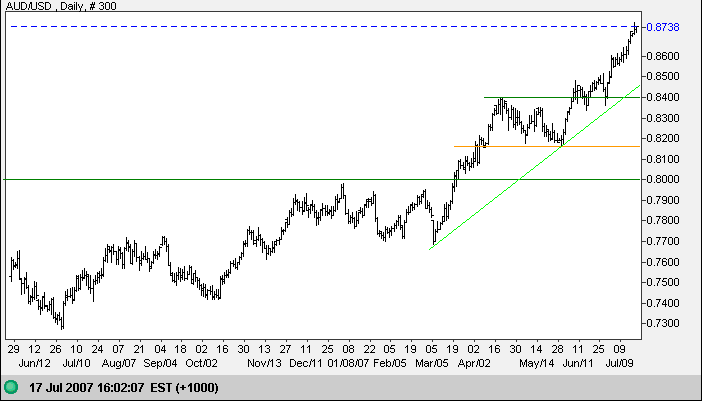 Source: Netdania
The ten-year treasury yield continues to consolidate between 5.00% and 5.25%. Breakout will indicate future direction. The yield differential (10-year minus 13-week treasury yields) remains positive.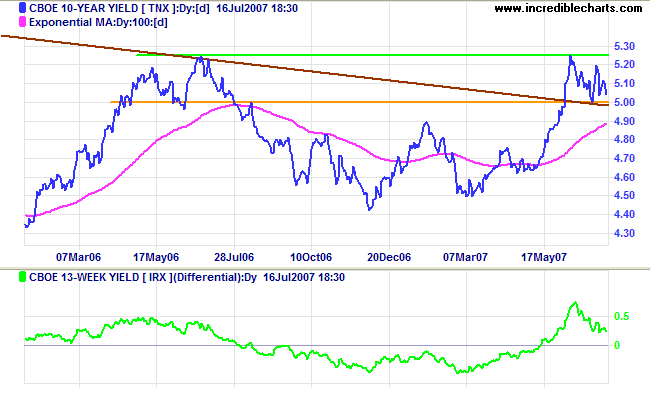 Short-term (13-week) treasury yields likewise continue to test resistance at 4.80%. Respect of resistance would warn that the down-trend is intact, while failure would signal that the recent equilibrium will most likely be restored.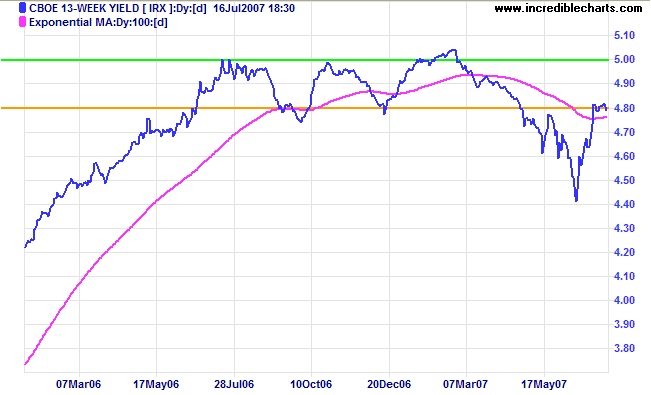 The S&P 500 index broke out of its recent consolidation to a new all-time high. Price-Earnings Ratio at June 30 is a reasonable 17.6 (based on estimated earnings), indicating that the bull market has not reached Phase 3.
The FTSE 100, DAX and Nikkei 225 all display bullish ascending triangles. The Hang Seng index is rising rapidly, but the Shanghai Composite appears to be faltering - downward breakout from a pennant warns of another test of support at 3400. The bear signal would be strengthened by a close below 3800.
Probability of recession in the next four quarters eased to 32 per cent according to the Wright Model.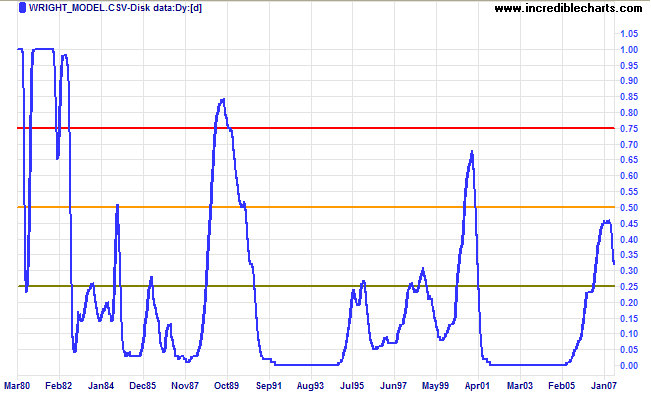 Avoid what is strong and strike at what is weak.

~ Sun Tzu, The Art of War.
To understand my approach, please read Technical Analysis & Predictions in About The Trading Diary.