---
Gold, Oil, Currencies & Interest Rates
By Colin Twiggs
June 06, 2007 0:30 a.m. ET (2:30 p.m. AET)
These extracts from my trading diary are for educational purposes and should not be interpreted as investment advice. Full terms and conditions can be found at Terms of Use.
Spot gold consolidated in a small pennant over the last few days, an upward breakout would herald another test of resistance at $690; while a downward break would signal a test of support at $650 and likely continuation of the secondary correction.

In the longer term, the primary trend remains up and a rise above $690 would signal continuation of the up-trend, while a fall below $630 would warn that the trend has reversed. Strong crude prices should support demand for gold.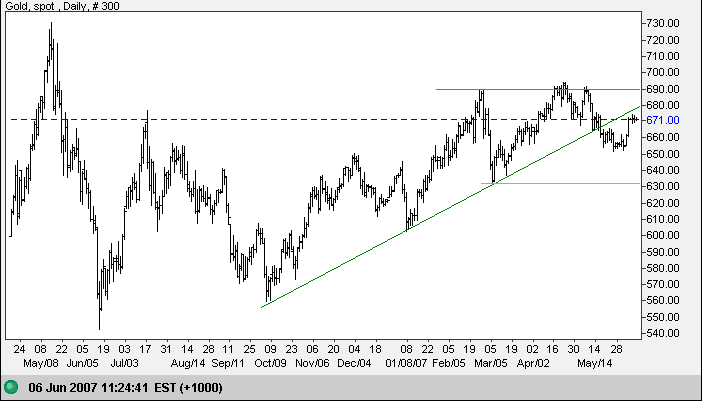 Source: Netdania
December Light Crude continues in a right-angled descending broadening formation; the failed swing to the lower border signals that an upward breakout is likely.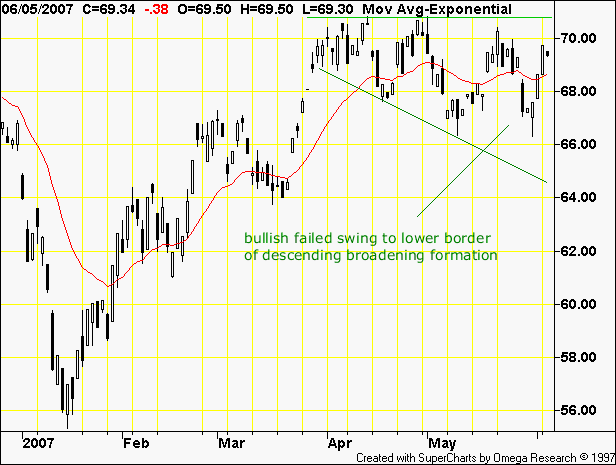 The euro respected the first line of primary support at $1.34 and appears set for a test of resistance at $1.37. Reversal below support at $1.34, though now unlikely, would break the long-term trendline, signaling trend weakness. However, only a fall below primary support at $1.29 would reverse the up-trend and this also appears unlikely. A rise above the 2005 high of $1.37, on the other hand, would continue the primary advance.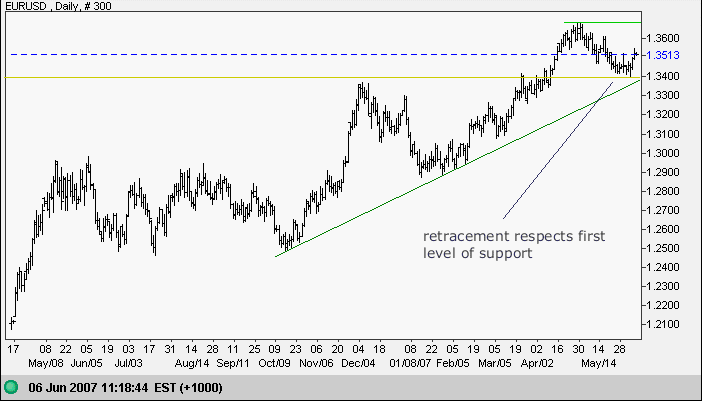 Source: Netdania
The dollar respected resistance at 122 against the yen. Narrow consolidation would be a bullish sign and breakout above 122 would signal a long-term up-trend.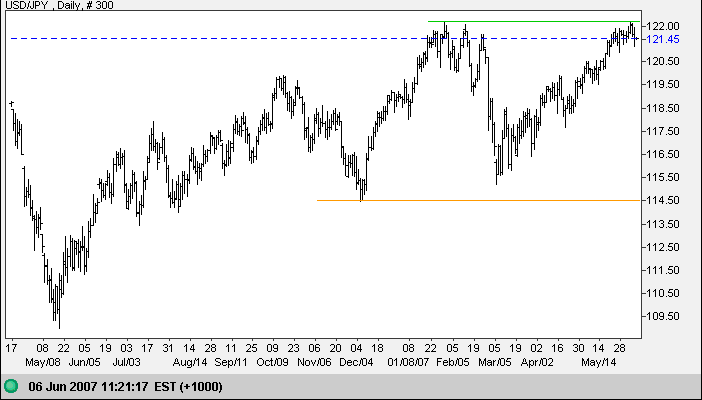 Source: Netdania
The Australian dollar respected intermediate support at 0.8150 before rallying sharply back to resistance at 0.8400. Failure to test the first line of primary support at 0.8000 suggests a strong up-trend.
Source: Netdania
Ten-year treasury yields are trending upwards after completing a new high above 4.90%. A break of the orange downward trendline would suggest that the super-cycle bear trend may be over - reinforced if there is a rise above the 2006 high of 5.25%. Higher risk-free yields tend to raise the required rate of return for equity investments and lower Price-Earnings (PE) ratios.

The yield differential (10-year minus 13-week treasury yields) is improving, suggesting a more positive outlook for the economy.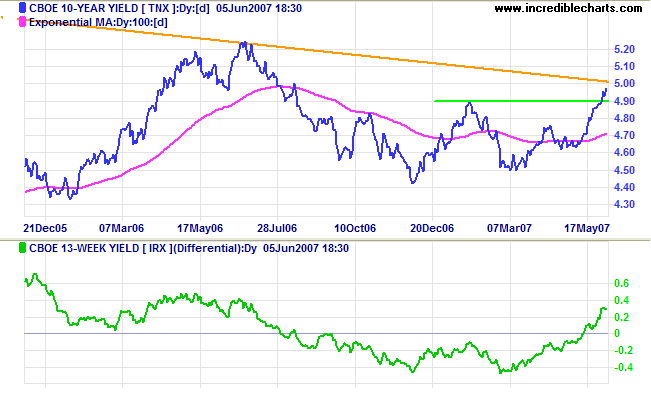 Short-term treasury yields are consolidating between 4.60% and 4.80%, suggesting lower targets set by the Fed. A fall below 4.60% would confirm that the Fed is increasing liquidity in the economy in the hope of engineering a soft landing. Prospects of further rates hikes appear minimal and rates may remain constant for some time.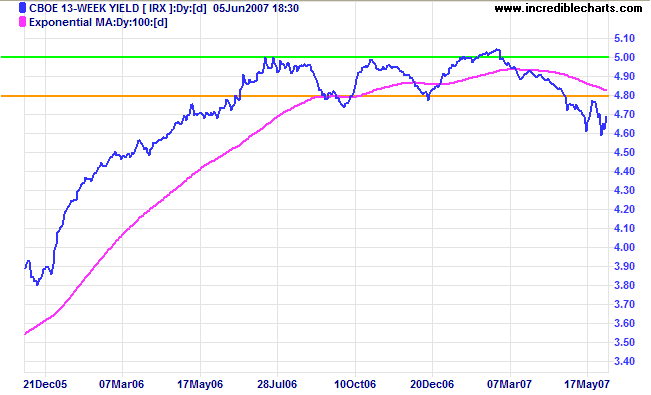 China is recovering and the S&P 500 is testing support after breaking the previous all-time high of 1530. Bearish divergence on Twiggs Money Flow highlights profit-taking. A fall below the trend channel would warn of a secondary correction, while reversal above 1540 would signal a test of the upper channel line.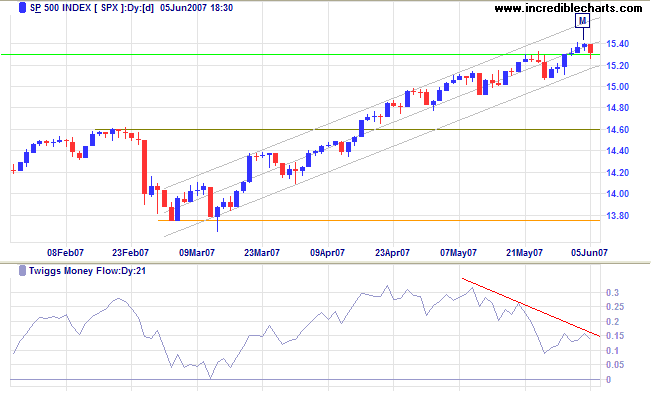 Probability of recession in the next four quarters retreated to 41 per cent according to the Wright Model.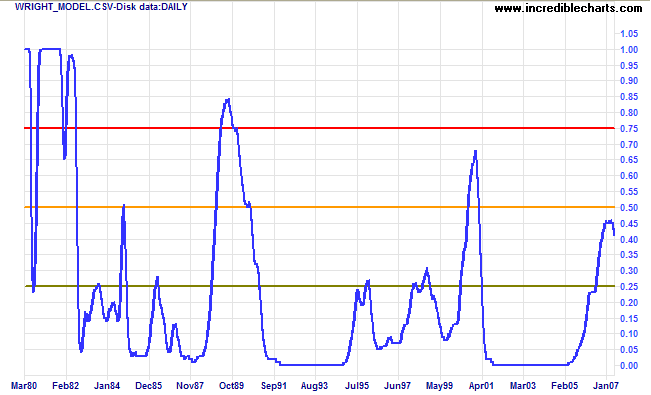 Striving for excellence motivates you;
striving for perfection is demoralizing.

~ Harriet Braiker
To understand my approach, please read Technical Analysis & Predictions in About The Trading Diary.