---
Gold, Oil, Currencies & Interest Rates
By Colin Twiggs
May 1, 2007 10:30 p.m. EST (12:30 p.m. AET)
These extracts from my trading diary are for educational purposes and should not be interpreted as investment advice. Full terms and conditions can be found at Terms of Use.
Spot gold retraced from resistance at the previous high of $690 -- not as good as a narrow consolidation, but still a reasonable pattern provided that the retracement respects the (dark green) trendline below. A break of the trendline would warn that the trend is slowing; and a fall below support at $630, though unlikely, would signal that the (up) trend has reversed.

Weaker crude prices ease demand for gold.
Source: Netdania
June Light Crude broke upwards from the large flag of last week, favoring continuation of the up-trend. Respect of support at $64 would be a further positive sign; while a fall below $63, breaking the upward trendline, would warn that the trend is weakening. And a fall below the March low would signal trend reversal.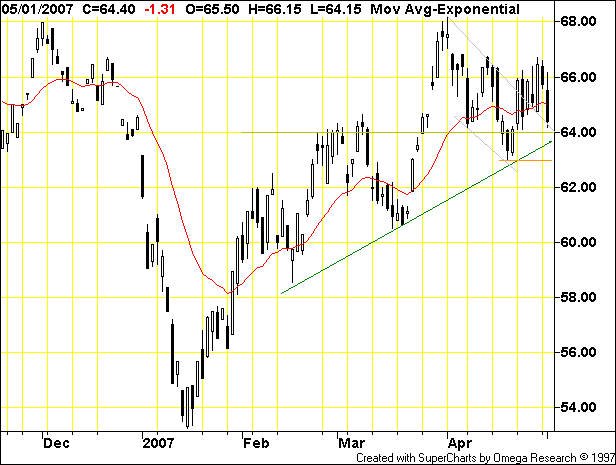 The euro is in a bullish narrow consolidation below resistance at the 2005 high of $1.37. Breakout above this level would be a strong sign for the euro, with a long-term target of $1.57 (1.37 + [ 1.37 - 1.17 ]). Reversal below $1.29, though not expected, would signal that the up-trend has reversed.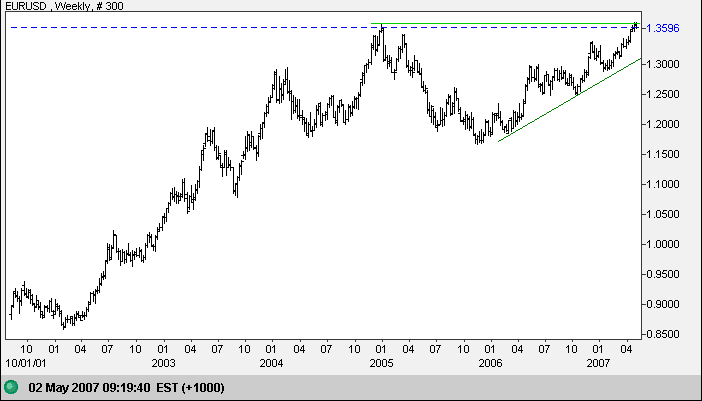 Source: Netdania
The dollar continues in a large bullish ascending triangle against the yen. The latest rally is testing medium-term resistance at 120. Breakout would signal another test of long-term resistance at 122, while reversal below the (green) upward trendline would warn of a rest of support at 115.00. In the long-term, breakout above 122 would complete the bullish ascending triangle pattern, with a calculated target of 134 (122 + [122-110]); while failure of support at 115 would warn of a large correction.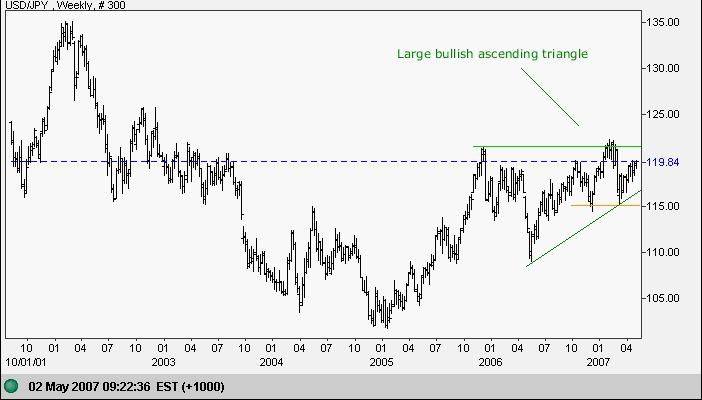 Source: Netdania
The Australian dollar has formed a bullish short-term flag formation. An upward breakout would signal continuation of the trend, with a target in the order of 0.87 ( 0.83 + [0.84-0.80]); while failure would signal a test of the new support level at 80.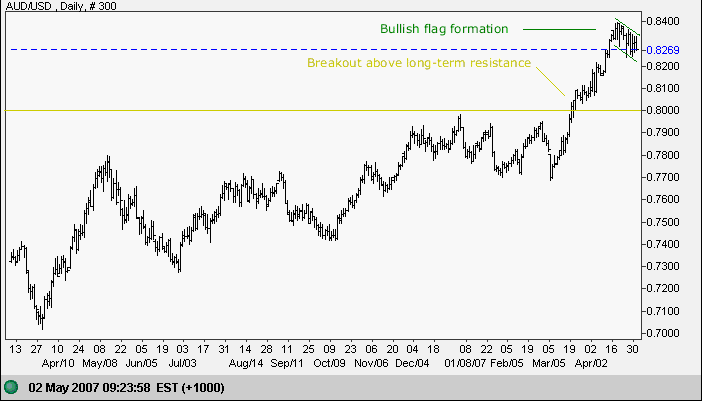 Source: Netdania
Ten-year treasury yields are consolidating above the long-term (green) trendline. We are in the last third of the triangle formation so reliability of any breakout signal is reduced. The yield differential (10-year minus 13-week treasury yields) remains negative, but is caused by low long-term yields rather than a sharp rise in short-term rates, lowering its significance. Large carry trades between the yen and higher yielding currencies, in the order of a trillion dollars by some estimates, have helped to suppress long-term yields. Further rate increases by the BOJ, or a lowering of rates by the Fed, would risk an unwinding of these positions and the situation should be closely monitored.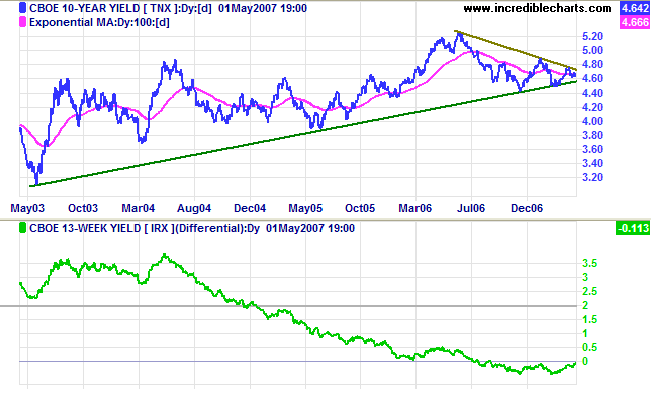 Short-term treasury yields are testing the lower border of the narrow band between 4.80 and 5.00% maintained by the Fed. A continued fall below 4.80% would warn that something may be amiss.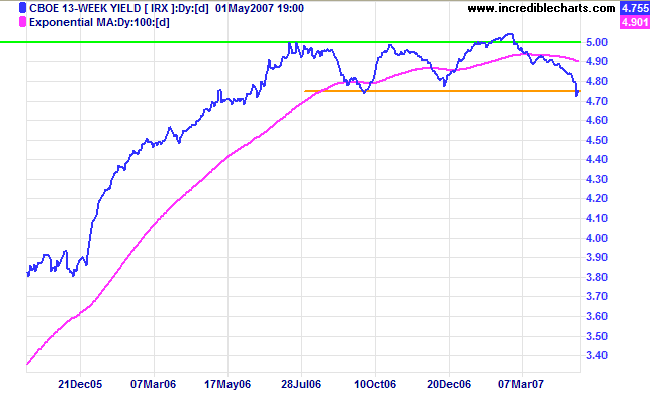 The Dow Jones Industrial Average broke through 13000 and, despite some profit taking highlighted by Twiggs Money Flow, is set to test the upper border of the trend channel (drawn around a linear regression line).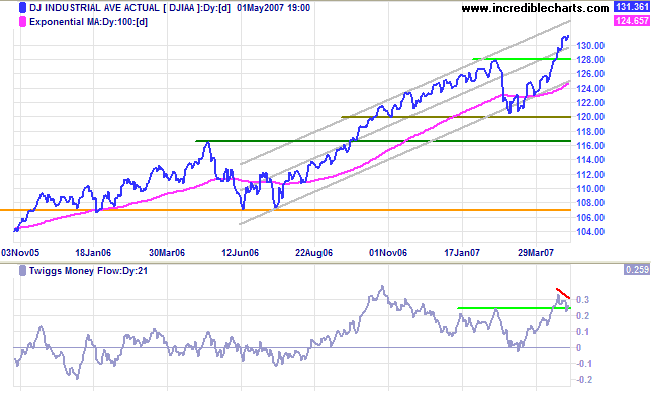 Probability of recession in the next four quarters remains at 45 per cent according to the Wright Model.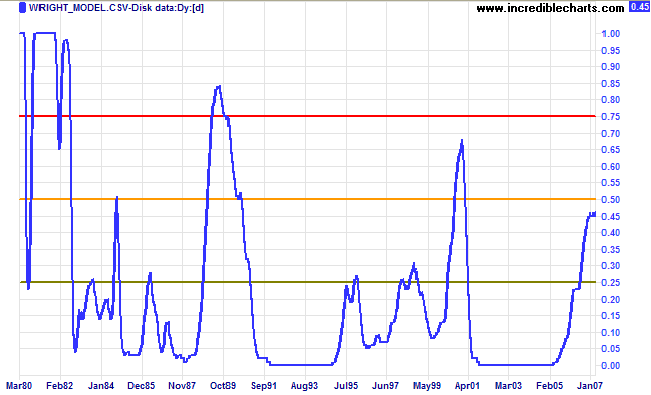 There is some evidence that the Wright model may understate probability of recession in a low interest rate environment (as at present).
Human rights is not about the protection of one group in society. It is about providing a practical framework to protect all our freedoms. If our freedoms require protection by suspending the freedoms of a few, to resist crime, oppression or terrorism then the Human Rights Act allows that. And it will allow it in a way which makes sense to us all.

~ UK Lord Chancellor and Secretary of State for Constitutional Affairs Lord Falconer of Thoroton in his address to the Manchester School of Law.
To understand my approach, please read Technical Analysis & Predictions in About The Trading Diary.