---
Australian Breakout
By Colin Twiggs
August 17, 2006 18:15 p.m. ET
These extracts from my daily trading diary are for educational purposes and should not be interpreted as investment advice. Full terms and conditions can be found at
Terms of Use
.
ASX Australia
The
All Ordinaries
broke through the top of the recent consolidation at 5000. This is a bullish sign and we can expect a test of 5100 shortly. A breakout above 5100 would confirm that the up-trend has resumed.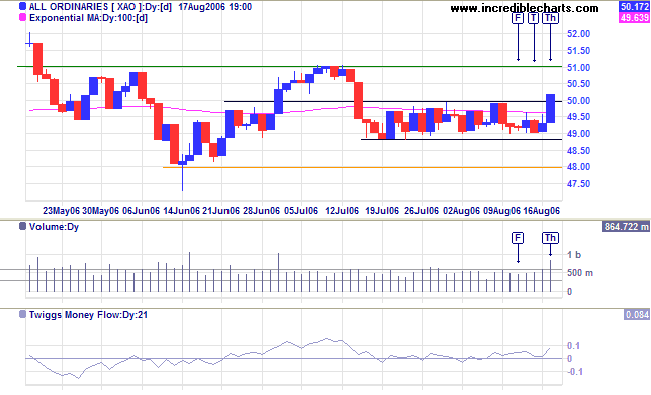 Medium Term:
A rise above 5100 would indicate that a test of 5300 is likely.
Twiggs Money Flow
(21-day) is rising, signaling accumulation.
Long Term: The All Ordinaries is in a primary up-trend, with support at 4800.
To sit home, read one's favorite paper, and scoff at the misdeeds of the men who do things is easy, but it is markedly ineffective. It is what evil men count upon the good men's doing.

~ Theodore Roosevelt (1895).