---
Trading Diary
April 2, 2005
These extracts from my daily trading diary are for educational purposes and should not be interpreted as investment advice. Full terms and conditions can be found at Terms of Use.
USA
The
Dow Industrial Average
is consolidating above support at 10350. Strong volume is evident on red candles on days [2] and [5], signaling distribution. Expect a test of primary support at 10350. A close below this level would signal a primary trend reversal.
William O'Neil
(
How to Make Money in Stocks
) maintains that four
distribution days
in a two week period signal that a market top is forming. I believe that this is an over-simplification but the number of distribution days [d], when compared to accumulation days [a] over the last quarter, is rising. This warns that sellers dominate the market.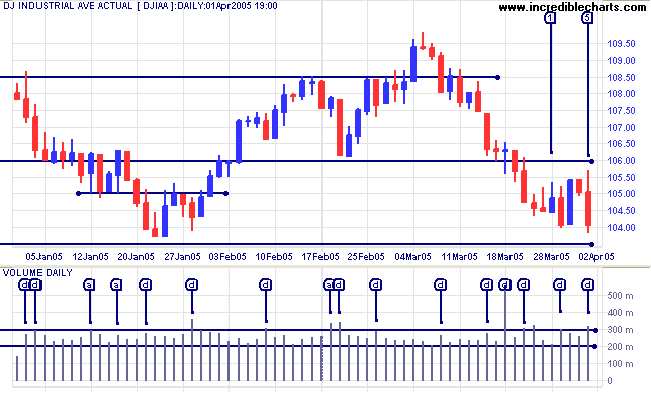 If the index respects support at 10350, we are likely to witness further consolidation between 11000 and 10350. There is heavy resistance overhead at 11000 to 11650 (the previous high).

Twiggs Money Flow
(21-day) continues to decline, warning of further consolidation or correction. A fall below the January low would be an added bear signal.
The
Nasdaq Composite
last week signaled a primary trend reversal, closing below support at 2000. The index encountered some uncertainty, whipsawing across the support level several times before red candles and strong volume at [2] and [5] signaled further distribution. A close below 1970, the last intermediate low, would confirm the downward breakout; especially if accompanied by increased volume.
The NASDAQ primary trend reversal may drag other indexes down as well.
Twiggs Money Flow
continues to fall, confirming that sellers dominate the market.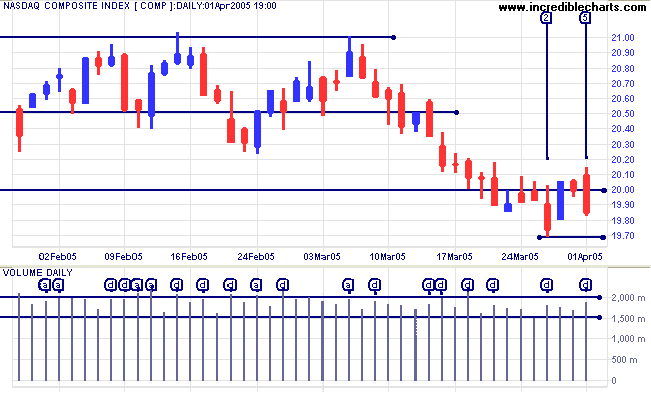 The
S&P 500
continues to display high volumes while consolidating below 1185. Sellers are in control, with three of the last four days qualifying as
distribution days
. Expect a test of primary support at 1160.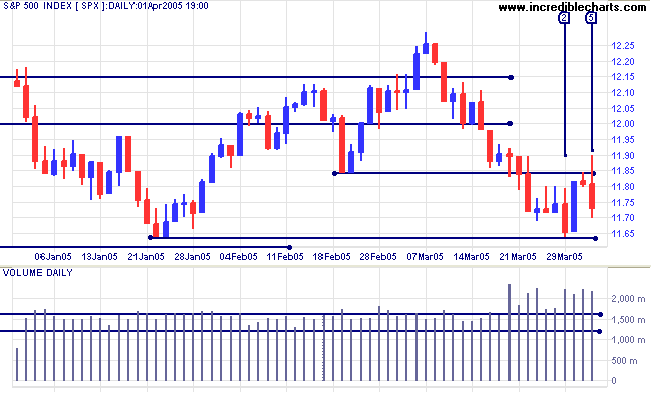 A close below 1160 would signal a primary trend reversal which should at least test support at 1060.
Twiggs Money Flow
(100-day) displays a bearish divergence. A fall below the previous (January) low, or a peak below zero, would add further weight to the bear signal.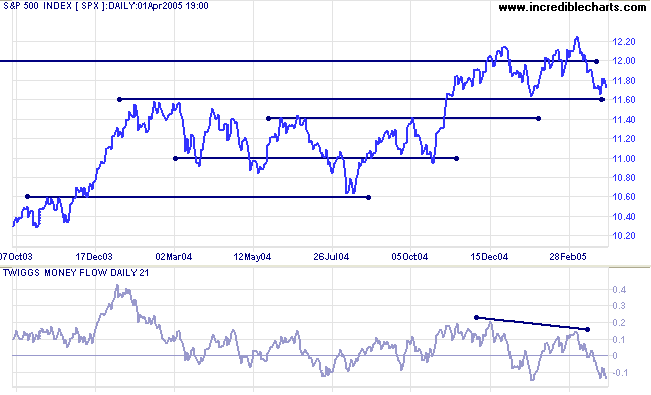 Treasury yields
The yield on 10-year treasury notes is retreating to test support at 4.40%. If support holds, that would signal the start of an up-trend.
The
yield differential
(10-year T-notes minus 13-week T-bills) has pulled back to 1.7%. A yield differential below 1.0% is considered a long-term
bear signal
for equity markets.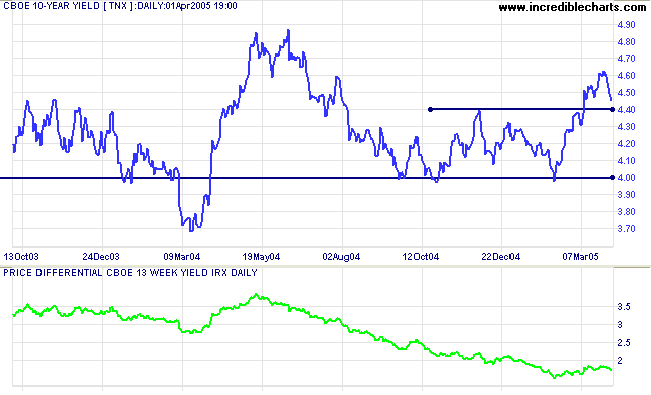 Gold

New York: Spot gold pulled back to test the new (intermediate) resistance level at $430 before closing lower
at $425.30 on Friday. The
intermediate trend is downwards and we can expect a test of primary support at $410.
A fall below $410 would signal that the primary trend has reversed; while
another secondary peak below $450 would also be a strong bear signal.
ASX Australia
The sharp down-swing on the
All Ordinaries
encountered support at 4080, with a long tail and strong volume at [2]. The index recovered with two blue candles on Thursday/Friday but on declining volume.
The first level of resistance is at 4180, the previous intermediate low.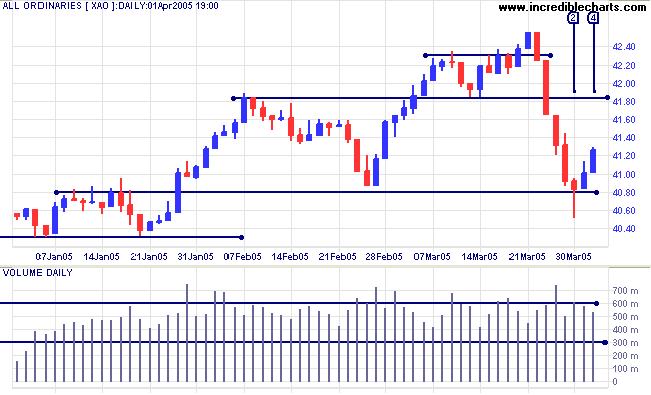 Market confidence in the bull rally has been shaken and we may be witnessing the start of a market top. There were six
distribution days
between March 9 and March 24.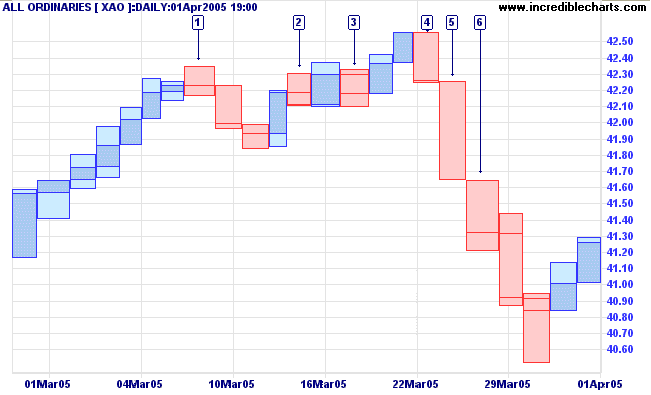 Twiggs Money Flow (100-day)
continues to make new lows, well below the 50-day MA signal line.
The combination of the bear signal from
Twiggs Money Flow
and the increase in number of recent distribution days favors the formation of a market top. Watch for the following warning signs:
increased volatility;
repeated failure to break through resistance at 4180; or
a false (marginal) break above the high at 4250; and, most obviously,
a close below 4080, signaling a primary trend reversal.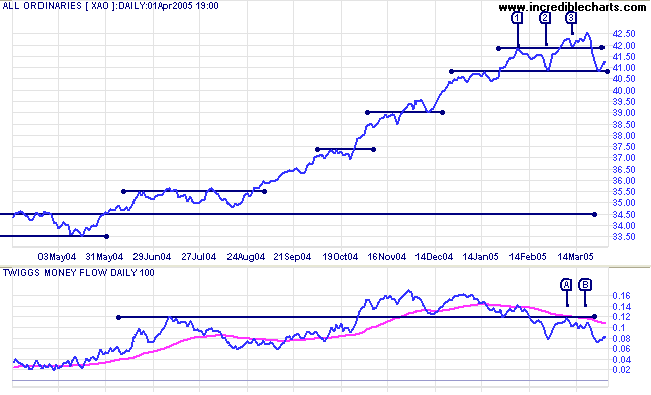 Weekly reminder:
At some point there is likely to be a correction back to 3450. This is based on observation of the
All Ords
over the past 25 years, where the index has regularly cut back to test support at previous highs during an up-trend.
Colin Twiggs
Nothing is more difficult, and therefore more precious, than to be able to decide.

~ Napoleon Bonaparte
---
Back Issues
Access the Trading Diary Archives.
---