---
---
---
Trading Diary
December 4, 2004
These extracts from my daily trading diary are for educational purposes and should not be interpreted as investment advice. Full terms and conditions can be found at
Terms of Use
.
USA
The
Dow Industrial Average
is consolidating in a narrow band below resistance at 10600. A breakout above 10600 would be bullish, while a fall below 10350 would signal that a test of support at 10000 is likely.
Thursday and Friday display false breaks above the resistance level and strong volume: often followed by a test of support at the opposite border of the consolidation.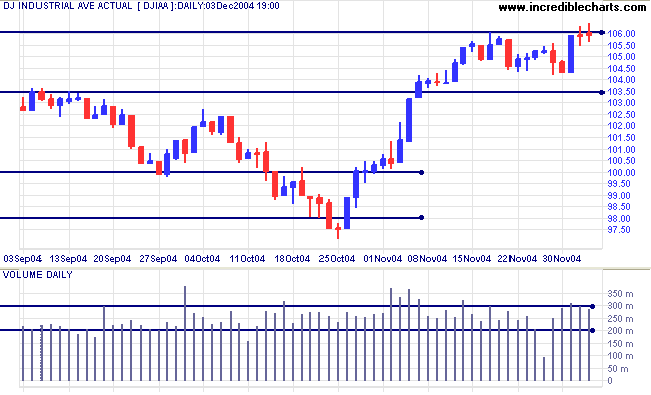 Narrow consolidation below a major resistance level is a bullish sign. A sustained breakout (not just a false break) above 10600 would signal that a test of 11000 is likely. A fall below 10000 would be a long-term bear signal.
Twiggs Money Flow
signals strong accumulation.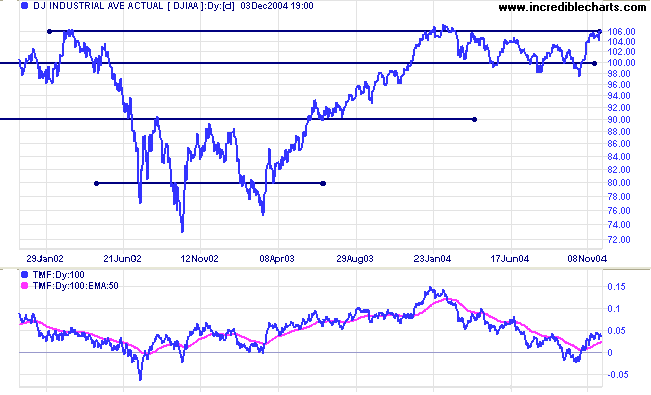 The Nasdaq Composite has rallied to test resistance at 2150. Judging by the large volume and weak closes on Thursday/Friday, we are likely to see some consolidation below 2150, or a correction back to test support at 2050.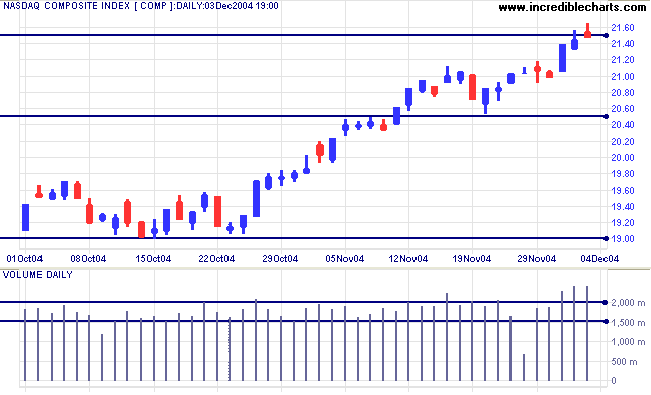 The primary trend is up and
Twiggs Money Flow
signals strong accumulation, rising well above its' signal line.
The
S&P 500
has successfully tested the new support level at 1150/1160, signaling a strong up-trend. The index encountered resistance on Thursday/Friday with two
dojis
on strong volume. The dojis are positioned near the high of Wednesday's strong blue candle: a fall below the top half of this candle would be a short-term bear signal; otherwise buyers are still in control.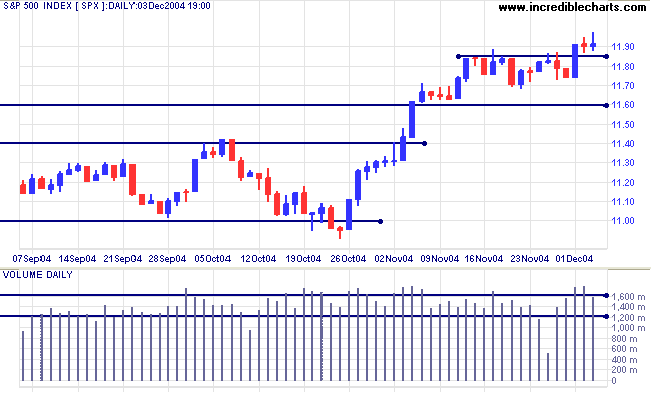 Twiggs Money Flow
continues to signal strong accumulation.
The primary trend is up. With no major resistance levels overhead we can expect good gains. The projected target for the recently completed broadening wedge pattern is 1240: 1140 + ( 1160 - 1060).
Treasury yields
The yield on 10-year treasury notes displays a breakout above 4.25%, completing the
double bottom
pattern at [1] and [2]. A successful test of the new support level, at 4.25%, would be a bullish sign. The target for the completed pattern is 4.50%: 4.25 + (4.25 - 4.00).
The
yield differential
(10-year T-notes minus 13-week T-bills) has declined to 2.1%.
Differentials below 1.0% are bearish.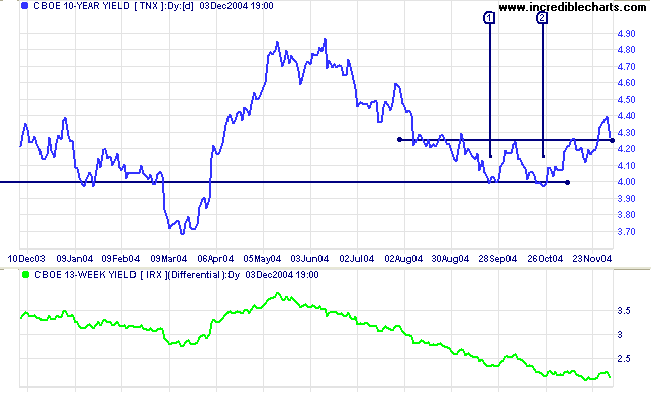 Gold

New York: Spot gold rallied late Friday to close at $455.20. The metal has successfully tested short-term support at $450 and we can expect further gains. The next resistance level is likely to form at 500.
---

Incredible Charts - now with US Data

AMEX, NASDAQ and NYSE data
OTC BB and Pink Sheet stocks
more than 500 market and sector indices

---
ASX Australia
The
ASX 200
correction on Wednesday [W] was short-lived, but higher volumes on Tuesday and Wednesday signal increased resistance. Expect resistance to further increase as the ASX 200 and All Ordinaries approach 4000.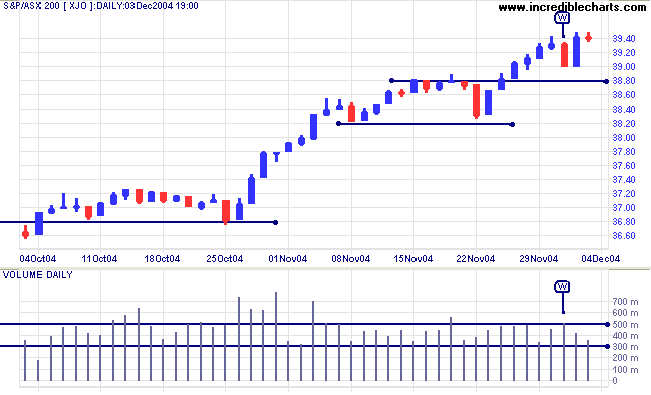 Twiggs Money Flow
is rising steeply, signaling strong accumulation.
The primary up-trend is strong. The latest rally is unusually steep and at some stage (perhaps 4000) increased profit-taking will force a correction. The first major support level is at 3500 (xao: 3450): the highs of 2002.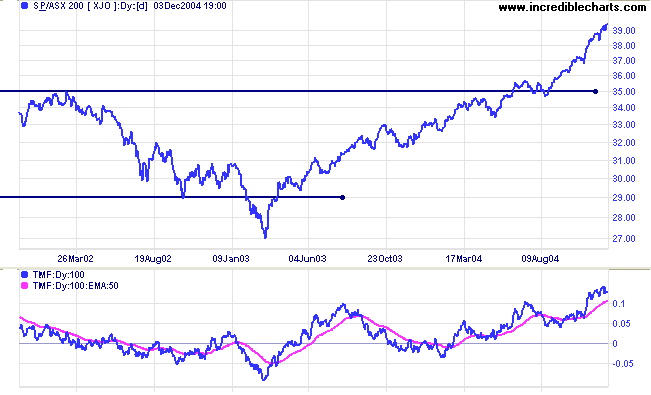 Colin Twiggs
Foreknowledge (to approach a situation with one's mind already made up)
is the beginning of stupidity.

~ Lao Tse.
---
Back Issues
Access the Trading Diary Archives.
---