---
---
Incredible Charts Version 4.0.3.800 now available.
Your version of Incredible Charts should update automatically when you next login.

If you do not receive the update, check Help >> About on the charts menu for the version. Then read Troubleshooting : Live Update.
---
Trading Diary
October 23, 2004
These extracts from my daily trading diary are for educational purposes and should not be interpreted as investment advice. Full terms and conditions can be found at Terms of Use.
USA
The
Dow Industrial Average
exhausted support at 9800, closing down strongly on average volume. If the index fails to consolidate or cross back above 9800 in the next few days, this will be a strong bear signal. Each of the previous down-swings has reversed shortly after making a new low. Failure to do so would signal increased commitment from sellers.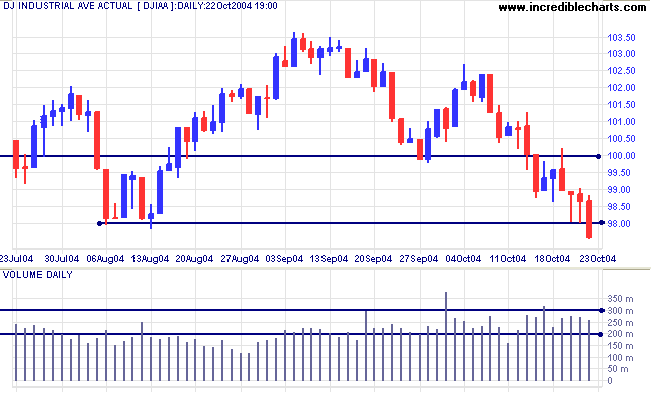 Some readers may interpret the consolidation pattern below as a bullish
descending wedge
, but the pattern has not narrowed to a point. There is still chance of an upward breakout, but
Twiggs Money Flow
is falling sharply, signaling strong distribution. An intermediate reaction that fails to recover above 10000 would be a long-term bear signal.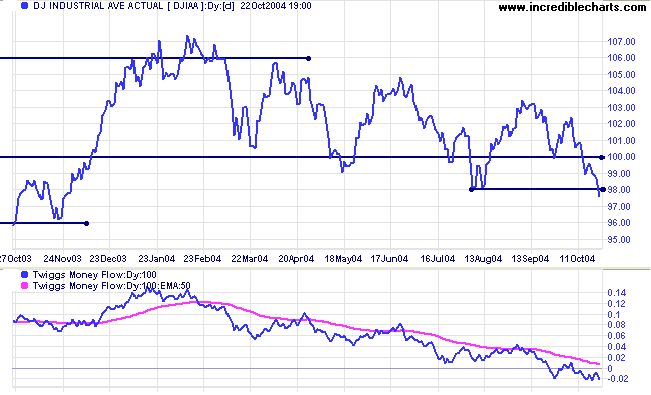 The
Nasdaq Composite
index has so far held above support at 1900. A rise above the recent peak at 1970 would be a bullish sign, while a break below 1900 would be bearish.
The primary trend remains downward. The pull-back above the first line of resistance (at 1900) indicates a weak trend.
Twiggs Money Flow
continues to whipsaw around the signal line, reflecting indecision.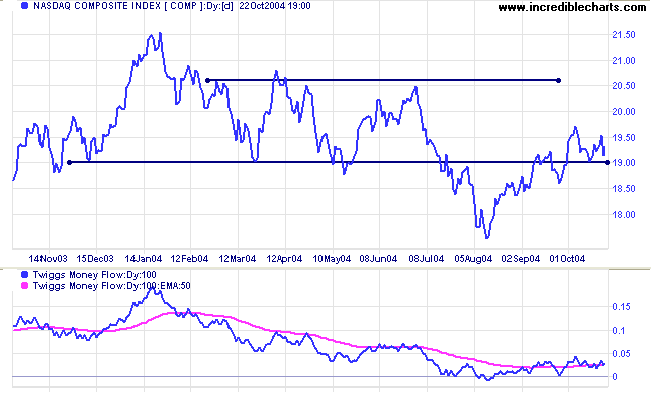 The S&P 500 failed to hold above support at 1100, breaking through after strong volume on Tuesday to Thursday. If there is no immediate recovery, expect a test of support at the previous low of 1060.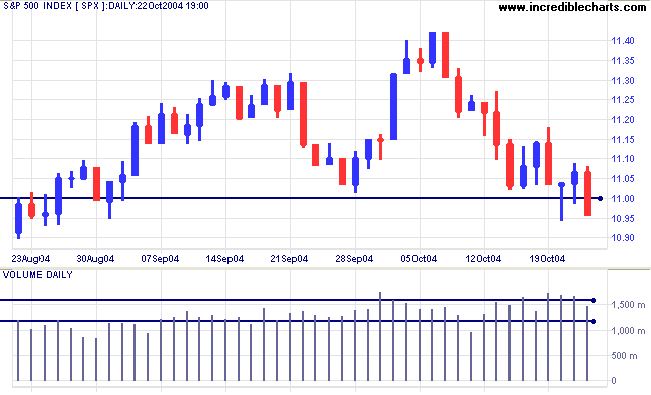 The long-term consolidation displays a broadening (descending) wedge. These are bullish patterns with roughly a 2:1 success rate (
Thomas Bulkowski: Encyclopedia of Chart Patterns
), ending with a continuation of the prevailing trend. Reversal back above 1100 would be a strong bull signal.
However,
Twiggs Money Flow
is still bearish, remaining below its signal line.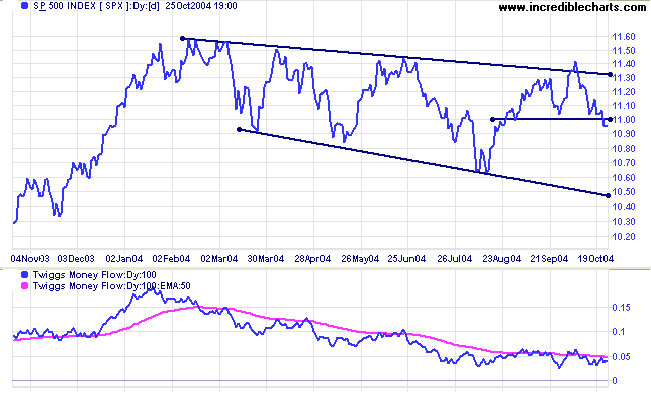 Treasury yields
The yield on 10-year treasury notes is again testing support at 4.00%, closing just below the key level. The market appears to be betting that surging oil prices will obviate the need for continued interest rate hikes.
The
yield differential
(10-year T-notes minus 13-week T-bills) continues to fall. Differentials below 1.0% are long-term bear signals.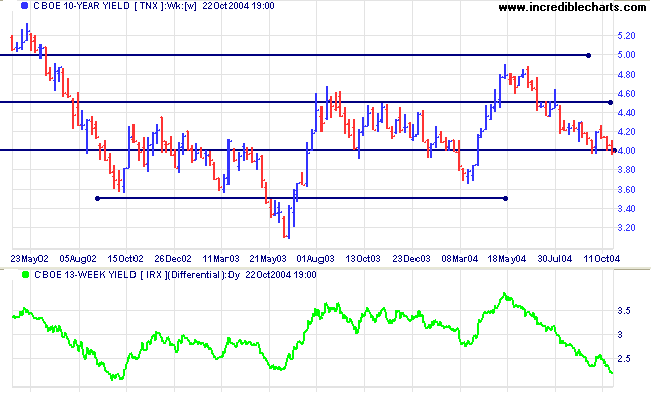 Gold

New York: Spot gold is close to the 10-year high, closing at $424.00 on Friday.
The primary trend is up. Expect resistance between the 10-year high of $427.25 and $430.
---

Incredible Charts - now with US Data

AMEX, NASDAQ and NYSE data
OTC BB and Pink Sheet stocks
more than 500 market and sector indices

---
ASX Australia
Last Friday's
compressed spring
pattern on the All Ordinaries was a false signal, caused by exceptional volume in Multiemedia [MUL], a stock that trades at below 4 cents a share. For that reason I have switched to the ASX 200 [XJO]: to minimize volume distortions from low-priced stocks. The ASX 200 includes only 10 stocks priced under a dollar, whereas the All Ords has more than 100.
The
ASX 200
is consolidating in a narrow range above 3700, reflecting uncertainty from world markets. There is still plenty of buying support, as evidenced by high volumes on Wednesday and Thursday, but Friday's weak close indicates that this may be weakening. Two consecutive closes below 3700 would be a short-term bear signal (most false breaks, such as at [B], last only one day). Consecutive closes above the recent high, on the other hand, would be a bull signal, as at [A] in September.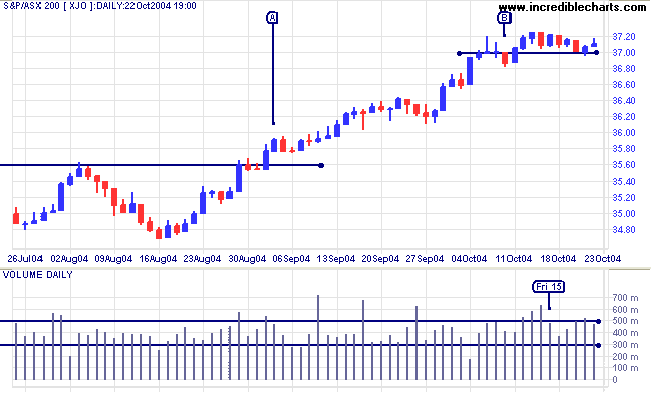 Twiggs Money Flow
is rising, signaling accumulation.
The primary up-trend is strong. We should, however, allow for a correction that will test 3500 in the longer-term.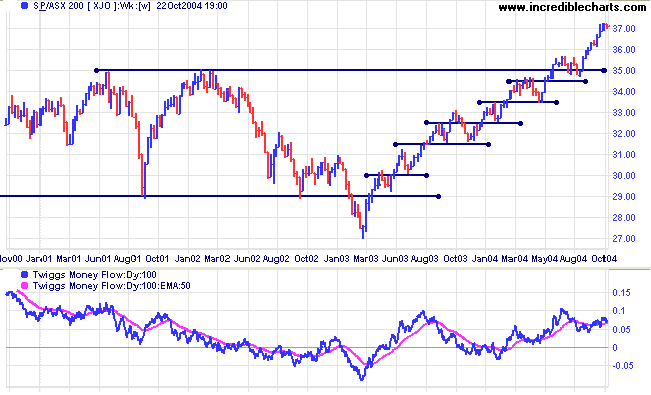 Incredible Charts - Projects and Watchlists
Many members appear to be unaware that projects and watchlists are stored on their own computer and cannot be accessed from anywhere else. To transfer files to another computer:
Select Files >> Export Files
Select the required files
Then save them to a removable disk (floppy disk or CD)
Project files have the extension
.ini
Watchlists have the extension
.viz
It is also advisable to backup your key projects and watchlists to another disk on a regular basis.
Use
File >> Import Files
to restore files to your computer.
Incredible Charts - New Version
The latest version features a new option at
View >> Advanced Options >> Securities Menus Sorted By Sector
.
Users can elect to display securities menus in either:
alphabetical; or
sector format.
Alphabetical is set as the default option. The sector option is not available for US exchanges as we have not yet secured a reliable source for sector allocations.
The new version also offers more options under
View >> Advanced Options >> Set Menu Length
.
Colin Twiggs
Chance favors the informed mind.

~ Louis Pasteur
---
Back Issues
Access the Trading Diary Archives.
---