---
---
---
Trading Diary
October 16, 2004
These extracts from my daily trading diary are for educational purposes and should not be interpreted as investment advice. Full terms and conditions can be found at
Terms of Use
.
USA
The
Dow Industrial Average
has slipped below support at 10000. Friday's weak close and strong volume signal that sellers are dominant. Expect a test of support at 9800. A break below 9800 followed by a successful test of resistance at 10000 would confirm that the primary trend has reversed downwards.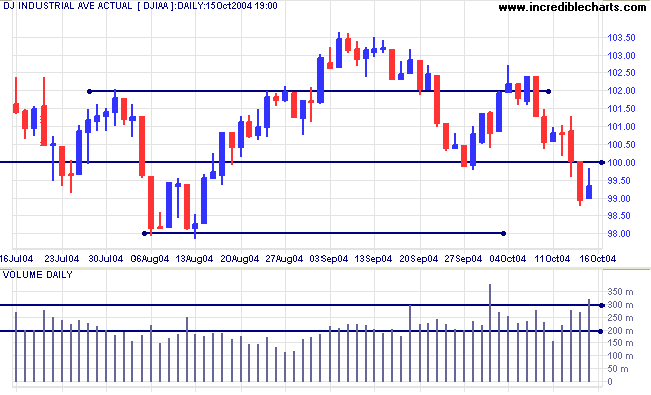 The direction of the primary trend will remain uncertain until there is a clear breakout from the consolidation pattern around 10000. Some readers may interpret the pattern as a bullish
descending wedge
, but I prefer to sit on the fence: the pattern isn't clear and
Twiggs Money Flow
is falling sharply, signaling distribution.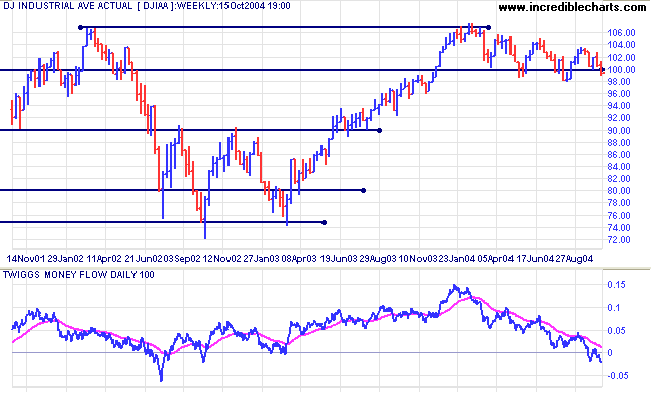 The
Nasdaq Composite
has so far respected the new support level at 1900, but Friday's weak close on low volume is a bearish sign. A successful test of support would indicate that a rally to test resistance at 2100 is likely.
The primary trend remains downward. The pull-back above the first line of resistance (at 1900) indicates a weak trend.
Twiggs Money Flow
continues to whipsaw around the signal line, reflecting indecision.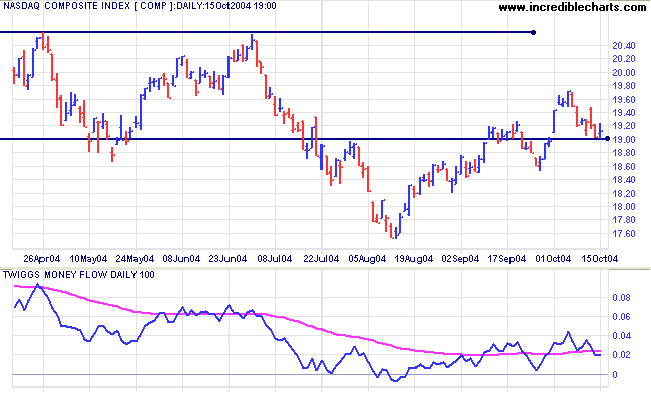 The S&P 500 is testing support at 1100. Friday's weak close on strong volume is a bearish sign, indicating that the line may be penetrated in the next few days.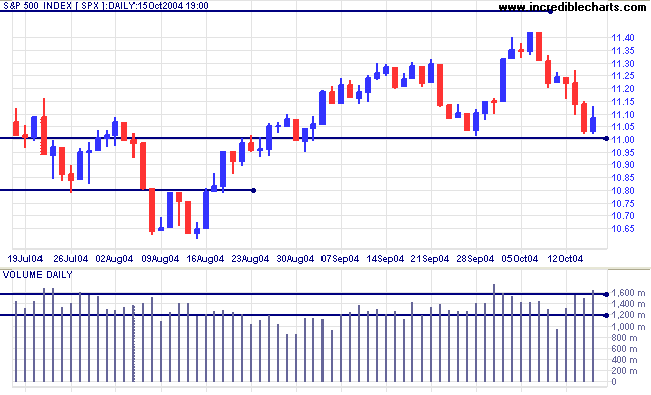 Twiggs Money Flow
continues to signal distribution.
The long-term consolidation around 1100 reflects continued indecision. Another trough that respects the support level would be a bullish sign. Penetration of 1100, followed by a pull-back that respects that level, would be a bear signal.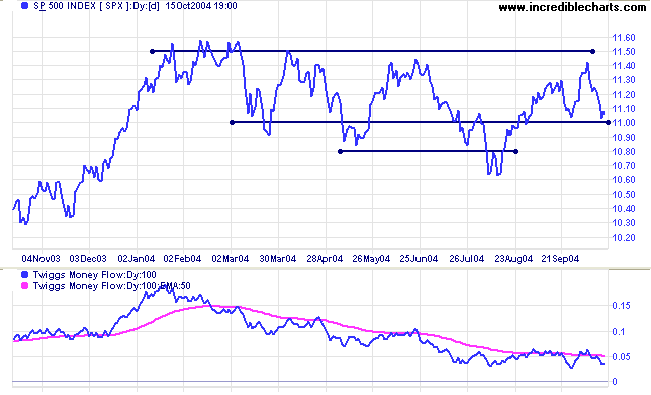 Treasury yields
The yield on 10-year treasury notes is again testing support at 4.00%. The longer that yields consolidate above the support level, the greater the likelihood of a downward breakout.
The
yield differential
(10-year T-notes minus 13-week T-bills) eased to 2.3%. Differentials below 1.0% are long-term bear signals.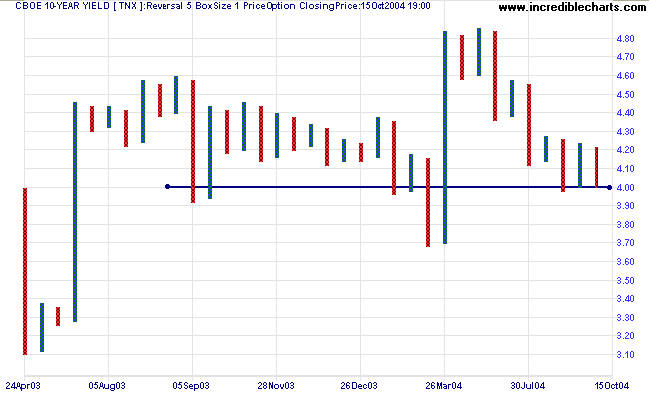 Gold

New York: Spot gold completed another successful test of support at $410, rallying to $418.40 by Friday.
Gold is in a primary up-trend. Expect resistance at the 10-year high of $427.25.
---

Incredible Charts - now with US Data

AMEX, NASDAQ and NYSE data
OTC BB and Pink Sheet stocks
more than 500 market and sector indices

---
ASX Australia
Friday's narrow trading range on the
All Ordinaries
, combined with exceptional volume, forms what I call a
compressed spring
. On an equivolume chart the pattern is referred to as an
over-square day
, confirming that we have committed buyers
and
committed sellers. This pattern often precedes a strong move. Direction of the move is determined by whichever side has greater depth and exhausts the other side first. The close at Friday's high indicates that buyers may be gaining the upper hand. A break above Thursday's high, or below Thursday's low, will give a further indication.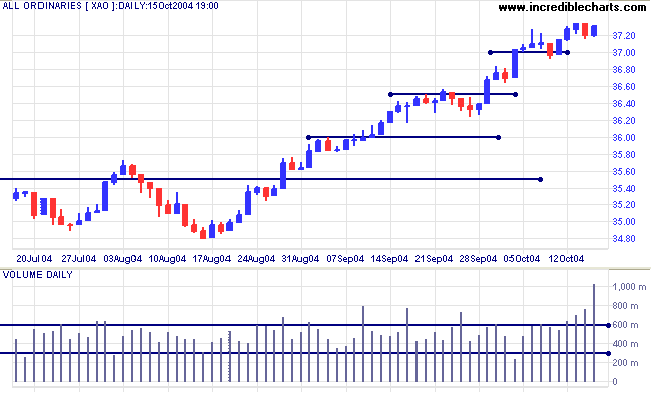 Twiggs Money Flow
is rising strongly, signaling accumulation.
The All Ords is in a strong primary up-trend. We should, however, allow for a test of support at 3550 in the medium-term; and 3450 in the longer-term.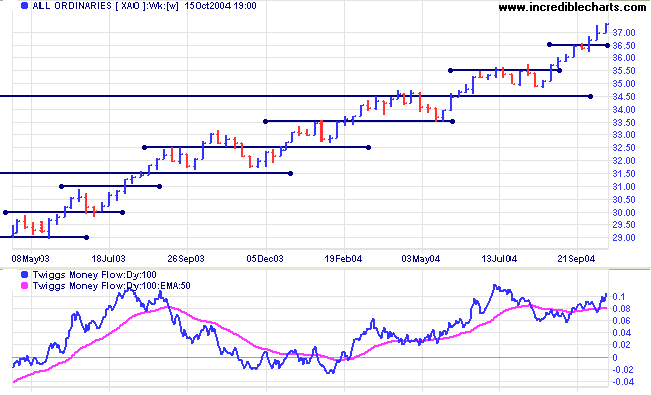 Incredible Charts - New Legend
Many readers appear to be unaware of how to use the legend in Incredible Charts. There are basically 4 functions:
Display the Legend
The
Legend button on the toolbar or
View
menu displays the chart legend.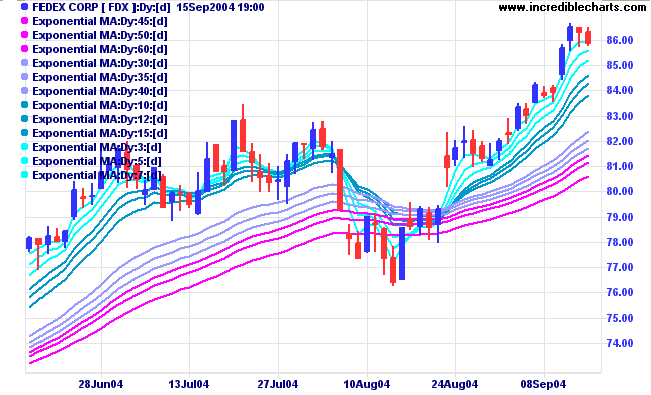 To abbreviate the Legend:
Select Format Charts >>


Abbreviate Legend.
Amend Indicator Colors
Use the Legend function to amend the indicator colors on a chart:
Open the


Legend
Click the color block in front of an indicator
Select a new color and click OK.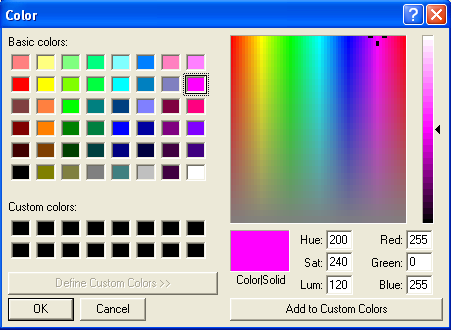 Hide Indicators
Use the Legend function to temporarily hide an indicator or price bars:
Open the


Legend
Clear the check box in front of an indicator; or
To hide price bars, clear the box in front of the Security name (e.g. Fedex Corp below).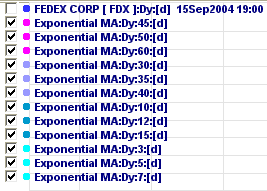 Hide a Security Name
Right-click on the legend button

and
clear
the check box in front of
Show Equity Name
.

Incredible Charts - New Test Version
The latest test version 4.0.3.720 is available for download from the website.
This features a new option at
View >> Advanced Options >> Securities Menus Sorted By Sector
, where users can elect to display securities menus in alphabetical (default) or sector format.
The version also offers more options under
View >> Advanced Options >> Set Menu Length
.
Colin Twiggs
Self-discipline is like a muscle: if you don't exercise it, it gets weak.

~ Andrea (17)
---
Back Issues
Access the Trading Diary Archives.
---