---
---
Incredible Charts version 4.0.3.700
There is a new version of Incredible Charts on the server.
Please check under
Help >> About
whether you have received the update.
If you experience any difficulties with the update, please visit the new
Help: Live Updates
page or simply do a
manual update
.
---
Trading Diary
October 9, 2004
These extracts from my daily trading diary are for educational purposes and should not be interpreted as investment advice. Full terms and conditions can be found at Terms of Use.
USA
The
Dow Industrial Average
encountered resistance at 10200, with a weak close on Monday. Strong downward bars on Thursday and Friday precede another test of support at 10000. Penetration of this level would likely reach 9800. A successful test of support would be a long-term bull signal.
The longer-term consolidation pattern around 10000 continues to reflect market uncertainty. An upward breakout would be signaled by a trough above 10000, while a peak below this level would signal a bearish breakout.
Twiggs Money Flow
remains bearish, having fallen sharply since the beginning of the year.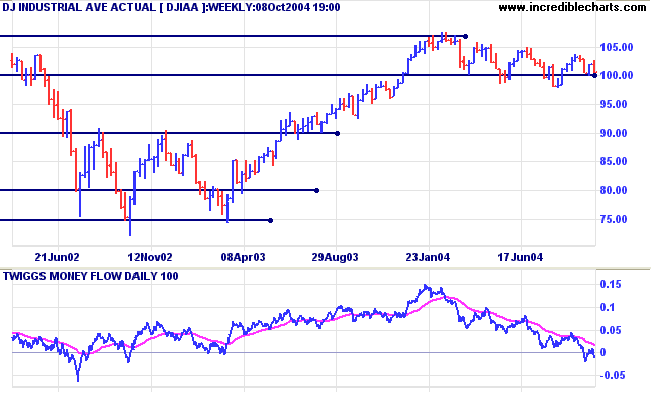 The
Nasdaq Composite
is about to test the new support level at 1900. A successful test would signal a rally to test resistance at 2100. A break back below support would likely test the next intermediate level at 1750.
Twiggs Money Flow
is whipsawing around the signal line, reflecting indecision.
The primary trend remains downward.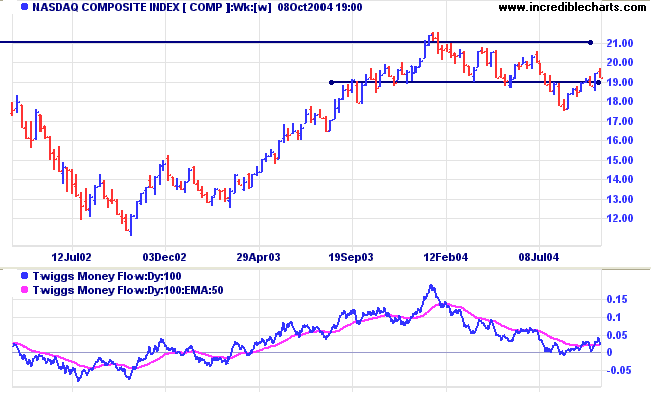 The
S&P 500
encountered resistance at 1140. Strong downward bars on Thursday and Friday signal a likely re-test of support at 1100. Another successful test of support would be bullish, resulting in a likely rally to 1150, and possibly a breakout.
Twiggs Money Flow
whipsaws around the signal line, reflecting indecision.
The long-term consolidation around 1100 continues. Falling troughs signal weakness but there is no clear breakout as yet.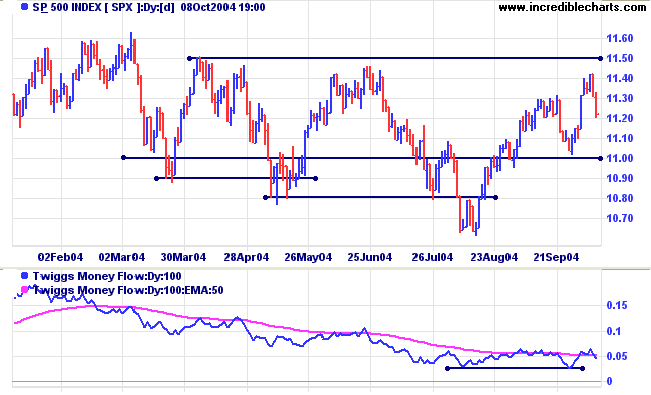 NYSE Bullish Percent

This service is no longer available.
Treasury yields
The yield on 10-year treasury notes appears headed for another test of support at 4.00%. Weaker than expected increases in non-farm payrolls support the view that the Fed will have to be cautious with further rates increases.
The
yield differential
(10-year T-notes minus 13-week T-bills) is at 2.5%. Differentials below 1.0% are long-term bear signals.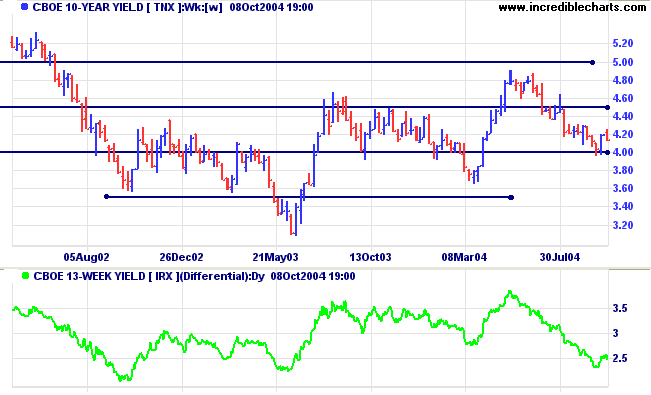 Gold

New York: Spot gold has rallied to close the week at $422.30.
A pull-back that respects support at $410 would be a further bull signal.
Expect resistance at the 10-year high of $427.25.
---

Incredible Charts - now with US Data

AMEX, NASDAQ and NYSE data
OTC BB and Pink Sheet stocks
more than 500 market and sector indices

---
ASX Australia
Increased volume on the
All Ordinaries
, accompanied by weak closes on Wednesday and Thursday, signaled profit-taking. The further that price climbs above a base, the scarcer buyers become on dips, and the more ready sellers there are at the first sign of weakness. The result is shorter rallies and longer corrections.
Friday's strong close on a red candle may herald a test of support at 3660.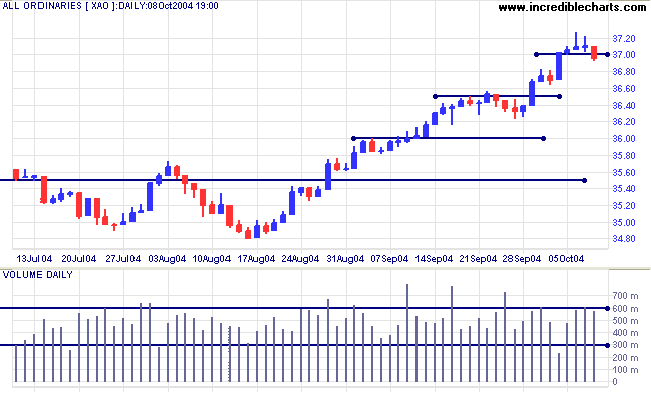 Twiggs Money Flow
has crossed back below the signal line, raising doubt over the strength of any further rally.
The All Ords is in a strong primary up-trend. However, we should allow for a test of support at 3550 in the medium-term; and 3450 in the longer-term.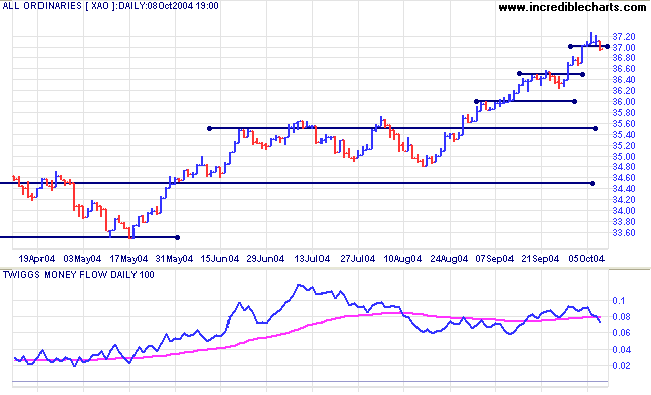 Incredible Charts - New Securities Menu
Incredible Charts offers a new securities menu, making it easier to browse for stocks.
All menus are now ordered alphabetically, so that stocks are easier to find than on the old menus, ordered by sectors.
Australian sectors and industry groups are available on the stock screens, and can be saved as watchlists for easy scrolling.
We are still seeking a reliable source for US sector allocations.
Browsing for Securities
To browse for securities, select Securities then a loaded

exchange menu.
Unloaded menus are indicated by a
.
We recommend that you only upload menus that you browse frequently. They are not needed for the new securities toolbar, search function or stock screens; and updating slows the opening of Incredible Charts.
Sector Indices
Sectors and Indices are kept in separate folders for easy access:
US indices are in the Indexes menu
Australian indices are on the Australia menu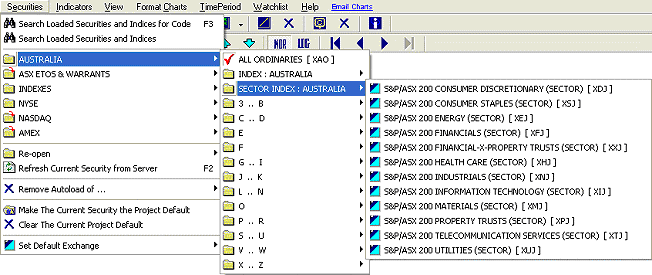 Colin Twiggs
Thank you for the feedback regarding last week's quote.
The original source appears to be Russell Sage, a wealthy US investor from the early 20th century.


The first rule is, to keep an untroubled spirit;
for all things must bow to Nature's law,
and soon enough you must vanish into nothingness.
The second is to look things in the face and know them for what they are,
remembering that it is your duty to be a good man.
Do without flinching what man's nature demands;
say what seems to you most just - though with courtesy, modesty, and sincerity.

~ Marcus Aurelius
---
Back Issues
Access the Trading Diary Archives.
---