---
---
Incredible Charts version 4.0.3.700
There is a new version of Incredible Charts on the server.
Please check under
Help >> About
whether you have received the update.
If you experience any difficulties with the update, please visit the new
Help: Live Updates
page or simply do a
manual update
.
---
Trading Diary
October 2, 2004
These extracts from my daily trading diary are for educational purposes and should not be interpreted as investment advice. Full terms and conditions can be found at
Terms of Use
.
USA
The
Dow Industrial Average
rallied strongly after a false break below 10000. Thursday's weak close accompanied by strong volume signals that buyers presently dominate the market. A break above 10350 would be a bull signal, while a pull-back that respects support at this level would add further confirmation. A break below 10000 would likely test support at 9800.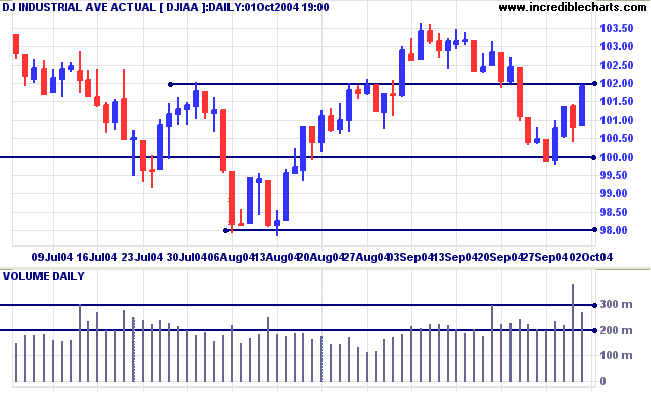 The longer-term consolidation pattern around 10000 reflects market uncertainty. A trough above 10000 would be a bullish sign, while a peak below this level would be bearish.
Twiggs Money Flow
is distinctly bearish, falling sharply since the beginning of the year.
The
Nasdaq Composite
has gapped through resistance at 1900 on higher volume: a strong bull signal. Expect a test of support at 2050.
Twiggs Money Flow
has crossed above the signal line but still looks tentative.
The primary trend remains downward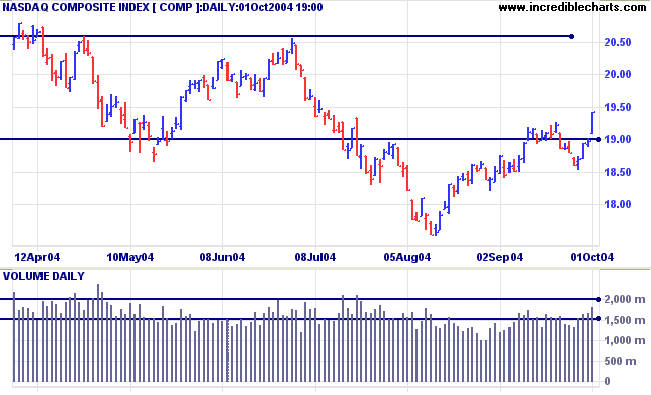 The
S&P 500
has rallied strongly in the last two days, signaling that buyers control market direction in the short-term.
Twiggs Money Flow
is moving sideways, reflecting indecision.
In the long-term, consolidation around 1100 continues. Falling troughs signal weakness but there is no clear breakout as yet. An intermediate trough above 1100 would be a bullish sign, while a peak below 1100 would be bearish.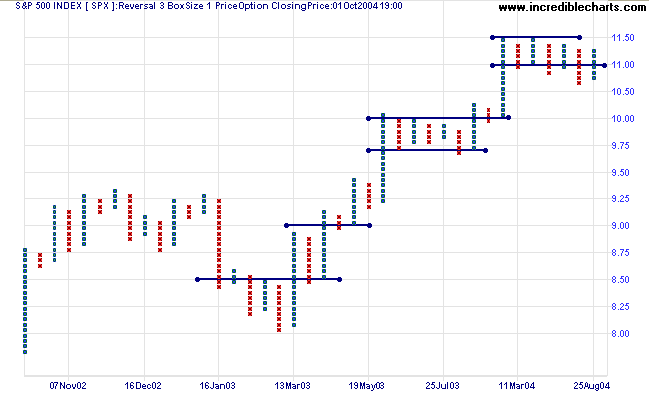 Treasury yields
The yield on 10-year treasury notes was boosted by rising oil prices, rallying to 4.20% after a false break below support at 4.00%.
The
yield differential
(10-year T-notes minus 13-week T-bills) increased to 2.5%.
Differentials below 1.0% are long-term bear signals.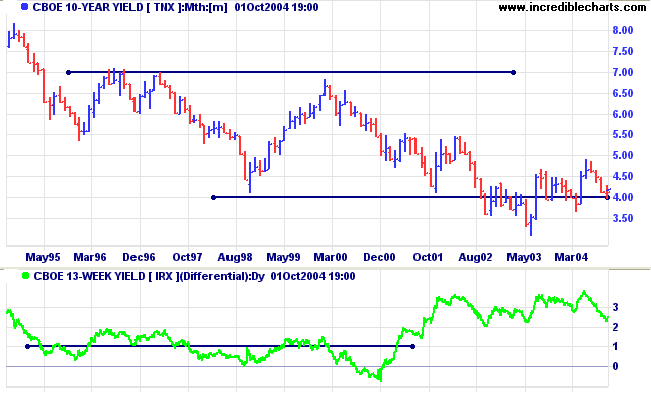 Gold

New York: Spot gold has broken free of the consolidation above support at $400, closing the week at $419.10.
A pull-back that respects support at $410 would be a further bull signal.
The next major resistance level is the 10-year high of $427.25.
---

Incredible Charts - now with US Data

AMEX, NASDAQ and NYSE data
OTC BB and Pink Sheet stocks
more than 500 market and sector indices

---
ASX Australia
The
All Ordinaries
quickly recovered after a short correction last week. Increased volume on the rally, and a weak close and lower volume on Friday, indicate that buyers dominate the market.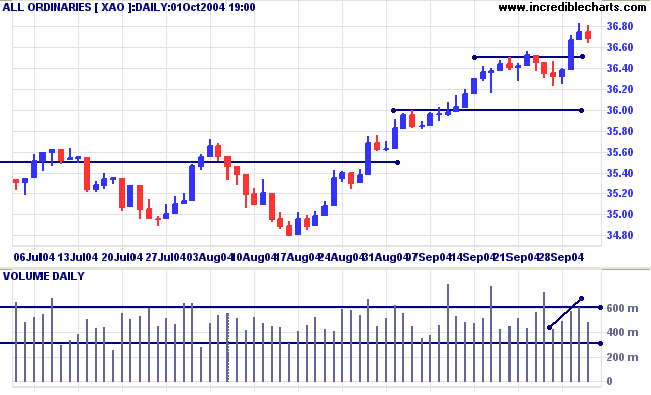 Twiggs Money Flow
has completed a series of small troughs above the signal line: a bullish sign.
The All Ords is in a strong primary up-trend. Bear in mind, however, that any good trend has corrections. Allow for a test of support at 3550 in the medium-term and 3450 in the longer-term.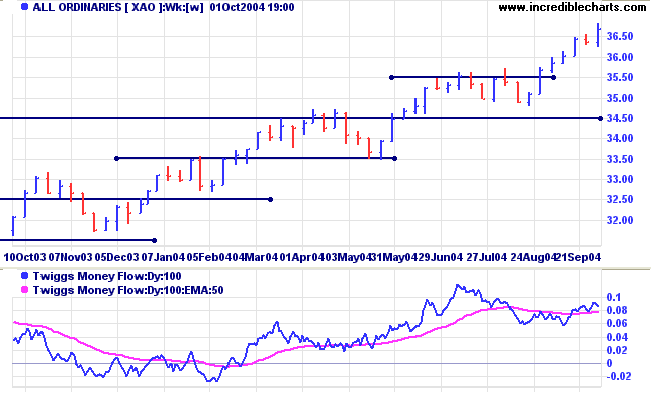 Incredible Charts - new Search Facility
In addition to the new securities toolbar, Incredible Charts version 4.0.3.700 offers an improved securities search function. You no longer have to upload exchanges in order to search them: the search works off the server.
Basic Search
Select the Search button


on the toolbar
(or select Securities >> Search on the menu)
Enter whole or part of a security's name in the dialog box
Click Find Next
Select a security by double-clicking on the name.
View last Search
Click


Return to Last Search.
Refine your Searches
Add a space after the name/code and then enter an exchange code.
This will limit a search to that exchange.
Example: A search for
bhp ao
will list all BHP options and warrants.
Exchange codes are:
ax = AUSTRALIA
ao = ASX ETO'S & WARRANTS
in = INDEXES
mx = AMEX
ny = NYSE
nq = NASDAQ

*

= all exchanges
Set a Default Exchange
(only available in version 4.0.3.710 - to be released next week as a test version)

Set a Default Exchange and you will not need to enter the EXCHANGECODE for that exchange.
Example: If Australia is set as the Default Exchange, you need only type ncp instead of ncp ax to load News Corporation.

To set a Default Exchange:
Right-click the


Search button

Select an exchange (e.g. AUSTRALIA)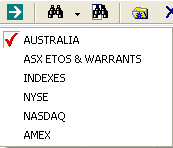 Or select Securities >> Set Default Exchange from the chart menu.


Sort the Search Return

Click on a column heading to sort the Search Return:
Click on the Security header to sort in alphabetical order.

Click on the blank header square, above the bullets, to sort in order of the security code.



Search for Code Only

To exclude names and search for security codes only:
click the drop-down arrow next to the Search button


on the toolbar;
select Search for Security Code Only.
Colin Twiggs
It's not how much you make that matters,
it's how much you can keep that counts!

(with thanks to Holycow on the Chart Forum)
Source unknown -- If any reader can recall this, please email me.
---
Back Issues
Access the Trading Diary Archives.
---