---
---
Incredible Charts version 4.0.3.700
There is a new version of Incredible Charts on the server.
Please check under
Help >> About
whether you have received the update.
If you experience any difficulties with the update, please visit the new
Help: Live Updates
page or simply
download
and install the new version to replace the old one.
---
Trading Diary
September 25, 2004
These extracts from my daily trading diary are for educational purposes and should not be interpreted as investment advice. Full terms and conditions can be found at Terms of Use.
USA
The
Dow Industrial Average
fell sharply during the week, on moderate volume. Friday's weak close shows a brief period of consolidation before a re-test of the 10000 support level; a bearish sign.
Twiggs Money Flow
is falling sharply, signaling distribution.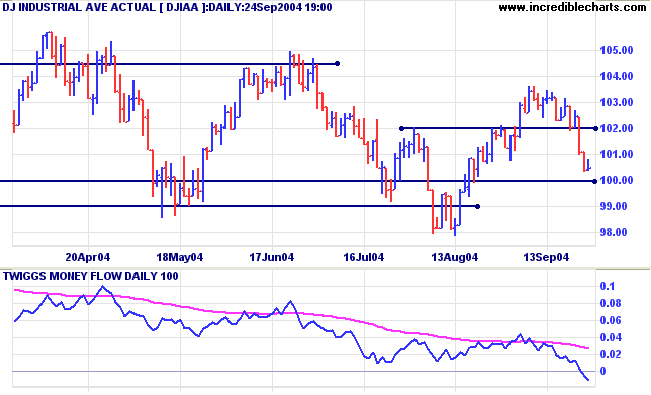 The longer-term consolidation pattern around 10000 reflects market uncertainty. A trough above 10000 would be a bullish sign, while a peak below this level would be bearish.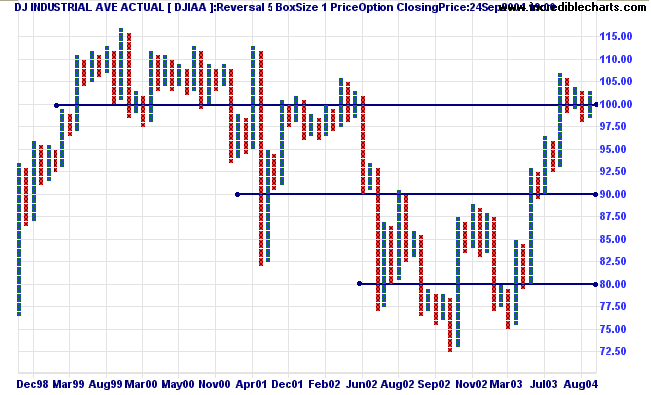 The
Nasdaq Composite
has broken back below 1900 on low volume. Failure to reverse back above the support level early in the next week will be a bearish sign, indicating a probable test of support at 1750.
Twiggs Money Flow
reflects indecision, having reversed back below the signal line.
The primary trend is still downward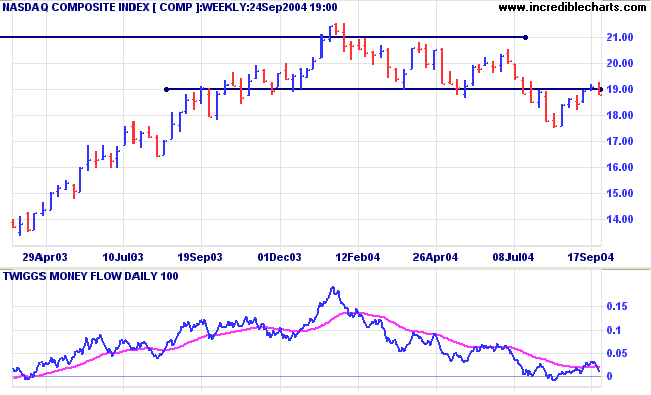 The
S&P 500
has fallen on low volume, testing the first level of support (medium term) at 1110.
Twiggs Money Flow
has retreated, reflecting indecision.
The longer term consolidation pattern continues. An intermediate trough above 1100 would be a bullish sign, while a peak below 1100 would be bearish.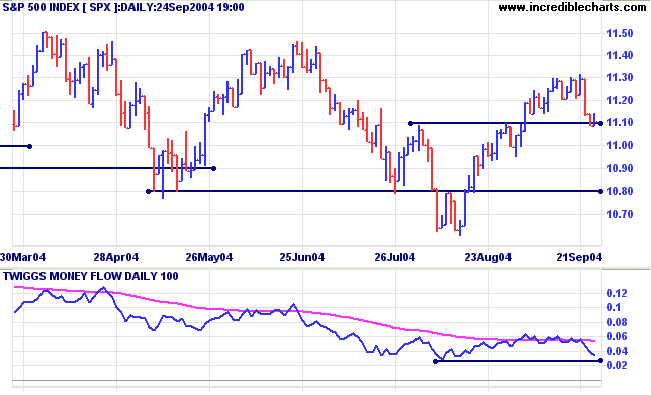 Treasury yields
The yield on 10-year treasury notes is testing support at 4.00%, briefly dipping below the level before recovering. Market consensus (after the Fed increased rates by 0.25% on Tuesday) appears to be that future rates increases will be gradual.
The
yield differential
(10-year T-notes minus 13-week T-bills) eased to 2.4%.
Differentials below 1.0% are long-term bear signals.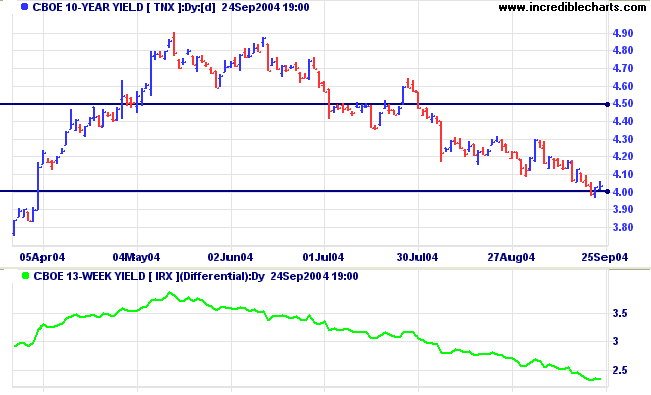 Gold

New York: Spot gold eased slightly to $407.60.
Price is consolidating above support at $400, establishing a base for further gains.
---

Incredible Charts - now with US Data

AMEX, NASDAQ and NYSE data
OTC BB and Pink Sheet stocks
more than 500 market and sector indices

---
ASX Australia
The
All Ordinaries
has encountered profit-taking towards the end of the week. Strong volume and a close near the low indicate that sellers are in control. The correction may test the first level of support at 3600.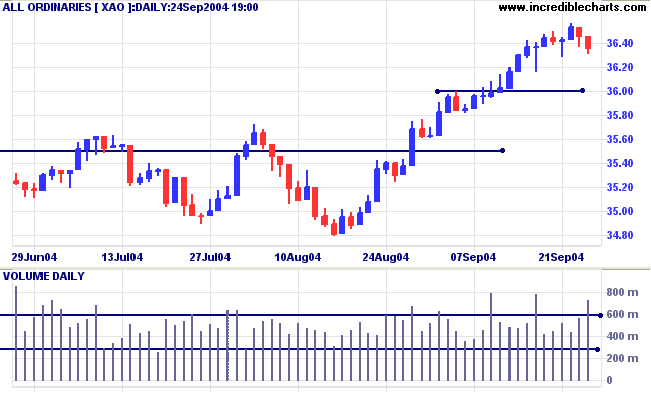 Twiggs Money Flow
has completed a double bottom, and is strengthening.
However, in the longer term, expect a re-test of support at 3450.
Incredible Charts - new Securities Toolbar
Incredible Charts version 4.0.3.700 incorporates a new securities toolbar, enabling you to chart securities without loading a securities exchange.

Enter the security symbol



If you edit codes within the text box, do not drag your mouse pointer back onto the chart while editing, keep it in the text box. Otherwise you will reactivate the normal keyboard shortcut keys
(e.g.
F
opens the
F
ile Menu).
Click the Load Security button


or hit the Enter key.
Use the following format to enter a security:

SYMBOL_EXCHANGECODE

(e.g. bhp_ax = BHP Billiton Limited, Australia )

Where EXCHANGECODE is as follows:
ax = AUSTRALIA
ao = ASX ETO''S & WARRANTS
in = INDEXES
mx = AMEX
ny = NYSE
nq = NASDAQ
You can also use the drop-down list to select recently loaded securities.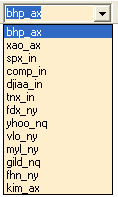 Default Exchange
If you set a default exchange, you will not need to enter EXCHANGECODEs for securities from that exchange.
For example, if Australia is set as the Default Exchange, type
bhp
for BHP Billiton Limited, instead of
bhp_ax
.
To set a default exchange: right-click the

button and select an exchange;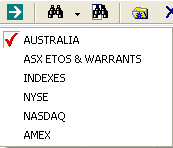 Or select Securities >> Set Default Exchange from the chart menu.
Colin Twiggs
If you can trust yourself when all men doubt you
But make allowance for their doubting too,
If you can wait and not be tired by waiting,
Or being lied about, don't deal in lies,
Or being hated, don't give way to hating,
And yet don't look too good, nor talk too wise:

Rudyard Kipling: IF
---
Back Issues
Access the Trading Diary Archives.
---