---
---
USA


The Dow Industrial Average shows bearish increased volume on the last two days down-swing. Low volume during the rally over recent weeks indicates a lack of commitment from buyers.
Twiggs Money Flow reflects this, failing to show any meaningful accumulation.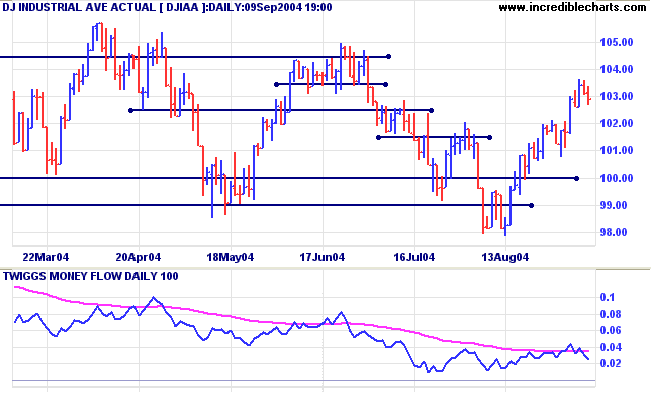 The point and figure chart below reflects the long-term trend (box size 1, reversal 5). The recent consolidation pattern around 10000 reflects market uncertainty. A trough above 10000 would be a bullish sign, while a peak below this level would be bearish.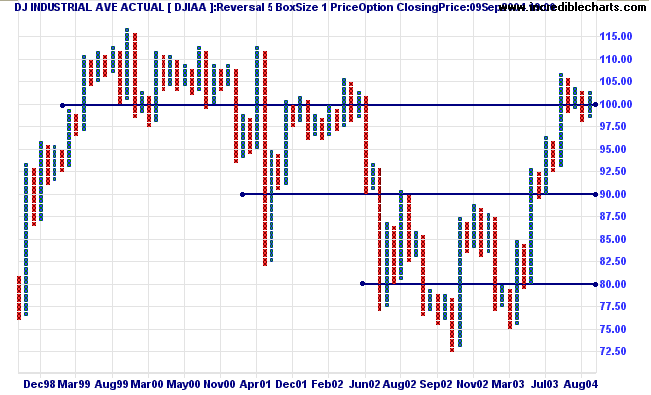 The
Nasdaq Composite
primary trend is headed downward. The latest rally is testing resistance at 1900, though low volume indicates that resistance will most likely hold.
Twiggs Money Flow
fails to reflect significant accumulation.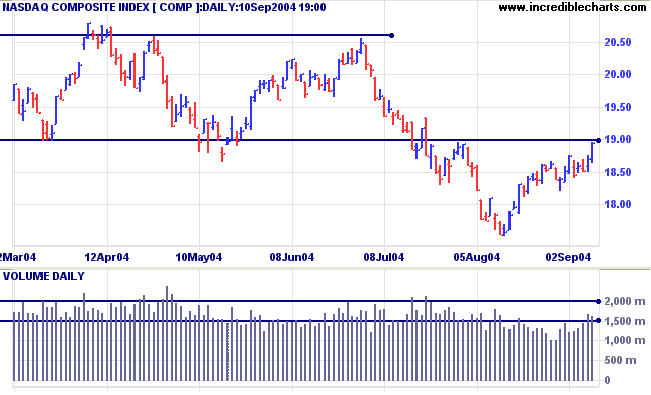 The
S&P 500
appears headed for a test of resistance at 1150. Low volume in recent weeks signals a lack of commitment from buyers, with a successful upward breakout unlikely at this stage. The consolidation pattern continues.
A trough above 1100 would be a bullish sign, while a peak below 1100 would be bearish.
Twiggs Money Flow
shows signs of improvement, crossing to above the signal line.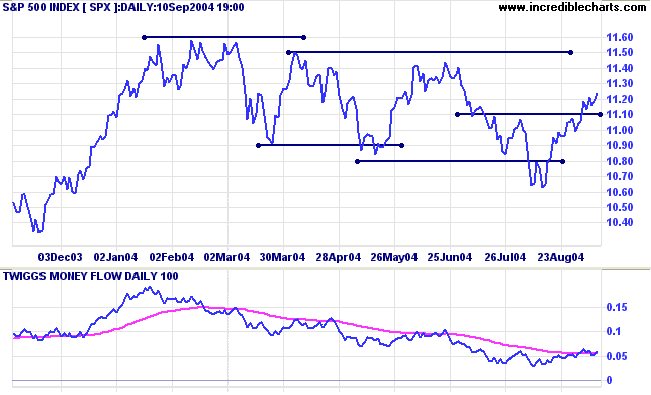 Treasury yields
The yield on 10-year treasury notes is consolidating above 4.00%.
Market expectations are for a quarter per cent rise at the Fed's September 21 meeting.
The
yield differential
(10-year T-notes minus 13-week T-bills) eased to 2.6%.
Low differentials (below 1.0%) are generally bear signals.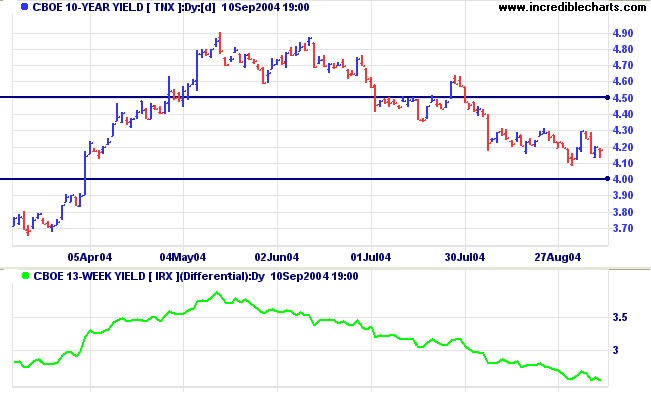 Gold

New York: Spot gold continues to test support at $400, ending the week at $401.50.
Marginal new highs (May to August) indicate a lack of commitment from buyers.
---

Incredible Charts - now with US Data

AMEX, NASDAQ and NYSE data

OTC BB and Pink Sheet stocks

more than 500 market and sector indices

FREE trial - Click Here

---
ASX Australia


Resistance is evident at 3600 on the All Ordinaries with successive weak closes on strong volume. So far buying support has prevented a down-swing. Expect a down-swing next week to test support levels.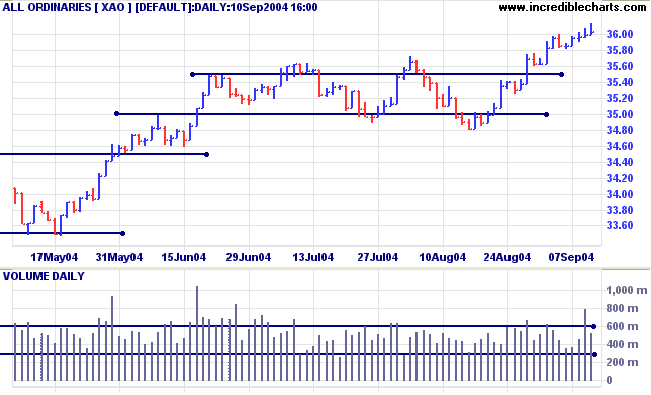 The All Ordinaries is in a primary up-trend, though we can expect a re-test of support at 3450 in the next few months.

Twiggs Money Flow is cause for concern: turning over below the signal line to signal distribution.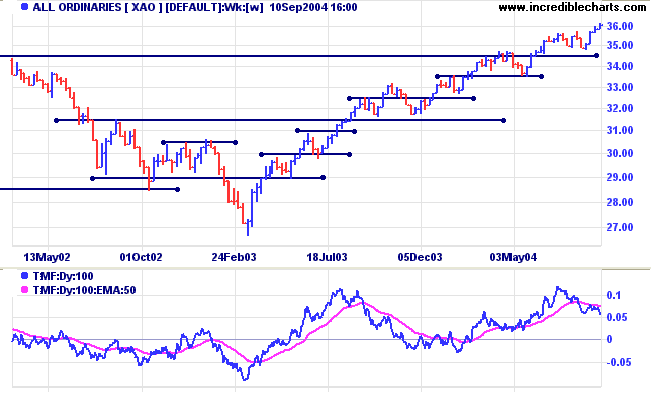 Revised Troubleshooting Pages


We have completely revised the Troubleshooting section of Incredible Charts, to offer detailed assistance with
installation;

live updates;

firewalls;
For assistance with your firewall see:
Internet Explorer;

ad-blocking software;

dial-up connections; and

Windows XP Service Pack 2.
The next update of Incredible Charts will offer context-sensitive help with links through to specific help pages from each dialog box.
Colin Twiggs
Markets are constantly in a state of uncertainty and flux
and money is made by discounting the obvious
and betting on the unexpected.

~ George Soros
---
Back Issues
Access the Trading Diary Archives.
---