---
---
USA


The Dow Industrial Average shows a weak close on Friday on higher volume, signaling a possible re-test of support at 10000. A successful test of support would be a bullish sign. However, low recent volume indicates a lack of commitment from buyers.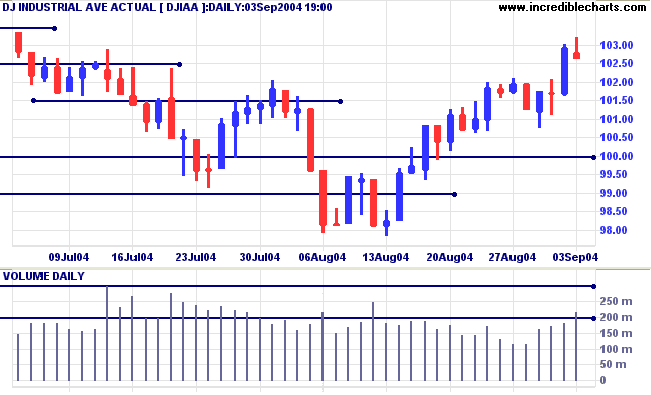 In the longer term, the 2004 consolidation may result in either an upward or downward breakout. Confirmation would come from a pull-back that respects support at 10500, or resistance at 10000, respectively.
Twiggs Money Flow
is strengthening.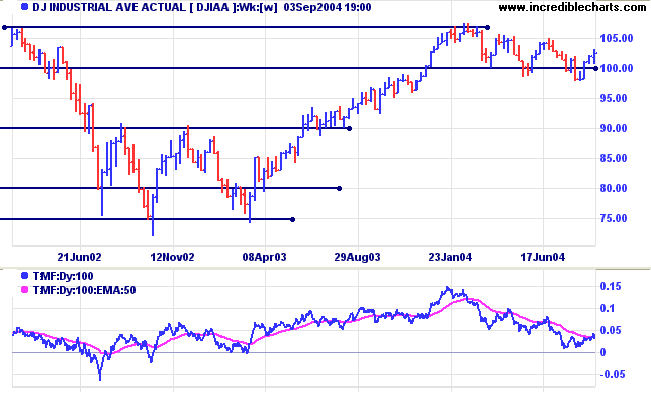 The
Nasdaq Composite
primary trend is headed downward. The latest rally is on low volume and appears unlikely to break resistance at 1900.
Twiggs Money Flow
(not shown) is weak.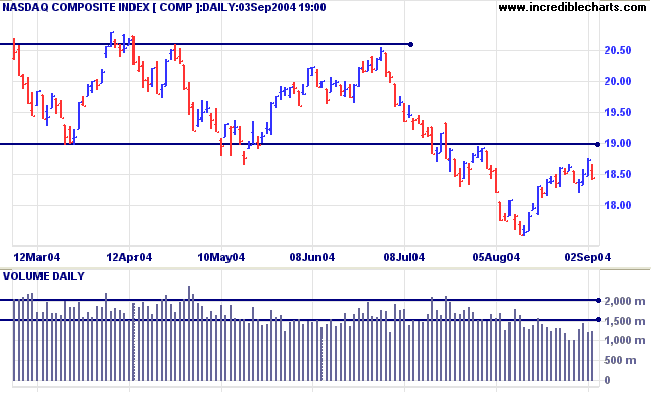 Declining volume on the
S&P 500
signals a lack of commitment from buyers. With low volume on Friday's reversal, there is no indication that the rally will immediately fail, but the odds are against a successful penetration of resistance at 1150.
Twiggs Money Flow
(not shown) has improved, crossing to above the signal line.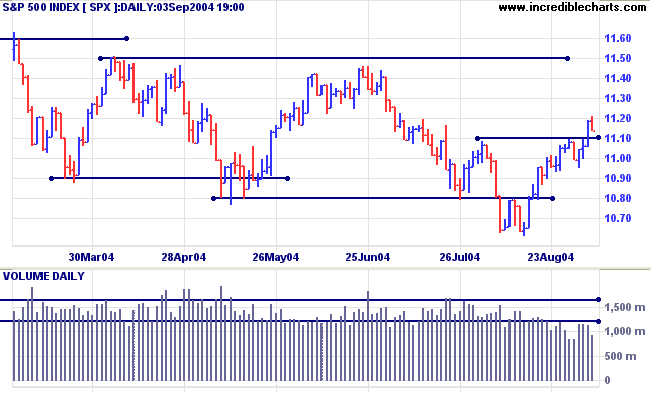 Treasury yields
The yield on 10-year treasury notes rallied to 4.30% on the strength of a moderate rise in August payroll figures. Market expectations are for a quarter per cent rise at the Fed's September 21 meeting.
The
yield differential
(10-year T-notes minus 13-week T-bills) recovered to 2.7%.
Low differentials (below 1.0%) are generally bear signals.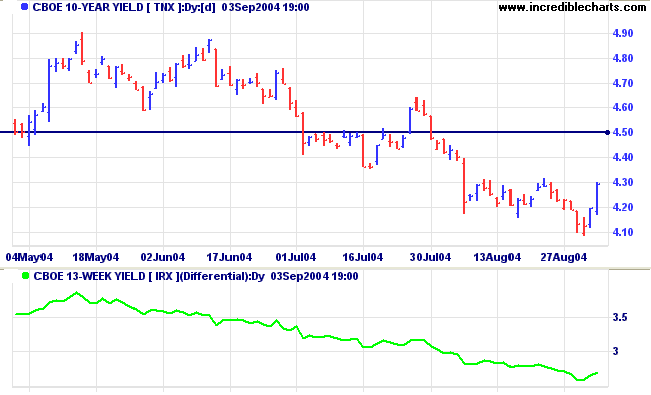 Gold

New York: Spot gold retreated to close the week at $400.00.
Marginal new highs (May to August) indicate a lack of commitment from buyers.
---

Incredible Charts - now with US Data

AMEX, NASDAQ and NYSE data

OTC BB and Pink Sheet stocks

more than 500 market and sector indices

FREE trial - Click Here

---
ASX Australia


The All Ordinaries briefly tested 3600 before retreating Friday [c] on lighter volume. Short pull-backs at [a] and [b] signal buyers commitment. We cannot, however, rule out another test of support at 3550: Twiggs Money Flow (not shown) still appears weak, having so far failed to cross above the signal line.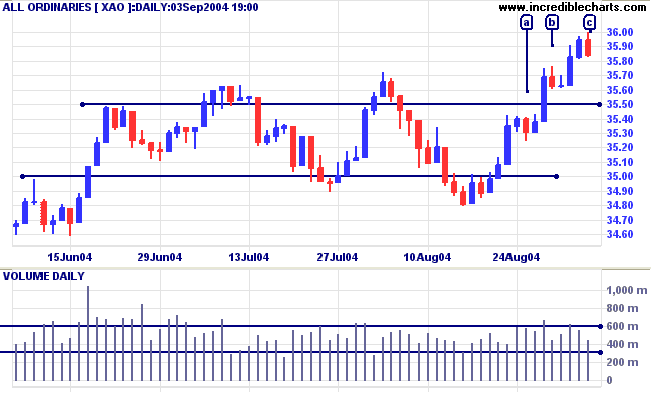 The monthly chart below gives a 20-year perspective of the All Ords (with apologies to readers who prefer long-term charts in log scale - it just makes recent swings difficult to read). We have experienced a strong rally since testing support at 2800 in March 03. The rally may continue for many months but at some point we can expect a re-test of support at the previous highs of [E] and [F]; in a similar fashion to corrections [C] and [D]
testing support at the highs of [A] and [B].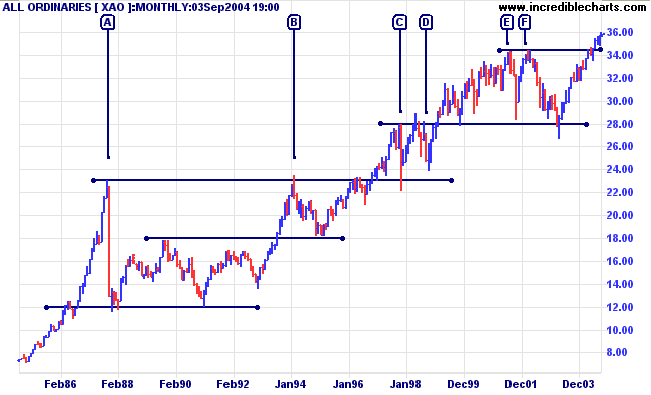 Incredible Charts - new Test Version


For those who are interested in upcoming additions to the software, a new test version is available for download at https://www.incrediblecharts.com/free-charting_software/free_download.php.

New Securities Toolbar

Incredible Charts version 4.0.3.670 incorporates a new securities toolbar. You are able to chart a security, without the exchange being loaded on the securities menu.

Enter the security symbol



Click the Load Security button


or hit the Enter key.
Use the following format to enter a security:

SYMBOL_EXCHANGECODE

(e.g. bhp_ax = BHP Billiton Limited, Australia )

Where EXCHANGECODE is as follows:
ax = AUSTRALIA
ao = ASX ETO''S & WARRANTS
in = INDEXES
mx = AMEX
ny = NYSE
nq = NASDAQ
You can also use the drop-down list


to select recently loaded securities.
Default Exchange

You will not need to enter an EXCHANGECODE, in the input box, for the default exchange.
For example, if Australia is set as the Default Exchange, you need not type bhp_ax to load BHP Billiton Limited:
merely type bhp and ENTER.

To set a Default Exchange, either:
Select Securities >> Set Default Exchange from the chart menu; or
Right-click the new Load Security button



and select an exchange.
Watchlist Correction

The new version also corrects a watchlist scrolling error that occurred with de-listed securities: the scroll no longer reverts to the first security on the watchlist.


Live Update

The test version will be released as a live update towards the end of the month.
Become more humble as the market goes your way.

~ Bernard Baruch
---
Back Issues
Access the Trading Diary Archives.
---