---
---
Incredible Charts 4.0.3.400 is now available!

Your version of Incredible Charts should automatically update to the new version.
Check under Help >> About on the charts menu to establish whether you have the latest version. If not, download and install over your existing version.

See What's New! (below) for a list of new features.
USA


The Dow Industrial Average pull-back respected resistance at 10000. Light volume on the up-swing and stronger volume on the decline warn of further weakness.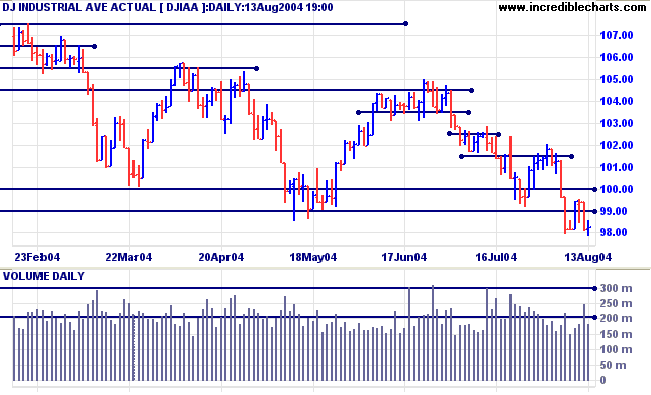 The primary trend has reversed; following the NASDAQ into a down-trend.
In the next few weeks, there could still be a stronger (intermediate) pull-back to re-test resistance at 10000.
Twiggs Money Flow
signals strong distribution.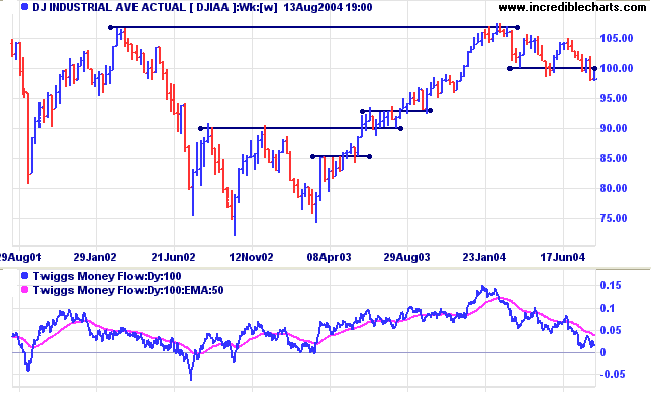 The
Nasdaq Composite
primary trend continues downward.
Twiggs Money Flow
signals strong distribution.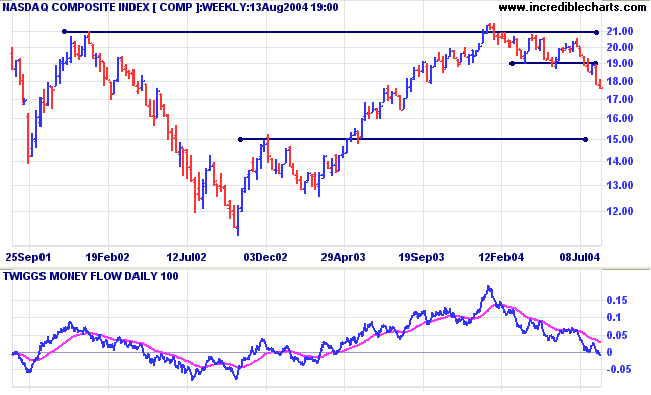 The
S&P 500
pulled back on light volume and failed to break the first level of resistance at 1080. The primary trend has turned downward.
We could still later see a stronger (intermediate pull-back re-test resistance at 1080/1100.
Twiggs Money Flow
signals strong distribution, with continued peaks below the signal line.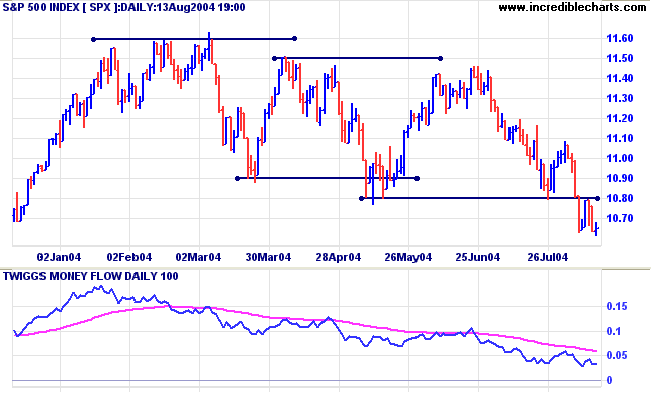 Treasury yields
The yield on 10-year treasury notes has fallen below immediate support, reflecting a flow of capital from the equities markets.
Rising energy prices and weaker economic data may force the Fed to slow down on further rates increases.
Expect a re-test of support at 3.50% (or 3.60%).
The
yield differential
(10-year T-notes minus 13-week T-bills) is just below 3.0% - still healthy.
Low differentials, of below 1.0%, are strong bear signals.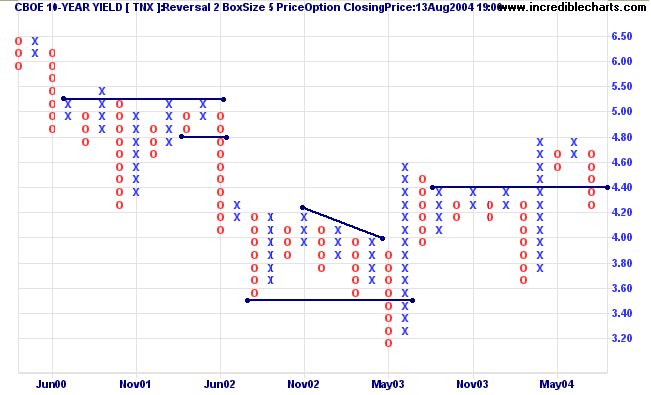 Gold

New York: Spot gold rallied to $398.60, again testing resistance at $400 - a bullish sign.
Long-term support is at $375 and resistance at $427.25. A breakout below/above these levels will signal resumption of the primary trend.
---

Incredible Charts - now with US Data

AMEX, NASDAQ and NYSE data

OTC BB and Pink Sheet stocks

more than 500 market and sector indices

FREE trial - Click Here

---
ASX Australia


The All Ordinaries displayed reasonable buying support from [m] to [w] but this faded. Sellers were firmly in control by Friday [f] with a break below support at 3500. US sentiment appears to be weighing down the local market.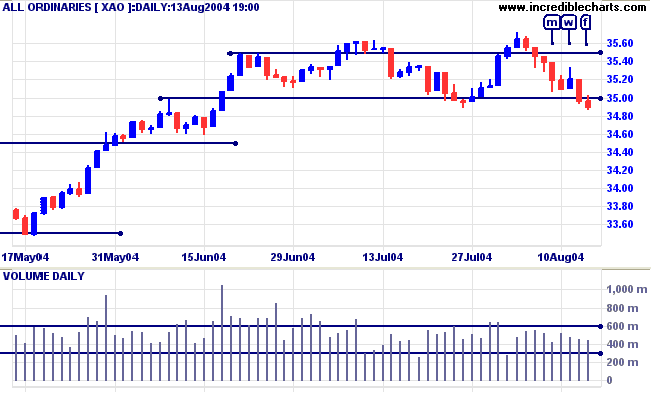 The fall below 3500 is likely to test support at 3450. If that level holds, it would
be a long-term bull signal.
If the level fails to hold and the index falls below 3350, this will signal reversal of the primary trend.
Twiggs Money Flow
has dropped sharply, signaling that sellers are in control.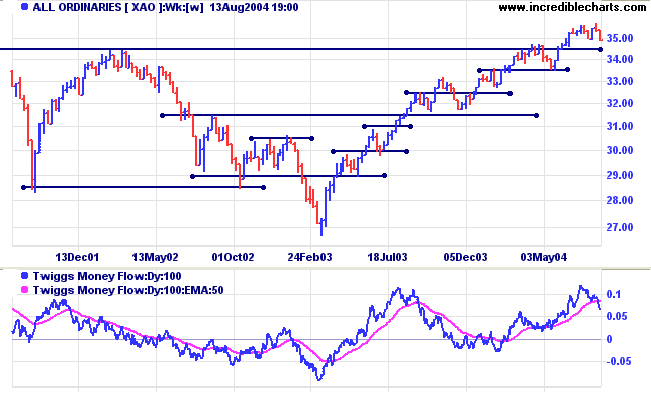 Incredible Charts 4.0.3.400 - What's New!


This is the last revision before the promised Stock Screen upgrade. Changes are largely to improve ease of use, but there is a significant improvement to Equivolume charts.



Equivolume Charts - Now with Candlesticks
Equivolume charts now default to Candlevolume format.
This means that Open, High, Low and Close are displayed on the chart in the same format as regular candlesticks. The only difference is that the width of the bar depicts volume, and shadows are depicted by a lighter color shade. Take a look at the AMD chart below: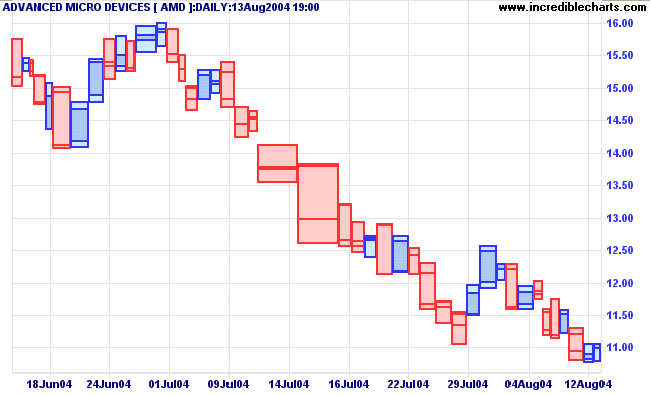 Bar colors are:
Blue

if the Close is Higher than the Open (or green depending on your color scheme);

Red

if the Open is higher than the Close; and
The same color as the previous bar if the Open and Close are equal.
Select View >> Advanced Options >> Display Equivolume HLC
if you want to revert to the old format.
New Toolbar Speed-Keys

Right-click on the DOWN toolbar arrow


pops up the Active Watchlist menu

Right-click on the UP toolbar arrow


pops up the Watchlist menu

Right-click on the trendlines icon


enables you to Hide/Display all Trendlines

Right-click on the captions icon


enables you to Hide/Display all Captions

Right-click on the left and right scroll arrows


pops up the Set Scroll Period menu.

Right-click on the legend


hides the security name.
New Project Tabs

Recently used files are now displayed as tabs at the bottom of the chart, just above the price bar.
Click on a tab, for example [Relative Strength], to display the project file.
Right-click on the tabs to remove them, or select Hide Project Tabs under View >> Advanced Options.
Other Convenient Features
The Advanced Options menu has been moved to the View menu.
New commands are Hide Project Tabs and Display Equivolume HLC.

Point & Figure menus are now ordered by Price method, Box size and Reversal amount, if you use multiple settings.

The Securities >> Re-open command now remembers securities from previous sessions.

The charting application tests HTTP and HTTPS connections on start-up.

Firewall troubleshooting has been improved, if users experience connection difficulties.


Caption boxes - when the dialog box is open, the up-down arrows no longer cause the chart to scroll.
About the Trading Diary
has been expanded to offer further assistance to readers, including directions on how to search the archives.
Colin Twiggs
A basic need of all human beings is to make a positive
contribution to the world and to our fellow beings,
as well as to improve and enjoy our personal lives.
We all have a great deal to offer the world and each other,
each in our own special and unique way.
To a great degree, our own personal sense of well being
is a function of how much we are expressing this..

~ Shakti Gawain: Creative Visualization
---
Back Issues
Access the Trading Diary Archives.
---