---
---
Treasury yields
The yield on 10-year treasury notes fell through support at 4.35%, reflecting a more pessimistic outlook for the economy.
Expect a re-test of support at 3.50%.
The
yield differential
(10-year T-notes minus 13-week T-bills) has declined below 3.0%.
Low differentials, of below 1.0%, are strong bear signals.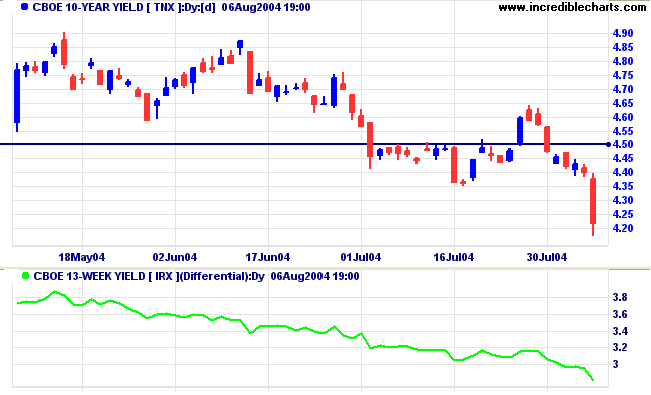 Gold

New York: Spot gold jumped to $399.30 just before the close, reacting to a tough day in the equity markets.
Initial resistance is at $400 to $408.
Long-term support is at $375 and resistance at $427.25. A breakout below/above these levels will signal resumption of the primary trend.
---

Incredible Charts - now with US Data

AMEX, NASDAQ and NYSE data

OTC BB and Pink Sheet stocks

more than 500 market and sector indices

FREE trial - Click Here

---
ASX Australia


The All Ordinaries made two marginal breaks above resistance of 3550, at [a] and [b], before retreating back within the consolidation pattern. Weak closes and higher volume at [c] and [d] indicate buying support.
An upward breakout would require confirmation from a pull-back that respects support at 3550.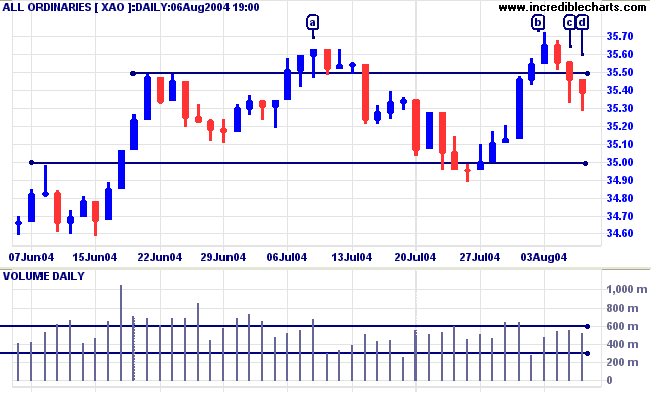 A fall below 3500 is likely to test support at 3450. If that level holds, it will
be a long-term bull signal.
If support at 3450 does not hold and the index breaks below 3350, it will signal reversal of the primary trend.
Twiggs Money Flow
signals accumulation, favoring continuation of the primary up-trend.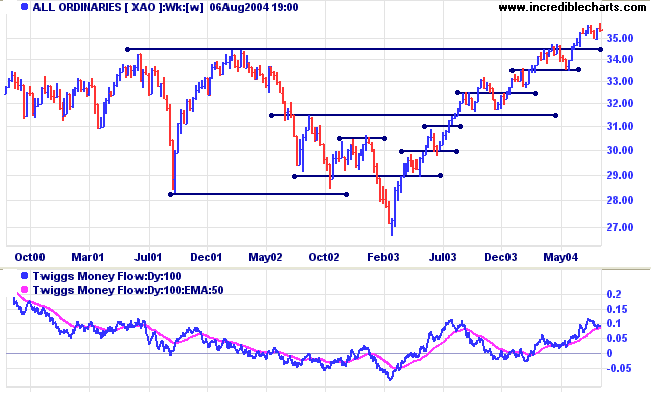 Point & Figure - Retracements

Retracements (or corrections) during a trend tell us about the strength of that trend. They test the strength of buyers' or sellers' commitment and establish a base for further gains (or losses). There are four major categories:
long retracement (covered last week)

overlapping retracement (covered last week)

short retracements (addressed today)

no retracement - during an upward/downward spike (covered previously).

Short Retracements

A short retracement, against the direction of the primary trend, signals trend strength.
A short movement, in the direction of the primary trend, indicates trend weakness and a possible reversal.

A short column of Os at [2], on the Fedex chart below, is in the direction of the down-trend. It follows a long retracement at [1] and signals reversal of the primary trend to an up-trend.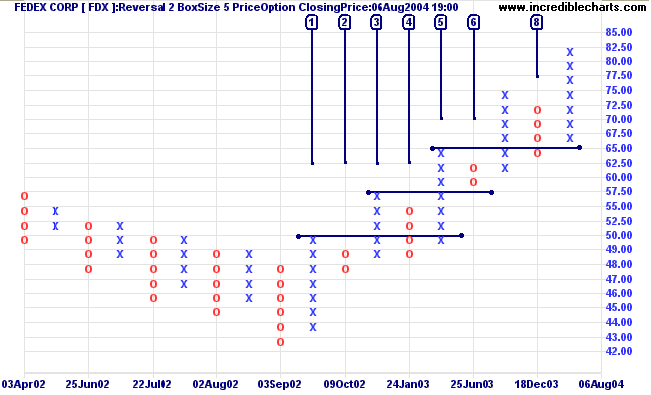 The short retracement at [6] above (against the direction of the primary up-trend) signals that the primary trend is strong, with buyers firmly in control.
The first level of support encountered by retracement [6] is the high of [3] at 57.50. If price respects this level it signals that buyers are in control and the trend is strong.
This often coincides with a 50% Fibonacci retracement of the previous up-swing.

The second level of support is stronger, at the low of [4]. Penetration of this level will signal trend weakness (for example, at [1] in the previous down-trend). If price falls through the first support level but respects the second, the trend is still intact. However, price is likely to advance at a sedate pace, with buyers and sellers more evenly matched.
The retracement at [8] is stronger, with a false break below the first level of support at 65.00, the high of [5]. However, price immediately rallies back above the support level. This again signals that buyers are in control and can be treated as a similar bull signal to the short retracement at [6].
About the Trading Diary
has been expanded to offer further assistance to readers, including directions on how to search the archives.
Colin Twiggs
When you have total intention to create something
- that is you deeply desire it,
you completely believe that you can do it,
and you are totally willing to have it
- it simply cannot fail to manifest,
and usually within a very short time.

~ Shakti Gawain: Creative Visualization
---
Back Issues
Access the Trading Diary Archives.
---