---
---
New Diary Format
We are experimenting with a new format for the Weekly Trading Diary in order to speed up delivery times, improve the delivery of images (both charts and ads) and reduce the number of bounced messages (from firewalls and spam filters).

Please report any difficulties to support.
---
Trading Diary
July 24, 2004
These extracts from my daily trading diary are
for educational purposes
and should not be interpreted as investment advice. Full terms and conditions can be found at Terms of Use.
USA


The Dow Industrial Average is testing support at 10000/9900 on reasonable volume.

The long-term consolidation pattern (over the last 7 months) can break out in either direction. An upward breakout is more likely because we are in an up-trend, but the possibility of a reversal cannot be ignored. Direction will only be clear when we have a breakout from the pattern: above 10500, or below 9900, followed by a pull-back that confirms the breakout.

Twiggs Money Flow is falling steeply, signaling distribution.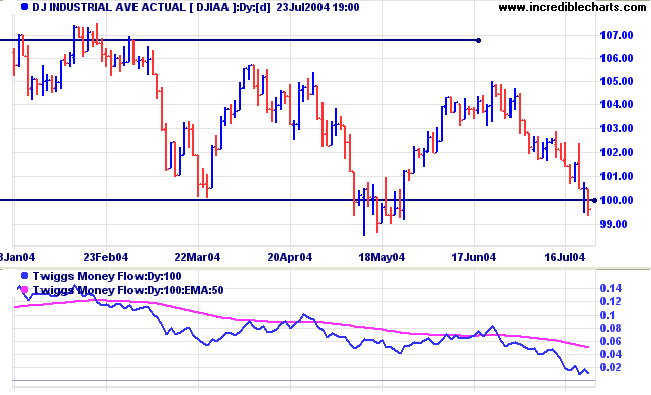 The Nasdaq Composite has broken through support at the base of the recent consolidation pattern. A pull-back that respects the new 1900 resistance level, would confirm that the primary trend has reversed downward.

Recovery back above 2100 would be a strong bull signal.

Twiggs Money Flow is falling sharply, signaling distribution.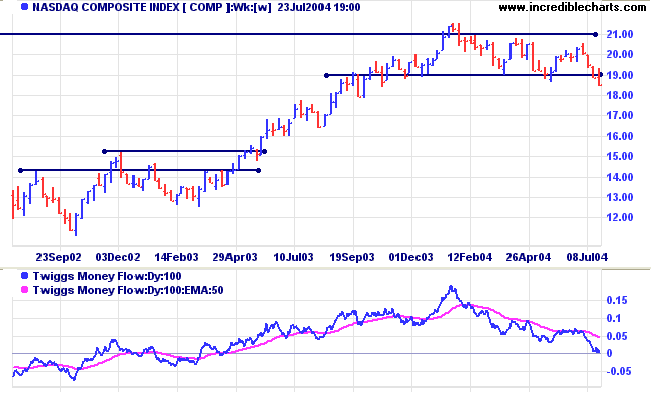 The S&P 500 is still testing support at the base of the consolidation pattern. A downward breakout, followed by a pull-back that respects the new resistance level (1080/1100), would signal that the primary trend has reversed downward.

Twiggs Money Flow signals strong distribution.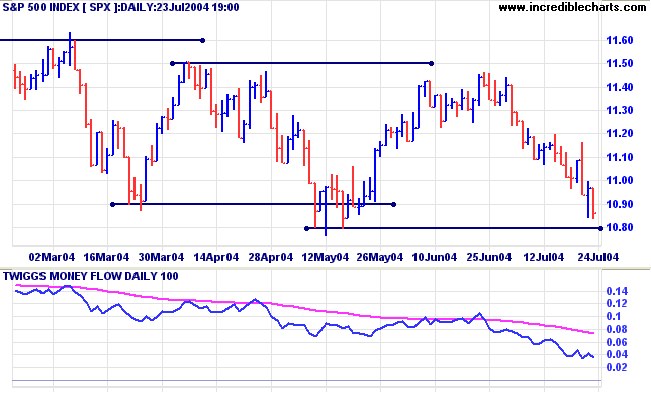 Treasury yields
The yield on 10-year treasury notes continues to consolidate in a narrow range below resistance at 4.50%, recovering from the strong downward breakout last Friday.
A break above 4.50% would be a bull signal. A downward breakout would likely test support at 3.60%.
The
yield differential
(10-year T-notes minus 13-week T-bills) remains healthy at 3.1%.
Gold

New York: The test of resistance at $427.25 failed to materialize. Spot gold has fallen sharply to $389.90, on the back of the stronger US dollar, and appears headed for a test of $375.00.
---

Incredible Charts - now with US Data

AMEX, NASDAQ and NYSE data

OTC BB and Pink Sheet stocks

more than 500 market and sector indices

FREE trial - Click Here

---
ASX Australia


The All Ordinaries is testing support at 3500. Volume has recovered over the last week, signaling increased selling pressure.
Expect either a consolidation over the next few weeks or a re-test of support levels at 3450 and 3350.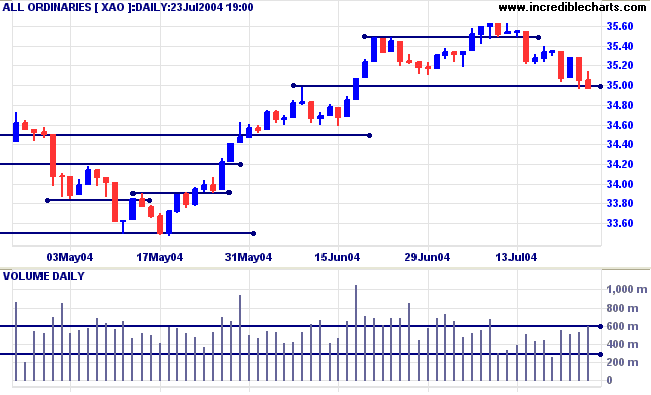 A secondary correction that respects support at the previous high of 3450
would be a long-term bull signal.
A fall below 3350 would be a bear signal, indicating reversal of the primary trend.
Twiggs Money Flow
continues to signal accumulation.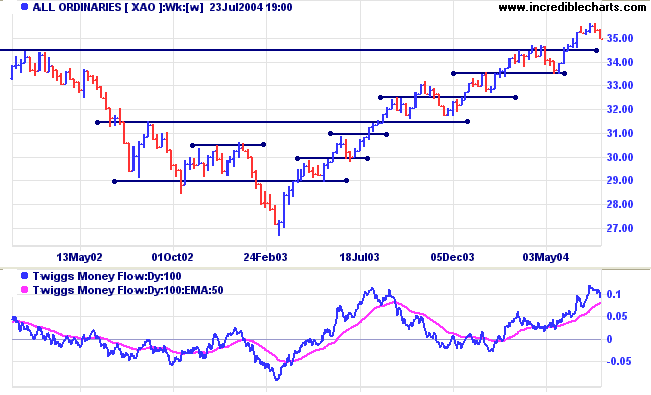 Point & Figure

Will be continued next week.
About the Trading Diary has been expanded to offer further assistance to readers, including directions on how to search the archives.
Sometimes the best trades are not the winning ones that put money in your pocket;
sometimes they are the ones that get you out of the market at the right time.

~ Phil Flynn
---
Back Issues
Access the Trading Diary Archives.
---