---
---
Free trial expiry
If your free trial expires, you will only have access to 18-hour delayed data. Hourly updates and 7.30 p.m. final closing data are exclusive to Premium Members.

This does not apply to US data - free US updates will not be delayed until the US subscription page is available. NYSE, NASDAQ, AMEX and indices will be updated at 8.00 p.m. EST.

Click Help >> About to check your membership/free trial status.
---
Trading Diary
May 8, 2004
These extracts from my daily trading diary are
for educational purposes
and should not be interpreted as investment advice. Full terms and conditions can be found at Terms of Use.
USA

The
Dow Industrial Average
is approaching the key 10000 support level, clearly shown on the
Point & Figure
chart below. A fall below this level will be a strong bear signal, possibly a reversal of the primary trend.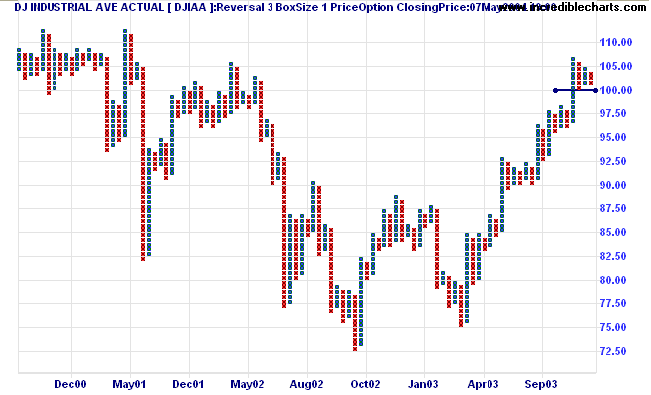 Twiggs Money Flow
is below its signal line. A fall of TMF below its March 24 low (0.05) would be a strong bear signal.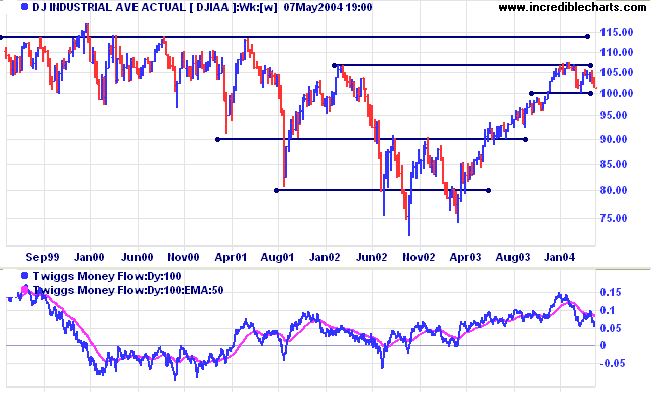 The Nasdaq Composite is looking decidedly weak, with Twiggs Money Flow falling sharply. A break below support at 1900 will be a strong bear signal.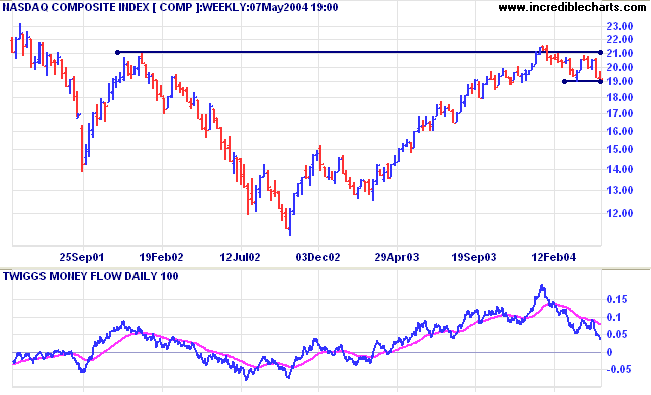 The S&P 500 closed down sharply on Friday on strong volume. We are likely to see a test of support at 1090/1087. A break below this level will signal a likely test of support between 1000 and 960.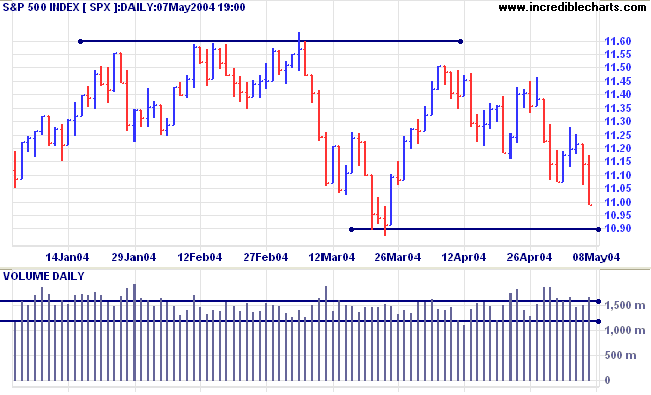 The primary trend is still up, with primary support at 960.
Twiggs Money Flow has fallen below its March low, signaling weakness.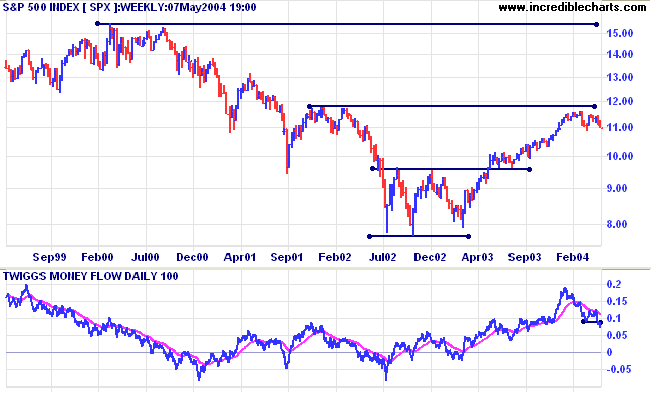 NYSE Bullish Percent Index

The Chartcraft
Bullish Percent Index
is on
Bear Alert
status, closing below 70% at 67.54%.
Treasury yields

The yield on 10-year treasury notes closed up strongly at 4.766%, reflecting expectations of an increase in the Fed funds rate. The yield is in a strong primary up-trend.
The
yield differential
(10-year T-notes minus 13-week T-bills) has increased above 3.5%, indicating that rates increases are expected to be soon.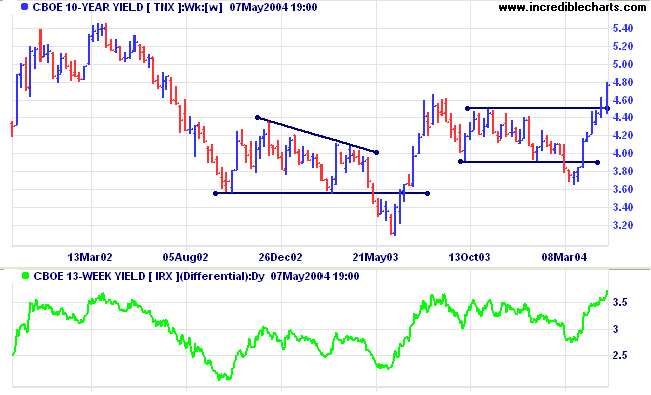 Gold

New York: Spot gold has fallen to $378.40, continuing the primary down-trend.
---
Incredible Charts - now with US Data
AMEX, NASDAQ and NYSE data

OTC BB and Pink Sheet stocks

more than 500 market and sector indices
---
ASX Australia

Weak closes and strong volume on the All Ordinaries at [a], [b], and [c] indicate strong buying above support at 3375 to 3380. A fall below this level would be bearish, signaling a test of the primary support level at 3150. A rise above Wednesday's high would be mildly bullish, signaling a re-test of resistance at 3472.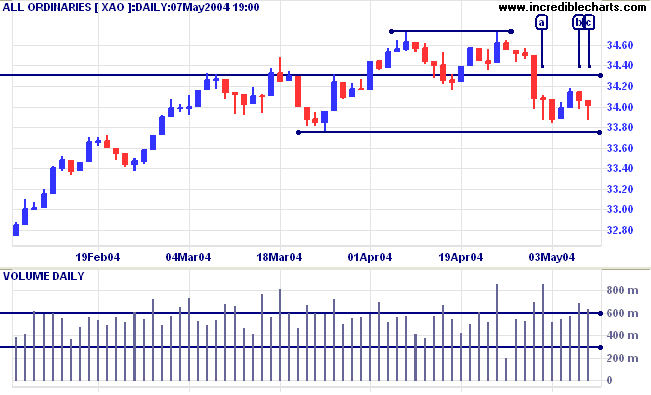 The primary trend is up. A fall below support at 3150 would signal reversal.
Twiggs Money Flow displays a bearish divergence, signaling long-term weakness.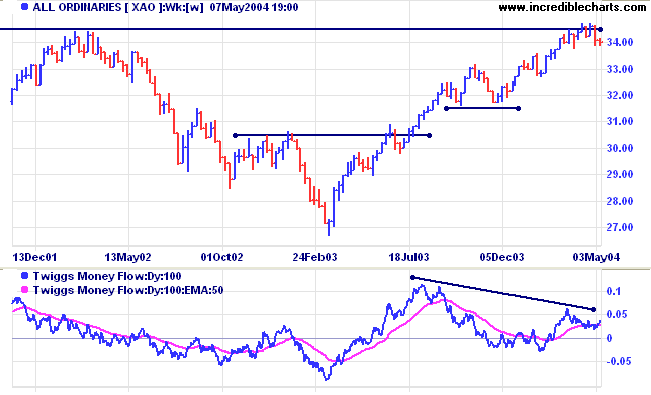 Point & Figure Charts
Point and Figure charts can be a great time saver, conveniently summarizing trends and eliminating most short-term market "noise". They also highlight major support and resistance levels.
Basics are explained at the
Trading Guide: Point & Figure Charts
.
The All Ordinaries [XAO] chart below gives a clear summary of major trend movements: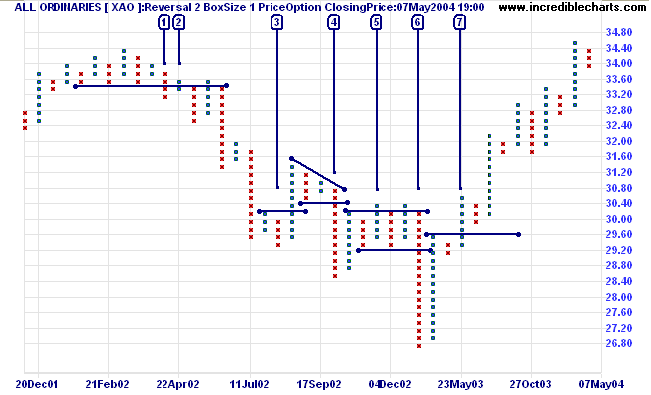 A down-trend starts at [1], with a break below support at 3340. Note the earlier 3 upswings - all could only achieve marginal breaks above the previous highs - warning of a stage 3 top.

Marginal breaks at [2], above the new resistance level, are a further bear signal: confirming the down-trend.

At [3] we have a marginal break below the previous low which forewarned of a strong bear market rally.

A bear signal with a break through support at [4].

Marginal breaks [5] above resistance (similar to 2. above) - another bear signal.

The break through support (2920) at [6] turns into a downward spike.

The rise above 2960 at [7] signals the start of the current up-trend.
When used in conjunction with shorter-term indicators the charts can be a powerful tool. There is more on pattern identification at the Trading Guide: Point & Figure Chart Patterns.
Log or Normal scale?

I prefer normal scale point and figure charts. While log scale charts are useful because of the graduated increase in box sizes, I find the odd-numbered box sizes a distraction. Major support and resistance levels normally occur at round numbers (especially with individual stocks rather than indices); log scales make them difficult to identify.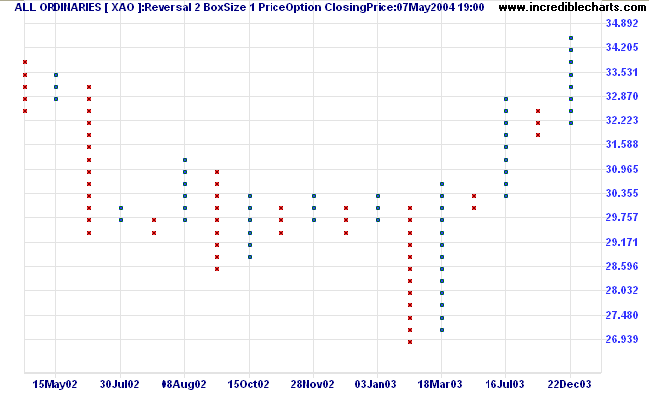 Normal box sizes are themselves stepped at regular intervals, to cope with varying price scales. Stocks with prices of $20.00 and 20 cents cannot be charted with the same box size. The steps below are for a box size of 1. If you want box sizes of a dollar for a stock price of $20.00, select a box size of 5.
Price
Box Size
From:
Dollars ($)
Cents (c)

$ 0.00

0.1

$ 0.20

0.2

$ 0.50

0.5

$ 1.00

1

$ 2.00

2

$ 5.00

5

$ 10.00

10

$ 20.00

20

$ 50.00

50

$ 100

1.00

100

$ 200

2.00

$ 500

5.00

$ 1000

10.00
Setting up Point & Figure Charts

Use the Indicator Panel


to set up point and figure charts. The Help Guide: Point & Figure Setup explains how.
Next week. More on Point & Figure charts:
Box sizes and Reversal amounts

HighLow or Closing Price method?
Keyboard Shortcuts

Another useful shortcut that users may not be aware of:
On the Login page, after entering your password - hit the Enter key twice;
in place of clicking the Accept button with your mouse.
About the Trading Diary has been expanded to offer further assistance to readers, including directions on how to search the archives.
Do you have the patience to wait
till the mud settles and the water is clear?
Can you remain unmoving
till the right action arises by itself?

- Lao Tse.
---
Back Issues
Access the Trading Diary Archives.
---