---
---
Incredible Charts version 4.0.3.100
Your version of Incredible Charts should automatically update when you login from tomorrow. You may be prompted to adjust your firewall permissions to include IP address 69.28.204.30.

Changes include:
>> Allowing free users access to 18-hour delayed data
>> Switching advertising to a separate Linux server
>> Indicator Smoothing (e.g. for Volume MAs): the maximum period has been increased from 50 to 500.

Select Help >> About to check whether you have received the update.
---
Trading Diary
April 24, 2004
These extracts from my daily trading diary are
for educational purposes
and should not be interpreted as investment advice. Full terms and conditions can be found at Terms of Use.
USA

The Dow Industrial Average intermediate trend is uncertain, with a lower trough followed by a higher high. Volume increased on the rally after (the false break at) [1], but Friday's weak close signals increased selling pressure. Resistance at 10570 is significant: failure to penetrate this level in the next few weeks, or a fall below 10250, would be a strong bear signal.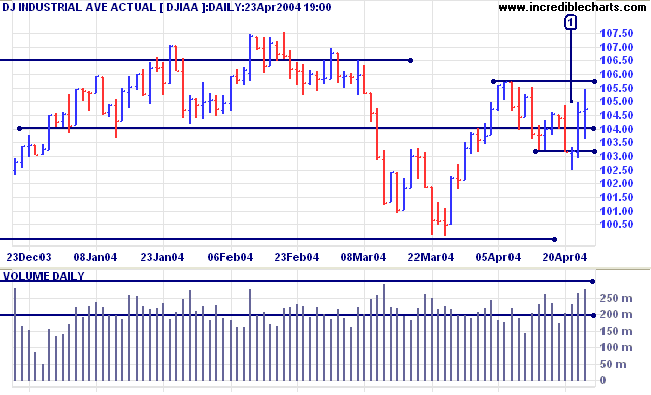 The primary trend is up. Resistance is at 10700 to 10750; and support at 10000.
Twiggs Money Flow
has crossed above its signal line but still appears weak. A fall below the March 24 low would be a strong bear signal.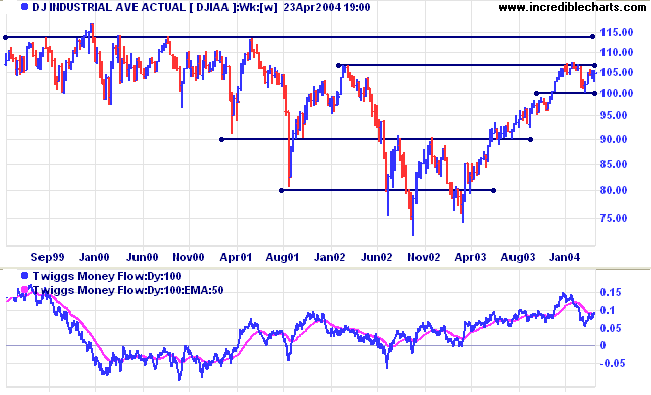 The Nasdaq Composite has surged strongly after a false break [1] below support at 1980. Expect a re-test of resistance at 2080. A double top pattern below the January high would be a strong bear signal.

The primary trend is up. Resistance is at 2150; support at 1900.
Twiggs Money Flow is rising. Reversal below the March 24 low (0.05) would be a strong bear signal.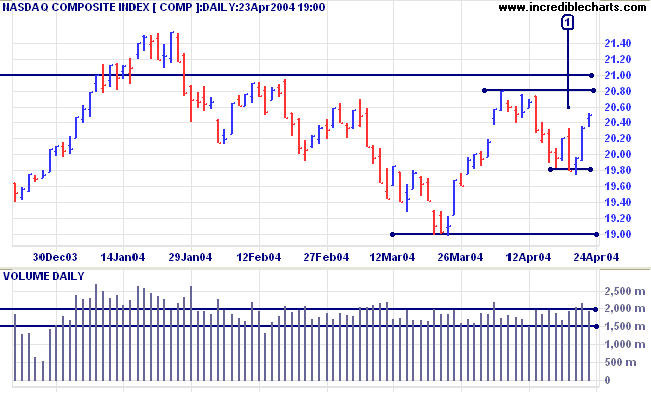 The S&P 500 surged strongly on heavy volume after a false break [1] below support at 1120. Friday's inside day signals consolidation before a likely re-test of resistance at 1150.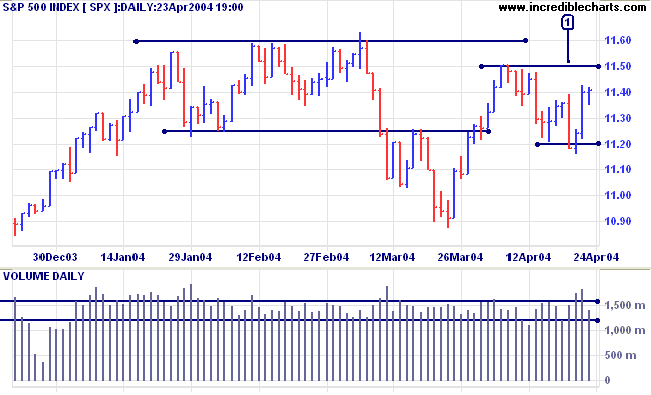 Last week's statement is incorrect: a fall below 1087 will not yet signal a primary trend reversal - primary support is still at 960. Resistance is at 1160.
Twiggs Money Flow is weak but rising.
Treasury yields

The yield on 10-year treasury notes has rallied to 4.452%.
A successful break above 4.50% would signal a primary up-trend, while a rise above 4.67% would add further confirmation.
The
yield differential
(10-year T-notes minus 13-week T-bills) is a healthy 3.5%; indicating that long-term investors are demanding a healthy premium for tying up their capital.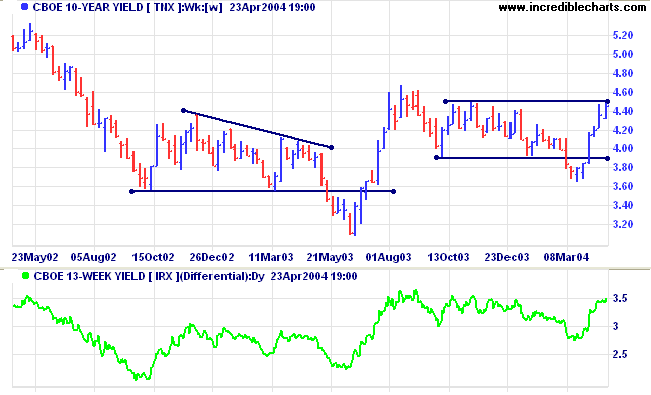 Gold

New York: Spot gold closed at $395.00 after testing support at 390.
The intermediate trend is down.
Equal lows in an up-trend are not a bear signal, but a fall below $390 would signal reversal of the primary up-trend.
---
Incredible Charts - now with US Data
AMEX, NASDAQ and NYSE data

OTC BB and Pink Sheet stocks

more than 500 market and sector indices
---
ASX Australia

The All Ordinaries has shown encouraging signs over the last few days, holding above support at 3425 to 3420. Heavy volume and a fairly weak close signal increased resistance at 3472. A break above this level would be a bullish sign.
The intermediate trend is up.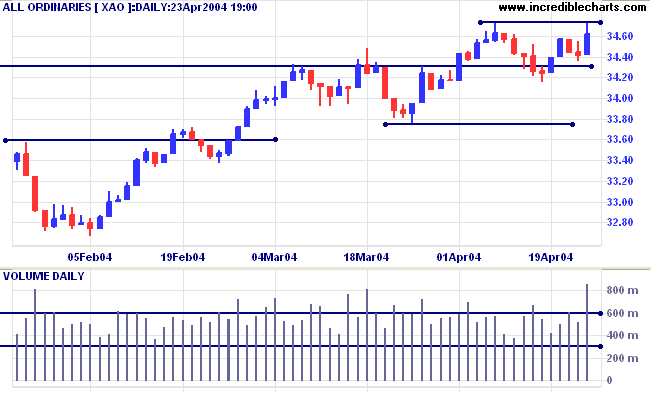 The primary trend is up. A fall below last week's low of 3416, while not strictly a horn reversal, would be a significant bear signal. Thomas Bulkowski (Encyclopedia of Chart Patterns) found that narrow double tops, resembling two horns, are more reliable than broader double tops.
Twiggs Money Flow may be forming a bearish divergence, which would signal long-term weakness.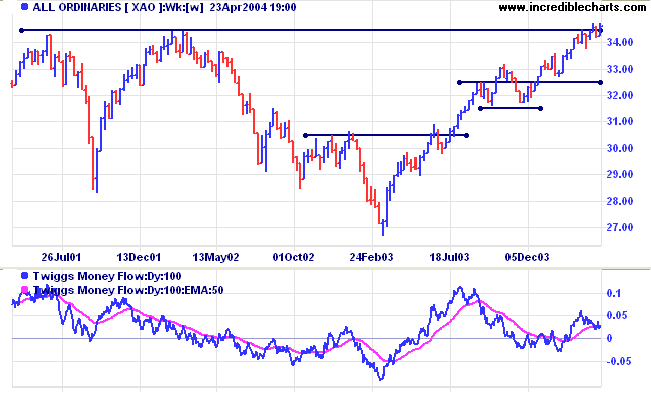 Creating a Volume Moving Average


Volume Moving Averages help to identify unusual volume activity, like the volume spikes prior to the last two Microsoft
reversals:
The indicator is not listed on the Indicator Panel. To create a Volume Moving Average

:
open the Indicator Panel



select Volume in the left column (or the right column if you want to edit the existing selection)
in the center panel, select Daily at the top
under Optional Indicator Smoothing, select an MA type (Exponential, Simple or Weighted) and enter a time period (e.g. 50)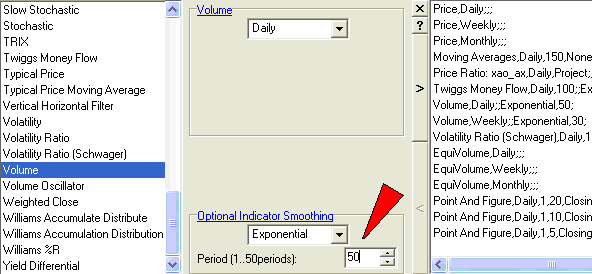 save the new settings [>] and close the Indicator Panel [x].
Indicator Help
The Indicator Panel

offers 3 separate help links (indicated by
blue pointers
):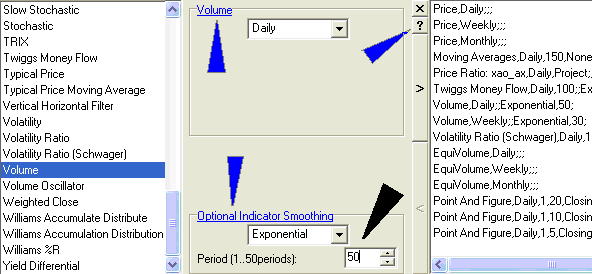 A selected indicator ( e.g. Volume) is linked to a Trading Guide which explains how the indicator is constructed, suggests suitable trading strategies, and offers practical examples.

[?]

links to the Indicator Help page which shows how to add Indicators
Optional Indicator Smoothing explains how to add a moving average/signal line to an indicator.
Virus Watch

We have noticed a new email virus with the subject line: "Notify about your email account utilization".
The email warns that your email account may be infected by a proxy-related trojan server and suggests that you open an attached zip file for further information. Never open file attachments without first checking with the sender.
About the Trading Diary
has been expanded to offer further assistance to readers, including directions on how to search the archives.
Colin Twiggs
Markets are constantly in a state of uncertainty and flux
and money is made by discounting the obvious
and betting on the unexpected.

~ George Soros .
---
Back Issues
Access the Trading Diary Archives.
---