---
---
Free Data
Except for the 30-day free trial, free end-of-day data will be delayed by 18 hours from next week.
This means that the updates will occur at 10.00 a.m. - suitable for training purposes but not active trading.

Premium subscribers are unaffected by these changes.
To find out more about premium subscriptions - see Incredible Offer.

Also, early US subscribers enjoy an extended free trial until June 30 and will not be affected by the changes.
If your free trial expiry date is not correctly reflected (see Help >> About), please contact members support.
---
Trading Diary
April 3, 2004
These extracts from my daily trading diary are
for educational purposes
and should not be interpreted as investment advice. Full terms and conditions can be found at Terms of Use.
USA

After 3 days consolidation below resistance at 10400 the Dow Industrial Average has broken through, to close at 10470. Increased volume signals commitment from buyers. Expect a test of resistance at 10750.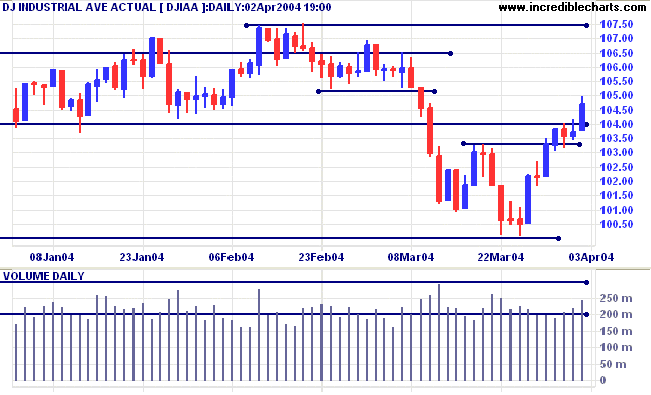 Penetration of resistance at 10750 would signal resumption of the primary up-trend and is likely to result in a test of the 11400 level. Initial support is at 10400, followed by major support at 10000.
Twiggs Money Flow
has rallied off the recent low but is still bearish..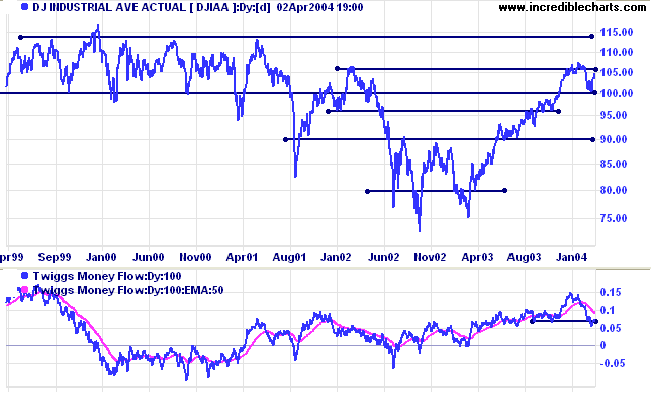 The Nasdaq Composite penetrated resistance at 2000, followed by a gap up on strong volume; a bullish sign.
The intermediate trend is up. The gap may exhaust short-term momentum but should herald a re-test of resistance at 2100. A rise above resistance at 2150 would signal resumption of the primary up-trend. Support is at 2000 and 1900 (major). Twiggs Money Flow is still bearish.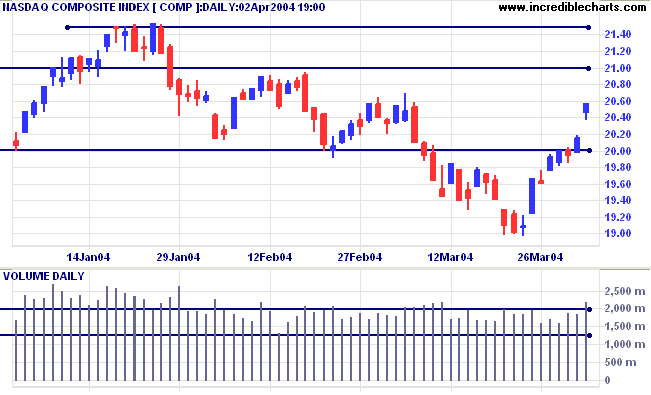 The S&P 500 broke through resistance at 1125 on strong volume. If the pull-back respects the new support level, we should see a re-test of resistance at 1160.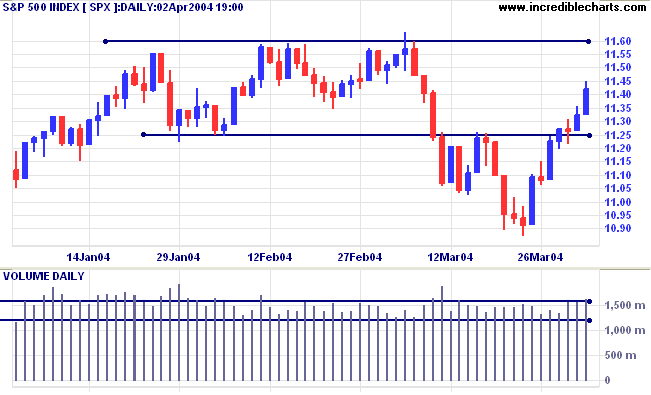 A rise above 1160 would signal resumption of the primary up-trend. However, Twiggs Money Flow is still bearish.
Daylight Saving

New York: Daylight saving commences at 2:00 a.m. on April 4.
Times will shift to EDT (GMT-4) from EST (GMT-5).
For further details, see
Coping with different Time Zones
.
Treasury yields

The yield on 10-year treasury notes rallied sharply to close at 4.14%.
The intermediate trend is uncertain. A rise above 4.25 would signal commencement of an up-trend.
The primary trend is down.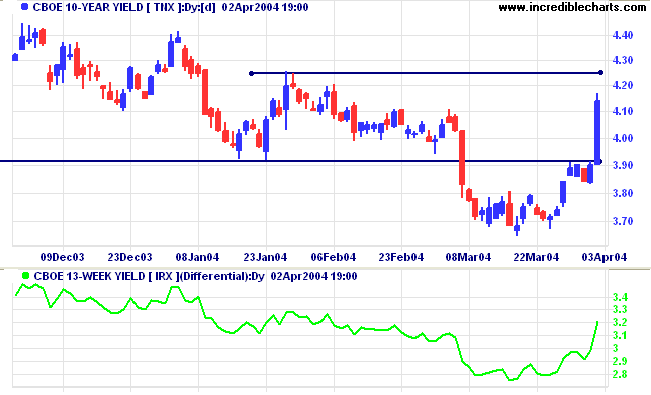 Gold

New York: Spot gold eased to $421.40 after testing resistance at $427.
The intermediate trend is up.
The primary trend is up. A fall below $390 would signal reversal.
---
Incredible Charts - now with US Data
AMEX, NASDAQ and NYSE data

OTC BB and Pink Sheet stocks

more than 500 market and sector indices
---
ASX Australia

The All Ordinaries formed a compressed spring (a narrow range with strong volume) demonstrating strong buying support. The compressed spring is normally followed by a strong trend movement, in either direction, so entries are often taken with a buy-stop above the High, or a sell-stop below the Low.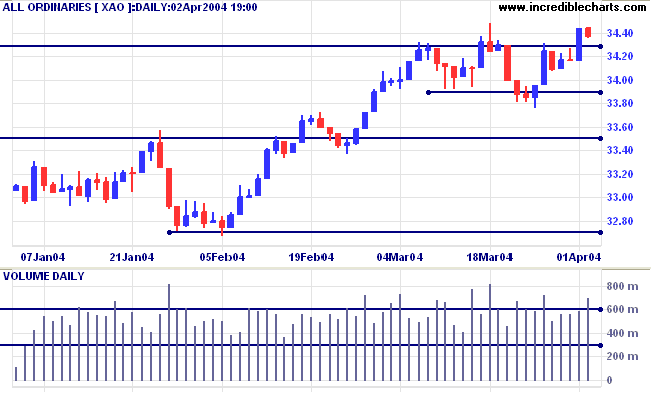 There may still be further resistance overhead at 3450, while support is at 3160.
The intermediate and primary trends are up.
Twiggs Money Flow signals accumulation (intermediate time frame).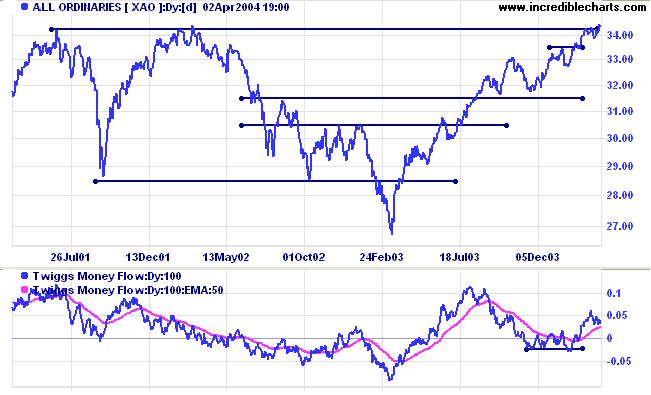 ---
Incredible Charts Premium version
Bar charts and Candlesticks

Point & Figure

Equivolume

Hourly ASX updates
---
Stock Screening - Directional Movement: Trend Starts


Welles Wilder's Directional Movement system consists of three lines:
Positive Direction Indicator (+DI) indicates upward trend movement;
Negative Direction Indicator (-DI) summarizes downward trend movement;

ADX indicates the overall level of directional movement. High readings signal strong trends, while low readings indicate ranging stocks.
Long signals are taken when +DI crosses to above -DI while ADX turns up (from a low reading).
Short signals, when -DI crosses to above +DI while ADX (also) turns up.
There are many different ways of trading with Directional Movement. See the Trading Guide for Alexander Elder's approach.

To identify potential long trades:
Open the Stock Screen module from the toolbar



Select Directional Movement System
Under DI+, DI- (14) Crossovers:

select Bull Signal and
within the last 5 trading days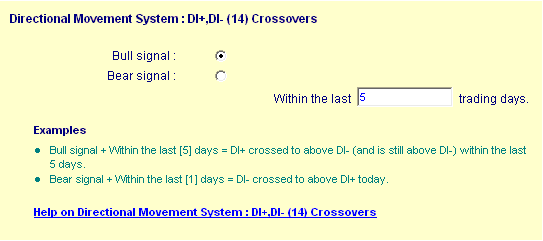 Scroll down to ADX Crossovers:

select ADX (14) Crossover of 20
Crosses Above and
within the last 5 trading days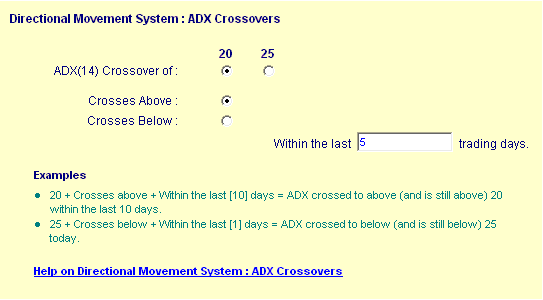 This will return stocks where DI+ has crossed to above DI- and ADX has crossed above 20.

As an alternative to the second filter you can use the ADX Reversals filter:
ADX (14) Reversal by 4 Points
ADX turns up
Within the last 5 trading days
This may identify earlier turning points but will give more incorrect signals.


Chart Forum: Email images

We have amended the Chart Forum code so that images, for example charts, are displayed in email notifications.
To receive images in Chart Forum notices:
Login to your Chart Forum Profile
Select Email Notifications
Scroll to Additional Email Notification Settings
Select Send e-mail notification as HTML text rather than plain text
Save Profile Changes.
About the Trading Diary has been expanded to offer further assistance to readers, including directions on how to search the archives.
It will be the business of reason to rule with wisdom and forethought on behalf of the entire soul;
while the spirited element ought to act as its subordinate and ally.
The two will be brought into accord, by that combination of mental and bodily training
which will tune up one string of the instrument and relax the other,
nourishing the reasoning part on the study of noble literature
and allaying the other's wildness by harmony and rhythm.

~ Plato.
---
Back Issues
Access the Trading Diary Archives.
---