---
---
TWO WEEK FREE TRIAL – MARCH ONLY

INVESTMENT WISE NEWSLETTER

Are you picking outperforming stocks?

Investment Wise is fast gaining a reputation for picking 'outperforming' stocks, or the 'blue chips' of tomorrow TODAY. It is one of Australia's fastest growing investment advisory firms that provides independent advice about ASX stocks.

Access your free trial today – click here
---
Trading Diary
March 27, 2004
These extracts from my daily trading diary are
for educational purposes
and should not be interpreted as investment advice. Full terms and conditions can be found at Terms of Use.
USA

The Dow Industrial Average tested support at 10000 before rallying to close at 10213. Weak volume and short duration of the rally [b] indicates a lack of commitment from buyers. A fall below 10000 will signal continuation of the intermediate down-trend.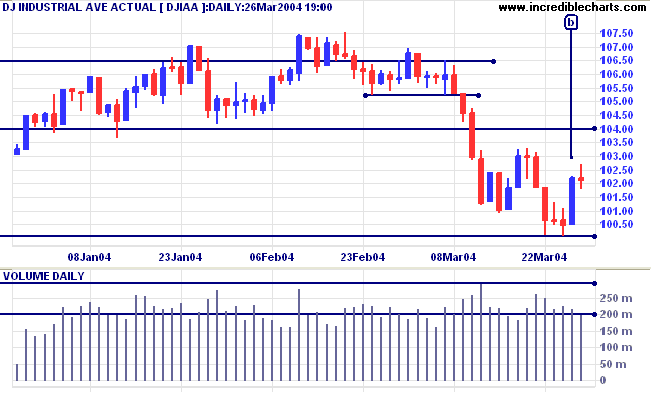 The primary trend is up. The current secondary reaction does not yet signal the end of the up-trend. The absence of earlier strong reactions during the up-trend makes it difficult to identify really strong support levels. Expect initial support at 9600, with a stronger level at 9000.
Twiggs Money Flow
has fallen to a 6-month low; a bearish sign.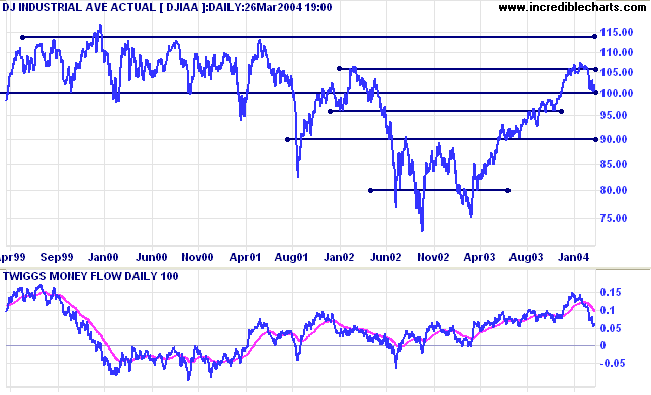 The Nasdaq Composite may again test resistance at 1980 to 2000. 
Failure to penetrate 2000 will be bearish, signaling continuation of the intermediate down-trend.
The primary trend is up. Initial support is at 1750 to 1780.
Twiggs Money Flow is bearish, having fallen to a 6-month low.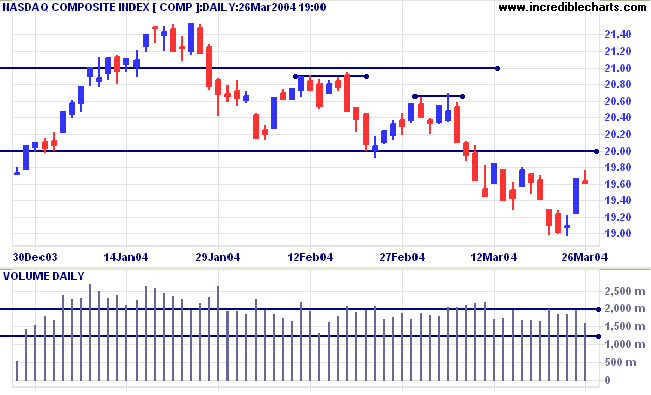 The intermediate down-trend on the S&P 500 continues. The latest rally appears to have run out of steam and a fall below 1090 will signal continuation, with a likely test of support at 1030 to 1000.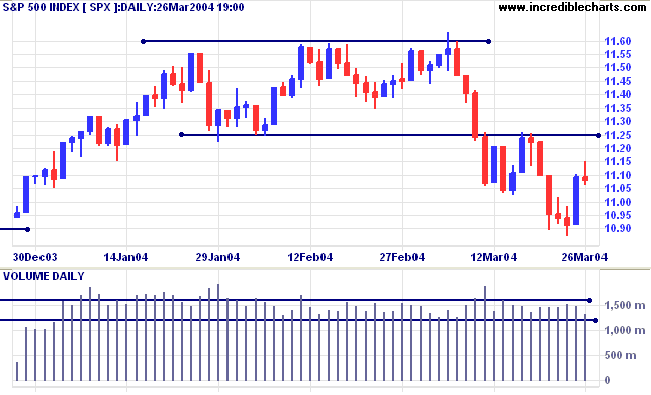 The primary trend is up.
Twiggs Money Flow is falling sharply.
Treasury yields

The yield on 10-year treasury notes rallied to 3.84%.
The intermediate trend is down.
The primary trend is down.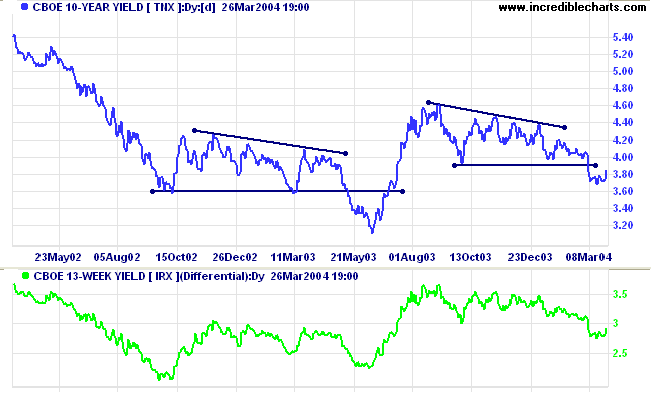 The
yield differential
(10-year T-notes minus 13-week T-bills) recovered to a healthy 2.9%.
Gold

New York: Spot gold has rallied strongly to finish the week at $422.10.
The intermediate trend is up.
The primary trend is up. A fall below $370 would signal reversal.
---
Incredible Charts - now with US Data
AMEX, NASDAQ and NYSE data

OTC BB and Pink Sheet stocks

more than 500 market and sector indices
---
ASX Australia

The All Ordinaries is at a watershed, having rallied to re-test resistance at 3425 and 3440 -- the highs from 2001/2002. The false break, below the previous low of 3390, and strong volume on Friday's rally both signal buyers' commitment. A retreat below Thursday's low of 3375 would be a bear signal, while a rise above 3440 would be bullish. I am cautious on the bull side: we could be in for further false breaks before a clear trend is evident.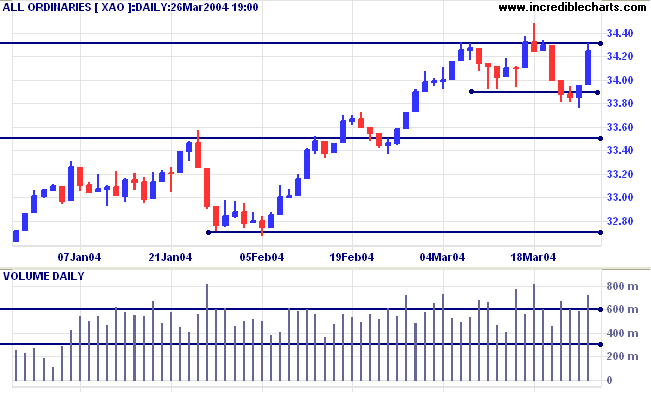 The intermediate trend is uncertain.
The primary trend is up. Resistance is at 3440 to 3450; support is at 3160.
Twiggs Money Flow signals accumulation (intermediate time frame).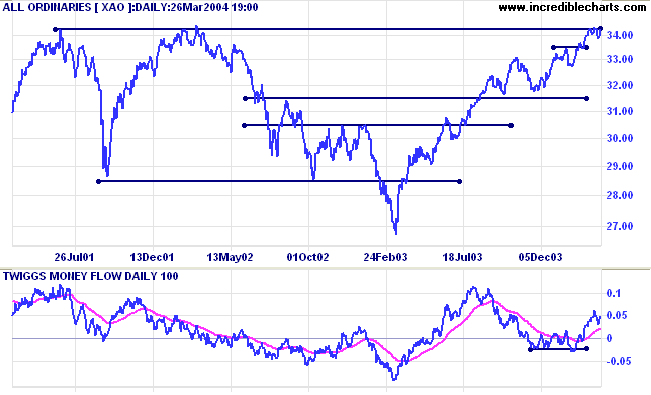 Daylight Saving

On Sunday night, March 28, the ASX switches back to normal AEST (GMT +10), from daylight saving time (GMT + 11).
ASX opening and closing times will, therefore, be one hour later in Queensland, NT and WA.
Victoria, ACT, NSW, SA and Tasmania will also enjoy US markets closing one hour earlier.

For further details, see Coping with different Time Zones.


---
Incredible Charts Premium version
Bar charts and Candlesticks

Point & Figure

Equivolume

Hourly ASX updates
---
Stock Screening - Directional Movement: Consolidations


The ADX line in Welles Wilder's Directional Movement system indicates the level of trend movement. Low readings will identify stocks in a ranging (or consolidation) pattern.
Open the Stock Screen module from the toolbar



Select Directional Movement System
Scroll down to ADX Value Filter
Enter 15 (or 20) as the Maximum

Submit

This will return all stocks with an ADX reading below 15, most of which will have formed some type of consolidation.
The two stocks with the lowest ADX readings in the S&P 500 are:
Advanced Micro devices [AMD] - 7.4

Citigroup [C] - 9.5
AMD has formed a descending triangle. A break below 14.00 will be a strong bear signal; a break above 16.00 would be bullish; especially if a pull-back respects the former range border.
Twiggs Money Flow has fallen to a 6-month low, signaling distribution.
ASX 200
For Australian stocks, the lowest readings are:
Austereo [AEO] - 10.2

Billabong [BBG] - 11.0
Chart Forum: Email notifications

If you are interested in a particular topic on the Chart Forum, amend your Profile to receive emails of any new posts.
Go to the

Chart Forum

.
Login to your Profile in the Forum menu bar.
Select Email Notications.
Check the box in the New Posts column to select the desired Topic (see below).
Click the Save Profile Changes button.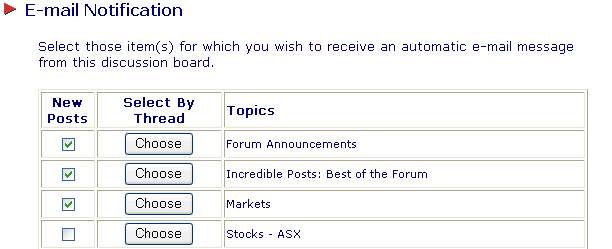 If you only want to select a specific thread:
Repeat steps 1. to 3. above

Click the Choose button next to the Topic.

Select the thread from the pop-up list (see below).

Click the Save button; then Save Profile Changes.
About the Trading Diary has been expanded to offer further assistance to readers, including directions on how to search the archives.
Wherever we find orderly, stable systems in Nature, we find that they are hierarchically structured,
for the simple reason that without such structuring of complex systems into sub-assemblies,
there could be no order and stability......

~ Arthur Koestler.
---
Back Issues
Access the Trading Diary Archives.
---