---
---
Incredible Charts Premium version
AMEX, NASDAQ and NYSE data

OTCBB and Pink Sheet stocks

more than 500 market and sector indices

ASX (with hourly updates)

.
---
Trading Diary
March 6, 2004
These extracts from my daily trading diary are
for educational purposes
and should not be interpreted as investment advice. Full terms and conditions can be found at Terms of Use.
The Dow Industrial Average is consolidating around the 10600 level.
The intermediate trend is uncertain. A fall below support at 10400 would signal reversal to a down-trend, favoring a re-test of support at 10000.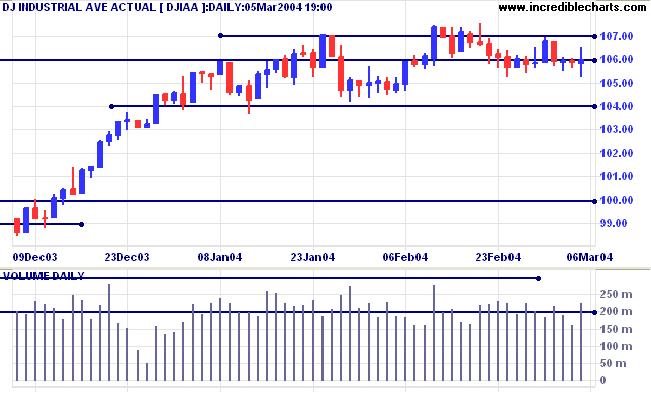 The primary trend is up. Expect strong resistance at 11300 to 11500 (from highs in 1999 to 2001).
Twiggs Money Flow
gives a weak distribution signal, having broken below its signal line.
The Nasdaq Composite closed lower at 2047. The false break above the previous high, coupled with higher volume, favors a re-test of support at 2000.
The intermediate trend is down.
The primary trend is up. A fall below 1750 would be bearish.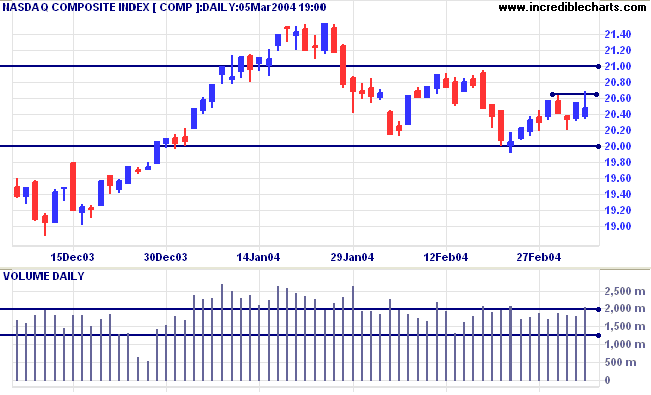 The S&P 500 closed slightly higher at 1157 after a false break above resistance at 1160. The weak close and higher volume signal selling pressure, but a successful test of support at the February 24 low of 1134 will be a bullish sign.
The intermediate trend is uncertain. A rise above 1160 would be bullish. A fall below support at 1120 would be bearish.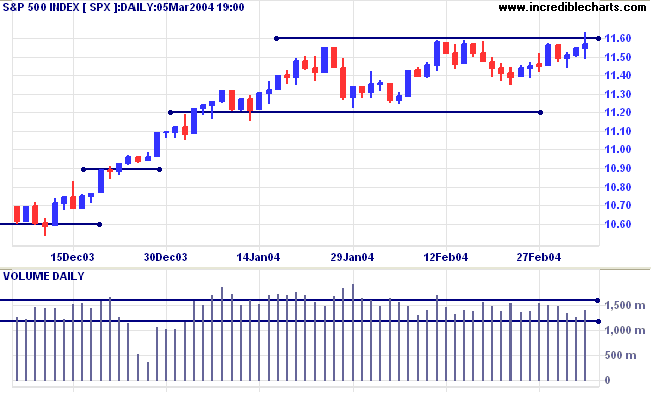 The primary trend is up. Expect resistance at 1170 to 1200; support at 1000 to 950.
Treasury yields
The yield on 10-year treasury notes closed down sharply at 3.83%, breaking below support at 3.93%.
The intermediate trend is down.
The primary trend has reversed down, after the breakout from the bearish descending triangle.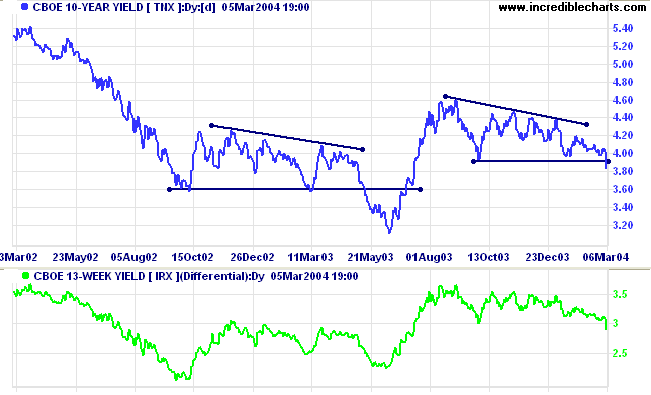 Gold

New York: Spot gold jumped sharply before Friday's close, ending at $401.00.
The intermediate trend is down.
The primary trend is up. A fall below $370 would signal reversal.
The All Ordinaries rallied to close at 3416. Lower volume on a strong bar signals an absence of sellers rather than commitment from buyers. Overcoming resistance at 3400 may have depleted both buyers and sellers.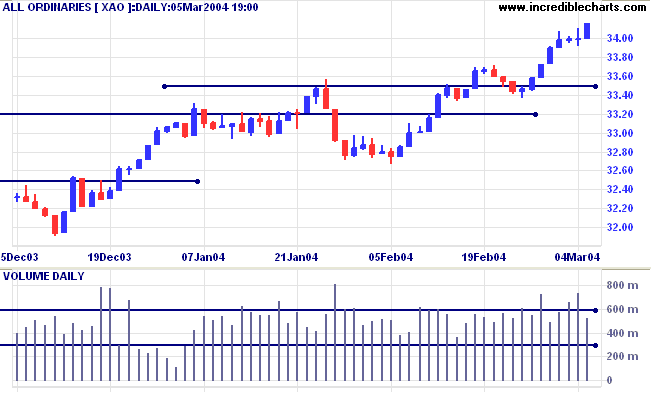 The intermediate trend is up. Buyers may have to consolidate before making a serious attempt on
Trading Diary
resistance at 3425 to 3450, the highs from 2001 and 2002

The primary trend is up. Support is at 3160.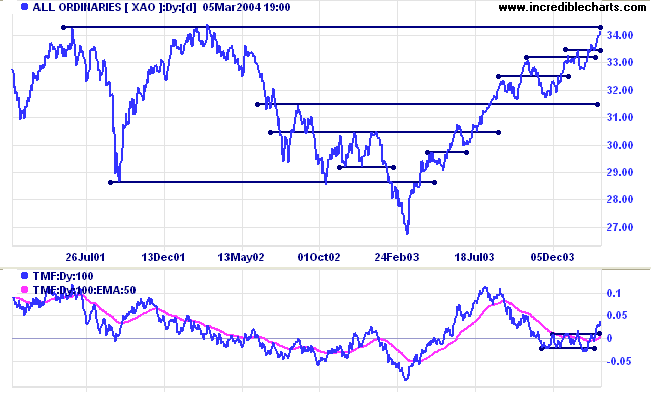 Australian sectors
We have had to curtail our coverage of sectors to ensure compliance with Australian Financial Services Regulations. The new weekly format will include coverage of stock screens, indicators, chart patterns, support and resistance and other items of general interest to subscribers.
Stock Screening - Wide Ranging Days

Wide ranging days
have a significantly wider true range than surrounding bars. They have as much significance as gaps, and often signal a
reversal
, false break, shake-out, blow-off or strong follow-through after a trend reversal. I have found the
Volatility Ratio
, introduced by Jack Schwager in his book
Schwager on Futures: Technical Analysis,
particularly useful
.
Any day that has a true range more than twice the 14-day average is identified as a wide-ranging day.
To set up a stock screen filter: select Volatility Ratio (Schwager) > 2.0 within the last 2 days.
Wide Ranging Days are most significant after a strong trend, so you may want to add a second filter to identify trending stocks. For example Moving Average Crossovers, MACD, Directional Movement or Bollinger Bands. I prefer to use the filter on its own as a trend filter may eliminate some follow-through days.
Stock Screening - Gaps

Many
gaps
are also wide ranging days: true range is measured from the previous day's Close to the current High or Low, where this is wider than the current High minus Low. To screen for significant gaps it may be advisable to combine the above Volatility Ratio filter with the following:
Select Gaps: Price Gapped Up or Price Gapped Down, depending on whether you want bullish or bearish gaps, within the last 2 days.
Stock Screening - Volume Spikes

To narrow your search even further, add a volume spike filter:
Select Volume Spikes: Volume exceeds the 50-Day Volume EMA by 2.0 times within the last 2 trading days.
---
Incredible Charts Premium version
Bar charts

and

Candlesticks

Point & Figure

Equivolume

P

owerful new stock screens.
---
The Chart Forum
The Chart Forum can be accessed from the Home page or from Incredible Charts. It features more than 30,000 posts discussing:
stocks (create a separate thread for each new stock);

market trends;

chart patterns;

trading systems; and

for the more analytical reader - Does Technical Analysis Really Work?
There is also a Traders Groups area, dedicated to readers who wish to organize traders groups in their home cities, and Incredible Posts, featuring the most highly rated posts on the Forum.
Registering for the Forum
To become a contributor, you need to register.
Open the Forum and create your own username and password (lowercase only).

You will be sent a confirmation email. Click on the enclosed link to activate your Forum registration.
Login to your
Profile
to set up email notifications, edit your profile, remember or change your password.
About the Trading Diary
has been expanded to offer further assistance to readers, including directions on how to search the archives.
Colin Twiggs
A loser doesn't know what he'll do if he loses,
but talks about what he'll do if he wins,
and a winner doesn't talk about what he'll do if he wins,
but knows what he'll do if he loses.

~ Eric Berne.
---
Back Issues
Access the Trading Diary Archives.
---