---
---

Daily Trading Diary


We have been advised to remove index coverage from the Daily Trading Diary as this may contravene the new Financial Services regulations. I have therefore decided to stop the newsletter from today.

This will give me time to develop material for a new format, based on feedback from the recent survey. The free weekly newsletter will continue.
We will credit members for the unexpired portion of their diary subscription. Please email any questions to members support.
---
Trading Diary
March 1, 2004
These extracts from my daily trading diary are for educational purposes and should not be interpreted as investment advice. Full terms and conditions can be found at Terms of Use

.
Gold

New York (Mar 01 4:10). Spot gold recovered to $398.50.
The intermediate trend is down.
The primary trend is up. A fall below $370 would signal reversal.
The All Ordinaries rallied to 3390. Lower volume with a strong bar signals an absence of sellers, rather than commitment from buyers. This indicates possible weakness at the 3425 to 3450 resistance level.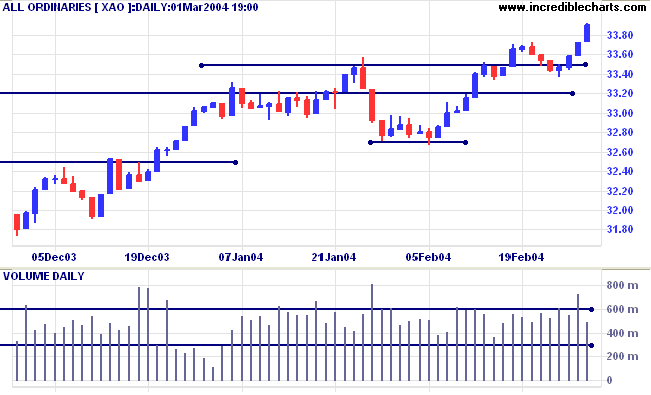 The intermediate trend is up. Support is at 3350.
The primary trend is up. Support is at 3160.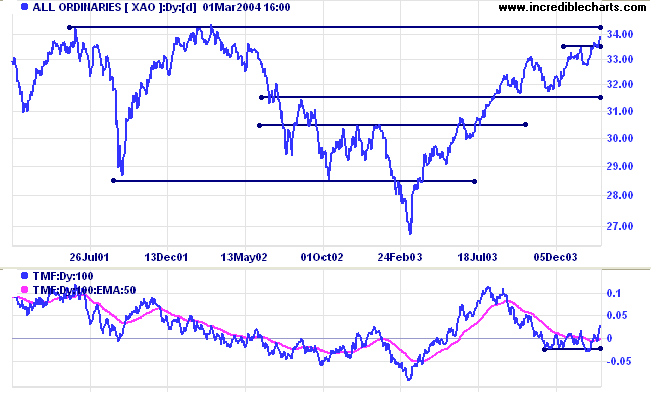 Thank you for your support and for the excellent response to the
recent survey.
You can have anything you want
if you will give up the belief that you can't have it.

~ Dr Robert Anthony.
---
Back Issues
Access the Trading Diary Archives.
---