---
---

Daily Trading Diary - Subscriptions


We have removed the Daily Trading Diary from the subscription page until the new format is resolved.

New subscribers will be afforded the opportunity to subscribe at the old price when the Diary is re-introduced.

---
Trading Diary
February 23, 2004
These extracts from my daily trading diary are for educational purposes and should not be interpreted as investment advice. Full terms and conditions can be found at Terms of Use

.
The All Ordinaries tested support at 3350 before closing at 3354. A fairly weak close and higher volume indicate buying support. For the fast up-trend to continue, the index must respect the 3350 support level. A (sustained) rise above today's high will be a bull signal. A fall below last Monday's low of 3333 would be bearish.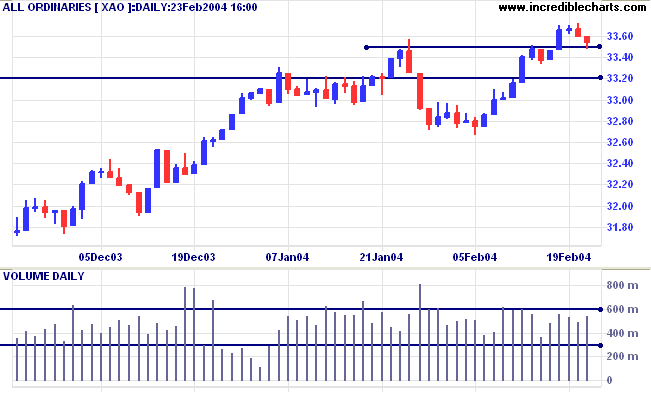 The intermediate trend is up. A fall below support at 3320 would be bearish.
The primary trend is up. Resistance is at the 2001/2002 highs of 3425 and 3440. Support is at 3160.
Stock Screening - Stage 1 Breakouts

I have received several requests for an explanation of how to screen for Stage 1 breakouts.
Just to ensure that everyone knows what a Stage 1 breakout is, here is an excerpt from
About the Trading Diary
:
Market Stages
There are four possible stages/phases: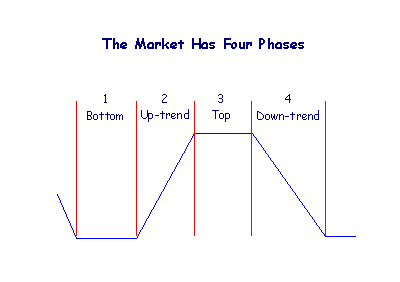 Sometimes the market will form a chart pattern, such as a descending or ascending triangle, in place of a rectangular trading range at a top or bottom. And fairly often the market forms a mid-point consolidation, easily mistaken for a Stage 3 Top, at roughly half-way through Stage 2.
A Stage 1 bottom is likely to have the following characteristics:
price has moved sideways for an extended time period;

moving averages whipsaw as price is ranging;

volatility and volume decline;

Directional Movement is low;

Price will make a new 3-month or 6-month high at the breakout.
If we want to trade pull-backs, where the stock has broken out of its base and then pulls back to test the new support level, we will have to follow the stock from its initial breakout.
The most important screen will be the % Of Price High: insert 100 as the 3-month or 6-month minimum.
Now this will identify all stocks making new highs, not just those breaking out from a base; so how do we narrow the search?
First we eliminate all dormant or illiquid stocks by adding a Volume Filter:
20-day Volume MA; minimum value 1000 (or 10000 depending on what stocks you wish to trade).

You could select an index such as the All Ordinaries or ASX 300 instead of the Volume Filter.

Next, eliminate stocks already in strong trending moves:
enter 20 as the Maximum % Move for 3, 6 and 12 months.
This screen will not be entirely accurate, returning some stocks in mid-point consolidations and others that have completed a secondary reaction. But at least you will only need to scan 10 or so stocks, for signs of a breakout, rather than the entire market.
An alternative is to screen for Directional Movement - I will cover that tomorrow.
To screen for stocks that may be approaching a stage 1 breakout (rather than stocks that have completed a breakout), repeat the above screen but use 96 or 98 as the % Of Price High.
About the Trading Diary has been expanded to offer further assistance to readers, including directions on how to search the archives.
Colin Twiggs
There are two classes of people who tell what is going to happen in the future:
Those who don't know, and those who don't know they don't know.

~ John Kenneth Galbraith.
---
Back Issues
Access the Trading Diary Archives.
---