---
---
Survey Feedback
Most respondents to the survey:
read the Diary regularly;

are interested in stocks and indexes;

and both ASX and US markets;

find email delivery irregular;

find the content interesting (although repetitive);

think the newsletter is about the right length; and

are likely to renew their subscriptions.
I do not want to read to much into the last response as I am sure that many of those who do not plan to renew, did not reply.

The most common request is for coverage of more stocks. This concerns me as it appears that the newsletter may be viewed by many as a tip sheet - not its intended purpose. I enjoy covering stocks but it is very demanding. And if I follow this route will have to apply for an ASIC licence.

Another frequent request is for more detailed coverage of specific trades. In other words, to reduce the general content and increase the educational content. This would also requires more time and is probably more suited to a weekly newsletter.

Many readers appear to be confused by, or unused to, the two daily updates and I will attempt to merge them into one edition. To start, stocks will be covered in the mid-morning update.

Thank you for your responses. You have given us much food for thought and we hope to be able to address the issues raised in the weeks ahead.
---
Trading Diary
February 16, 2004
These extracts from my daily trading diary are for educational purposes and should not be interpreted as investment advice. Full terms and conditions can be found at Terms of Use

.
US markets are closed Monday for Washington's birthday.
The All Ordinaries closed down at 3337, forming equal highs at [a] and [e] after testing resistance at 3350. Volume is drying up and a bar with a narrow range will be a bullish sign if it respects support at 3320.
Short-term: Bullish above 3350. Bearish below 3266.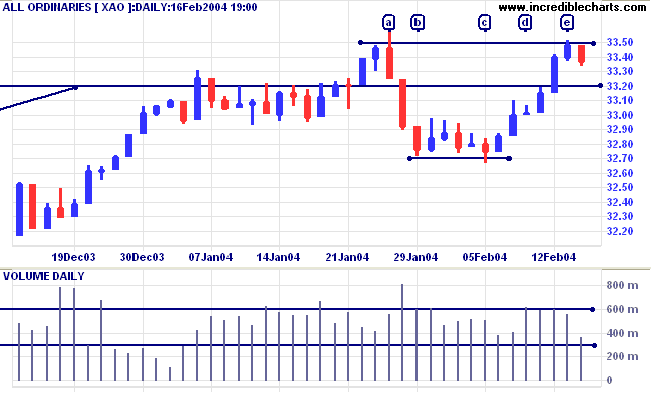 The primary trend is up. A fall below 3160 (the October 1 low) would signal reversal.
Intermediate term: Bullish above 3350. Bearish below 3160.
Long-term: Bearish below 3160.
About the Trading Diary
has been expanded to offer further assistance to readers, including directions on how to search the archives.
Colin Twiggs
Don't be fooled by the calendar.
There are only as many days in the year as you make use of.

~ Charles Richards.
---
Stock Screens: Suggestions

We will be revising the Stock Screens over the next few weeks. Many readers have already offered suggestions for improvements, but if you have any further requests, please email Support, with Stock Screen Suggestions in the subject line.
---
---
Back Issues
Access the Trading Diary Archives.
---