---
---
Incredible Charts Plans
It is no longer viable to maintain separate raw US and ASX data because of the additional load on the database. We plan to halt the raw data feed, on 31st March, and replace this with Premium data, delayed by 18 hours (to 10.00 a.m.).

In response to requests, subscriptions to the Daily Trading Diary and Incredible Charts Premium Data will be offered separately, at $180 (AUD) each. The combined subscription remains at $270 (AUD). Some development work is required, so this will not happen immediately.


US subscriptions will be $120 and $180 (USD). Exchange rates may fluctuate but we undertake to maintain stable pricing in both markets.
Your feedback and suggestions will be appreciated; at the
Chart Forum
.
---
Trading Diary
January 19, 2004
These extracts from my daily trading diary are for educational purposes and should not be interpreted as investment advice. Full terms and conditions can be found at Terms of Use

.
The All Ordinaries rallied to test resistance at 3320, but selling pressure forced a close back at 3312 on strong volume. The index is consolidating in a narrow range between 3293 and 3320; a bullish sign in an up-trend. a break below support at 3293 would be bearish, signaling a likely re-test of support at 3160.
Short-term: Bullish above 3320. Bearish below 3293.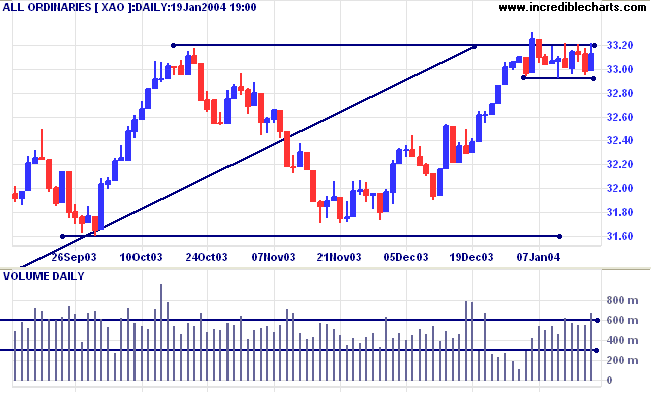 On the 3-year chart, the All Ords is consolidating between 3320 and 3160. A break above 3320 will signal a likely re-test of the previous highs at 3425 and 3440. The primary trend is up but will reverse if there is a fall below 3160 (the October 1 low). 
Twiggs Money Flow (100) has leveled out but is still bearish after a large
divergence
.
Intermediate term: Bullish above 3320. Bearish below 3160.
Long-term: Bearish below 3160.
West Australian Newspapers [WAN]
Last covered
October 20, 2003
.
WAN is in a fast up-trend, consolidating twice without correcting back to test support at the previous peaks. The stock is now approaching the target of 6.80; the 10-year high. Twiggs Money flow (100) displays a bearish divergence, signaling potential weakness.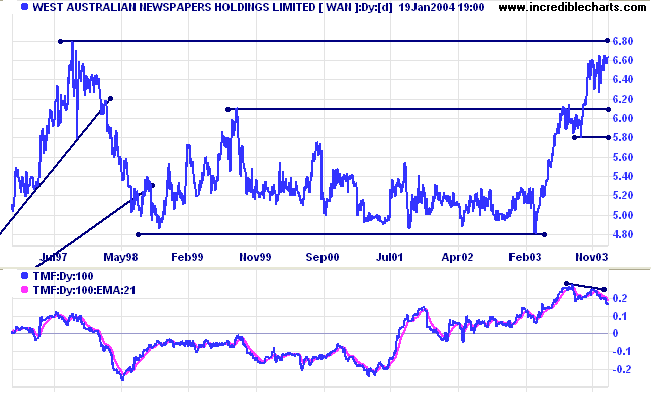 Today's bar shows a false break above 6.80. The rally was pushed back to close below the 6.65 resistance level, on surprisingly low volume. We should expect a fair amount of profit-taking near the 6.80 level. 
Relative Strength (price ratio: xao) is still above its support level.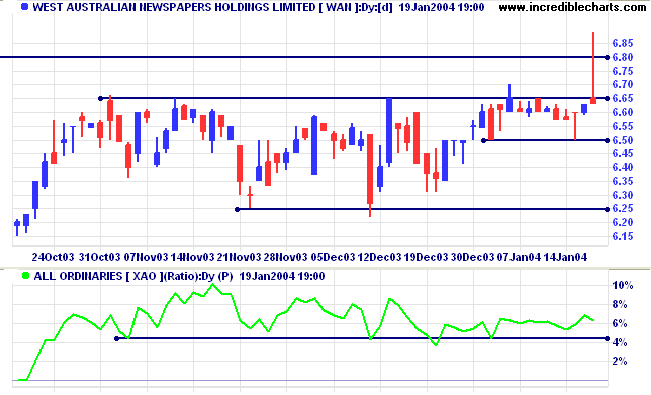 Short-term support is at 6.50; intermediate at 6.25; and long-term at 5.80.
Resistance is at 6.65 and 6.80. At present, 6.80 appears to be the stronger barrier.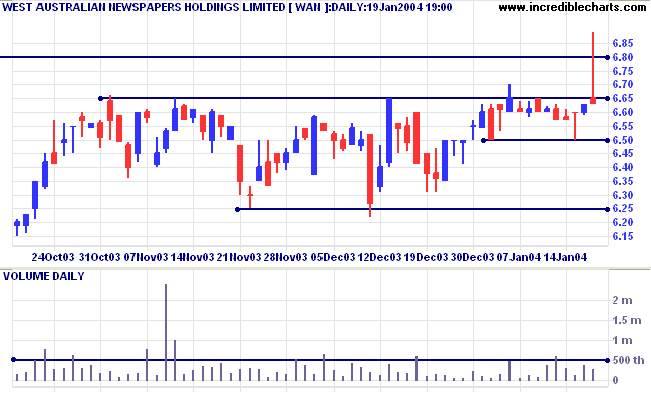 About the Trading Diary
has been expanded to offer further assistance to readers, including directions on how to search the archives.
Colin Twiggs
Tyson's whole thing has always been, 
"Well, everybody got a plan until they get hit."

~ Evander Holyfield
(talking about trading on margin ... of course).
---
Incredible Posts: Suggestions
We would like to add more 5-star posts to the Incredible Posts thread.
If you have any suggestions, please post the links at 
the Suggestion box.
---
---
Back Issues
Access the Trading Diary Archives.
---