---
---
Incredible Charts Latest Plans
US Premium data will be available to free users until March 31, 2004.
Thereafter, all free users will have access to Premium data, delayed by 18 hours (10.00 a.m.).

Early US subscribers, some of whom have waited almost 2 years, have been offered an extended free trial until June 30, 2004.

It is no longer viable to maintain separate raw US or ASX data because of the additional load on the database. Free users will still be able to use the delayed data.

In response to a number of requests, we will offer members the opportunity to subscribe for the Daily Trading Diary and Incredible Charts Premium data separately at $180 (AUD) or $270 (AUD) for the full service. Some development work is required, so this may take a month or two.


US subscriptions will be $120 and $180 (USD). Exchange rates may fluctuate but we undertake to maintain stable pricing in both markets.
We will appreciate your feedback and suggestions on the Chart Forum.
---
Trading Diary
January 8, 2004
These extracts from my daily trading diary are for educational purposes and should not be interpreted as investment advice. Full terms and conditions can be found at Terms of Use

.
The Dow Industrial Average closed just below the 10600 resistance level at 10592 on higher volume.
The intermediate trend is up. Resistance is at 10600 to 10673.
The primary trend is up. A fall below support at 9600 will signal reversal.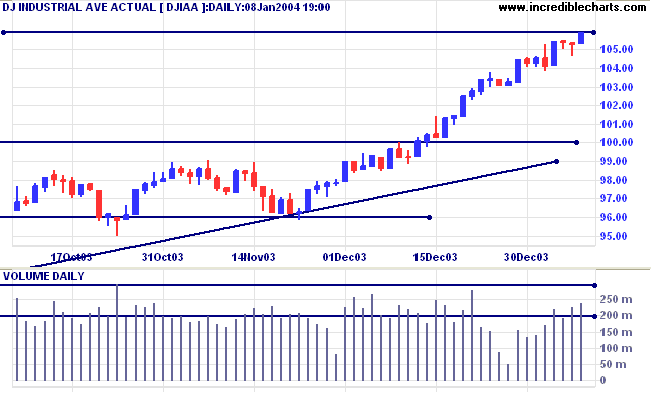 The Nasdaq Composite gapped up to a new 2-year high of 2100. Strong volume is a bullish signal.
The intermediate trend is up.
The primary trend is up. A fall below support at 1640 will signal reversal.
The S&P 500 added 5 points to close at 1131 on strong volume.
The intermediate up-trend is accelerating. A fourth, steeper trendline would signal a blow-off, with a likely correction back to the primary supporting trendline. But resistance at 1175 is likely to halt/slow the advance before this happens.
Short-term: Bullish if the S&P500 is above 1124 (last Tuesday's high). Bearish below 1124 (Today's low).
The primary trend is up. A fall below 960 will signal reversal.
Intermediate: Bullish above 1124.
Long-term: Bullish above 960.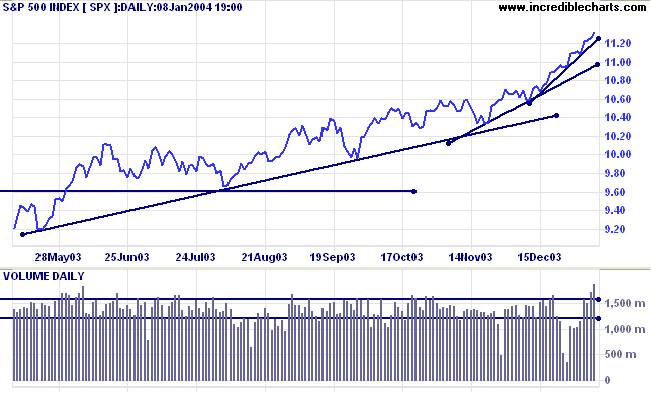 The Chartcraft NYSE Bullish % Indicator rallied to 85.63% (January 8). This means that more than 85% of stocks on the NYSE are in an up-trend (a 10-year high). The next highest levels were 76% in August & October 1997, preceding a sharp correction in August 1998 when the index fell to the 10-year low of 16%.
Treasury yields
The yield on 10-year treasury notes closed almost unchanged at 4.25%.
The intermediate trend is uncertain.
The primary trend is up.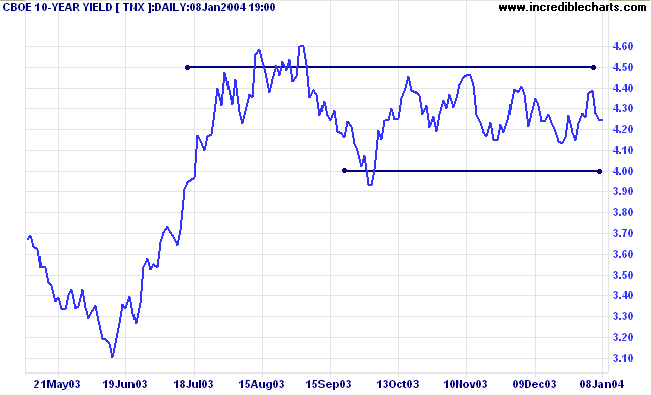 Gold
New York (22.41): Spot gold is slightly up at
$422.90
.
The intermediate trend is up.
The primary trend is up. Expect support at 415.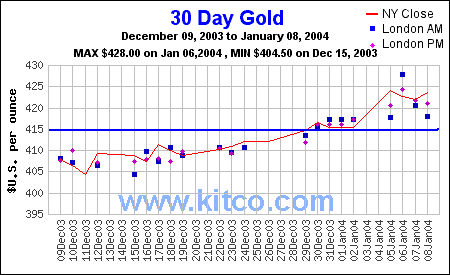 The All Ordinaries retreated to 3304 on lower volume, commencing a short-term down-swing. If the intermediate trend turns down, we are likely to see a re-test of support at 3160.
MACD (26,12,9) is above its signal line; Slow Stochastic (20,3,3) is below.
Short-term: Bullish above 3320.
The All Ords is below its long-term trendline, signaling weakness. The primary trend is up but will reverse if there is a fall below 3160 (the October 1 low). Twiggs Money Flow (100) has leveled out but is still bearish after a large
divergence
.
Intermediate term: Bullish above 3320. Bearish below 3160.
Long-term: Bearish below 3160.
Colin Twiggs
Many people believe that humility is the opposite of pride, when, in fact, it is a point of equilibrium.
The opposite of pride is actually a lack of self esteem. A humble person is totally different
from a person who cannot recognize and appreciate himself as part of this worlds marvels.

~ Rabino Nilton Bonder
---
Individual Stocks

Analysis of individual stocks will resume on Monday, January 12th.
---
---
Back Issues
Access the Trading Diary Archives.
---