---
---
Earlier updates


In future an early edition of the Trading Diary (sans US charts)
will be available on the website and emailed before 7:00 a.m. (Sydney time).

A later US market update will be emailed around midday.
---
Trading Diary
November 27, 2003
These extracts from my daily trading diary are for educational purposes and should not be interpreted as investment advice. Full terms and conditions can be found at Terms of Use

.
Having failed to break through initial resistance at 3206, the All Ordinaries closed 5 points lower at 3194. Higher volume signals commitment from sellers.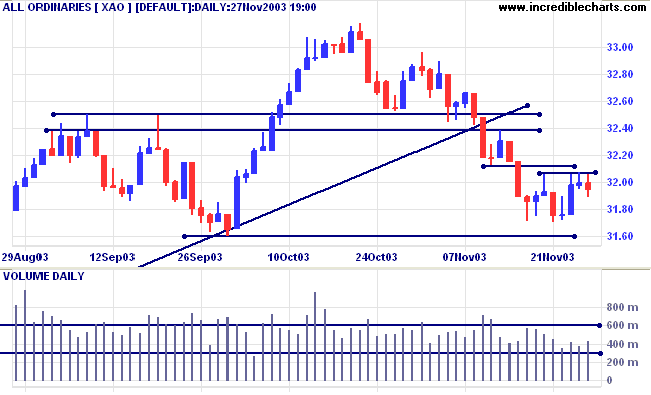 The intermediate trend is down.
MACD (26,12,9) is below its signal line; Slow Stochastic (20,3,3) is above its signal line.
Short-term: Bullish if the All Ords rises above 3212 (the November 12 low). Bearish below Wednesday's low of 3194.
XAO is below the long-term trendline, signaling weakness. 
The primary trend is up but will reverse if there is a fall below 3160 (the October 1 low).
Twiggs Money Flow (100) signals distribution after a bearish
triple divergence
.
Intermediate term: Bullish above 3250. Bearish below 3160.
Long-term: Neutral. Bearish below 3160.
Cochlear [COH]

Last covered on
February 12, 2003
.
Relative Strength (xao) fell to a 2-year low, with a pull-back respecting resistance on the RS chart, while price has penetrated the 30.00 support level.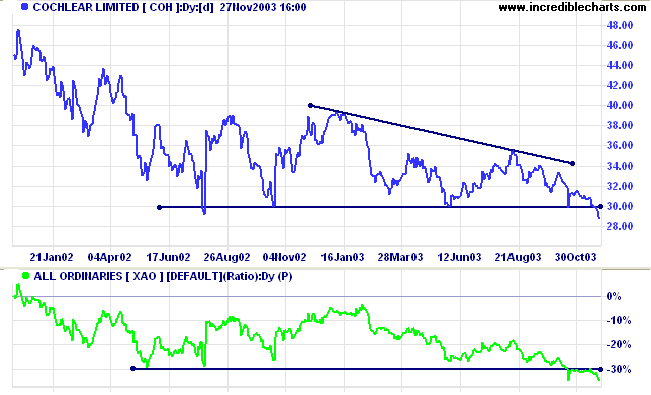 Twiggs Money Flow (100) signals strong distribution.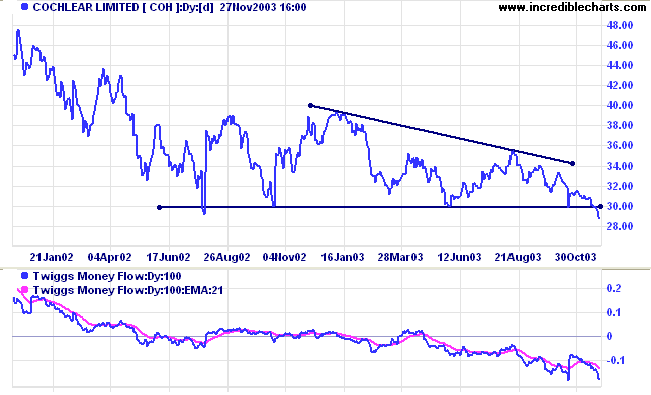 A pull-back to test the new resistance level at 30.00 may present opportunities to go short. A dry-up of volume and volatility on the pull-back will be a bearish sign. A correction of short duration would provide further confirmation.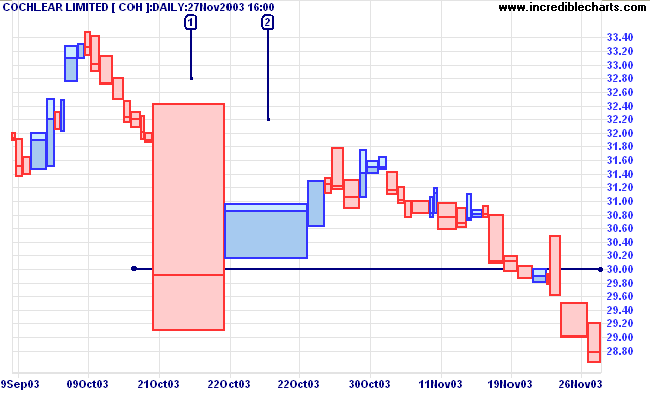 Note the earlier sell-off on huge volume at [1]. This was followed by a second day with just as much volume but a far narrower range at [2], signaling strong opposition from buyers. There is always someone who thinks they can pick the bottom.
Property Trusts [XPJ]
XPJ has rallied after testing support at 14.00. Twiggs Money Flow (100) continues to signal accumulation.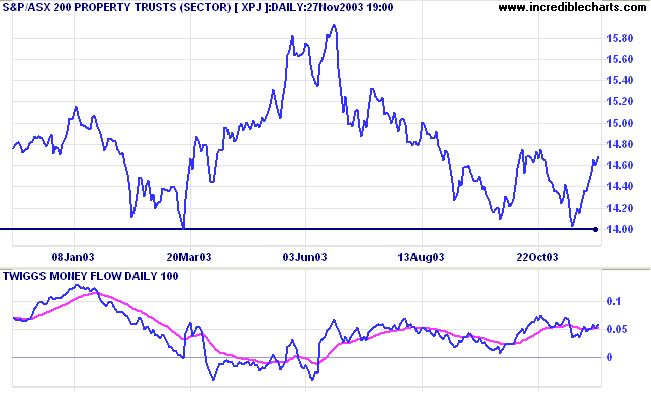 Interestingly, Relative Strength (xao) has risen above recent highs, signaling strong performance relative to other sectors.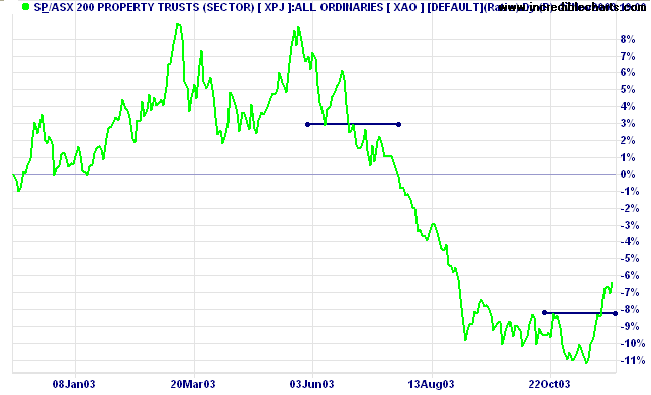 A pull-back that respects the new RS support level would confirm that investors are increasing their allocation in this sector.
Colin Twiggs
The crowd, the world, and sometimes even the grave, step aside for the man who knows where he is going,
but pushes the aimless drifter aside. 

~ Roman proverb.
---
US charts

We are now in the final stages of the setup.

---
---
Back Issues
Access the Trading Diary Archives.
---