---
---
Incredible Charts version 4.0.2.500
The new version has been held back a day or two for further testing. 

The update offers further improvements to the watchlist menu, powerful new scrolling features and supports the use of Large Font settings on laptop (and desktop) computers.
---
Trading Diary
September 8, 2003
These extracts from my daily trading diary are
for educational purposes
only
and should not be interpreted as investment advice. Full terms and conditions can be found at Terms of Use

.
The Dow Industrial Average regained Friday's losses to close at 9586. Low volumes continue to signal weakness.
The intermediate trend is up.
The primary trend is up.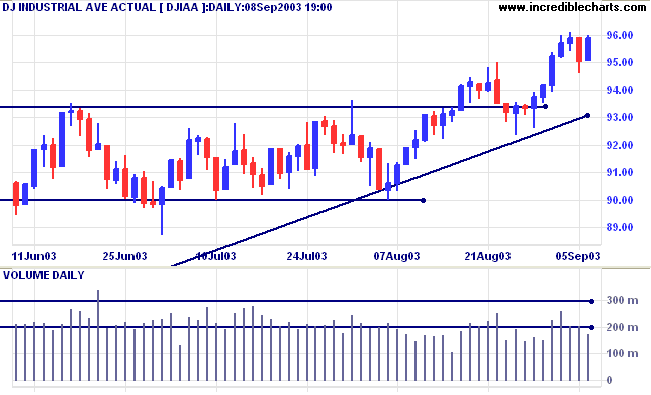 The Nasdaq Composite rallied 31 points to 1889 on strong volume.
The intermediate trend is up.
The primary trend is up.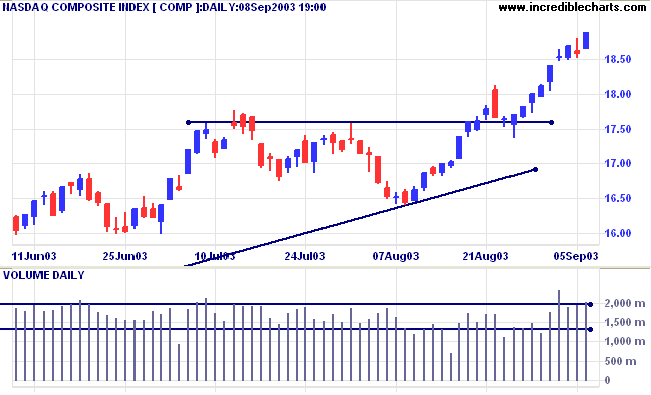 The S&P 500 rallied 11 points to close at 1032. The short correction signals a fast up-trend but lower volume warns of susceptibility to selling pressure. 
The intermediate trend is up.
The primary trend is up.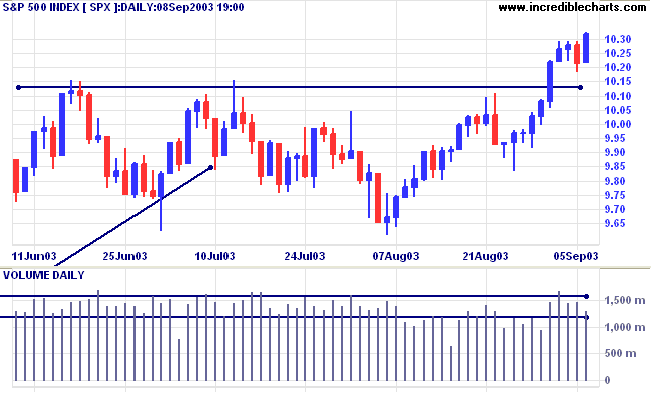 Market Strategy
Short-term: Long if the S&P500 is above 1029.
Intermediate: Long if S&P 500 is above 1015.
Long-term: Long is the index is above 960.
Treasury yields
The yield on 10-year treasury notes steadied at 4.39%. 
The yield is ranging just above the support level, between 4.67% and 4.20%, a bullish sign.
The primary trend is up.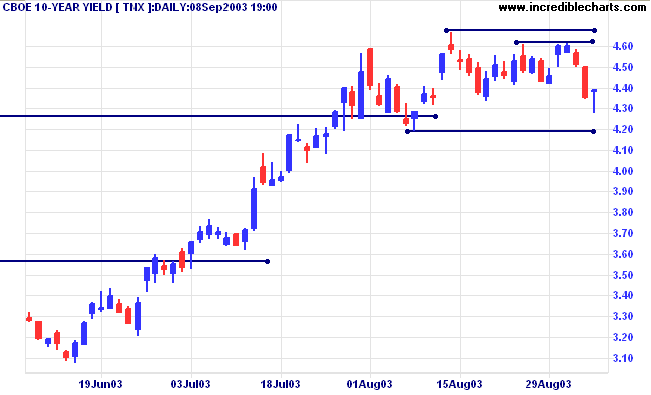 Gold
New York (19.30): Spot gold eased to $375.40.
The primary trend is up.
Price has broken above a symmetrical triangle formed since the start of the year. If gold penetrates overhead resistance at 382, the target is the 10-year high of 420.
The All Ordinaries gained 13 points to close at 3233. Volume has dried up during the last 4 days congestion, signaling continuation.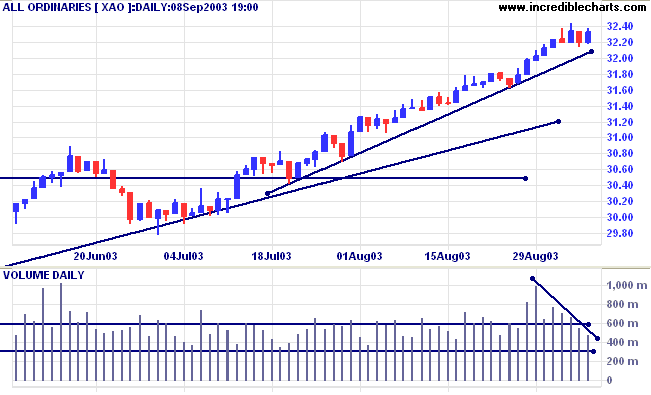 The intermediate and primary trends are up. 

MACD (26,12,9) is above its signal line; Slow Stochastic (20,3,3) is below; Twiggs Money Flow shows a bearish divergence.
Market Strategy
Short-term: Long above 3238.
Intermediate: Long if the index is above 3160.
Long-term: Long if the index is above 2978 .
Australian Stock Exchange [ASX]
ASX has been ranging between 10.00 and 14.00 for the last 3 years. Price is now testing resistance at the upper border of the range.
Relative Strength is level while Twiggs Money Flow (100) and MACD show bearish divergences.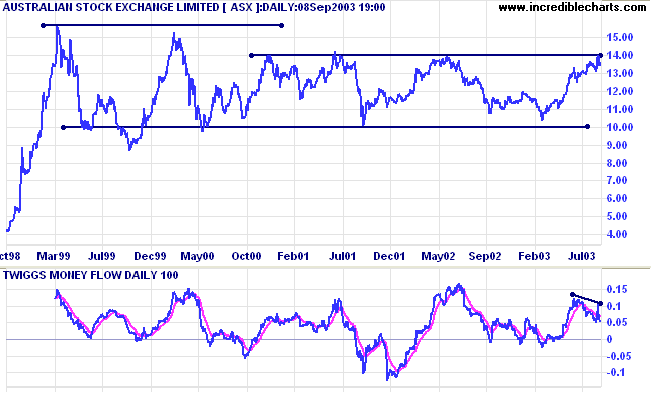 On the daily volume chart, exceptional volume at [2] emphasizes support at 13.00. Strong volume continued with a false break above 14.00 at [3] and another at [4]. We then have a large gap down (close down from 13.90 to 13.46) on the day the stock goes ex-dividend (45.60 cents) with strong volume and a long tail signaling buying support.
Volume has faded on the rally to [6] and we are likely to see a re-test of support at 13.00. 
A close below 12.50 would be a strong bear signal. A close above 14.00 would be bullish.
Colin Twiggs
Be fearful when others are greedy
and greedy only when others are fearful.

~ Warren Buffet.
---
Removing Trendlines or Captions
 
To remove all trendlines or captions from a chart:
Right-click on the chart and select Delete this Chart's Trendlines or Delete this Charts Captions.
The command can be performed separately on indicator slots. 
---
---
Back Issues
Access the Trading Diary Archives.
---