---
---
Incredible Charts version 4.0.2.400
(a minor revision) is now available
Check Help >> About to ensure that your version has automatically updated.
(1) The new version remembers the last active watchlist that you used, on opening; and
(2) It fixes a watchlist scrolling problem reported by some users.


See What's New for details.
---
Trading Diary
August 29, 2003
These extracts from my daily trading diary are
for educational purposes
and should not be interpreted as investment advice. Full terms and conditions can be found at Terms of Use

.
The Dow gained 0.4% to close at 9416 on Friday. Continued low volume signals weakness.
The intermediate trend is up.
The primary trend is up.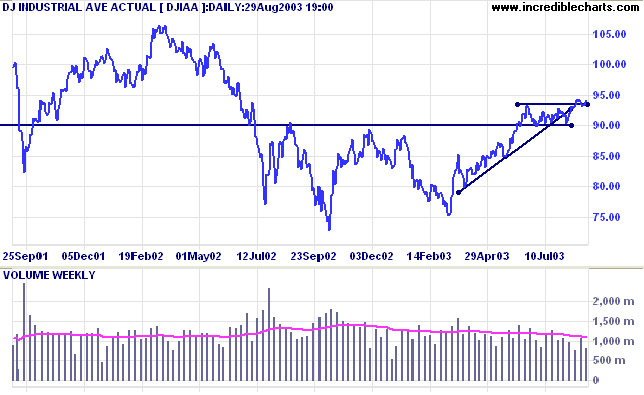 The Nasdaq Composite is up 45 points on last week, at 1810. Continued low volume signals weakness.
The intermediate trend is up.
The primary trend is up.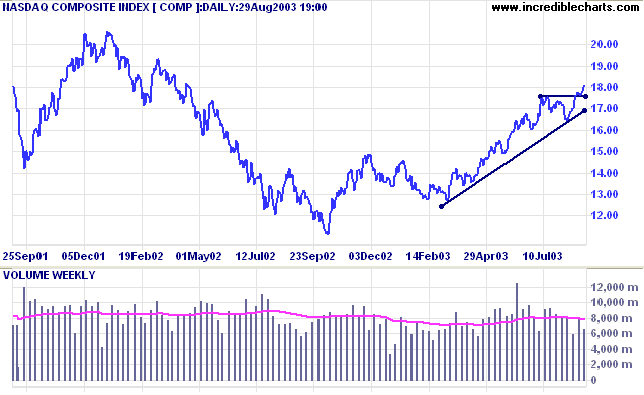 The S&P 500 closed 15 points up on last week, at 1008. Lower volume signals continued weakness.
The intermediate trend is down. A rise above 1011 will signal a reversal.
The primary trend is up.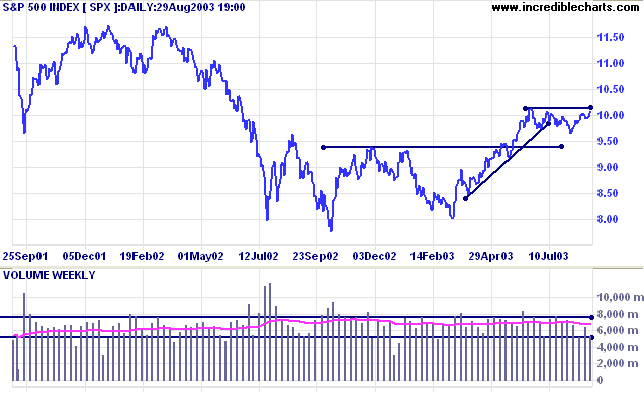 Market Strategy
Short-term: Long if the S&P500 is above 1012. Short if below 1000.
Intermediate: Long if S&P 500 is above 1015. Short if below 960.
Long-term: Long if the index is above 960.
Job market slows recovery
The economy has shed 2.7 million jobs since March 2001, slowing wage gains for the employed as well . (more)
Treasury yields
The yield on 10-year treasury notes is almost unchanged from last week at 4.45%.
The intermediate and primary trends are both up.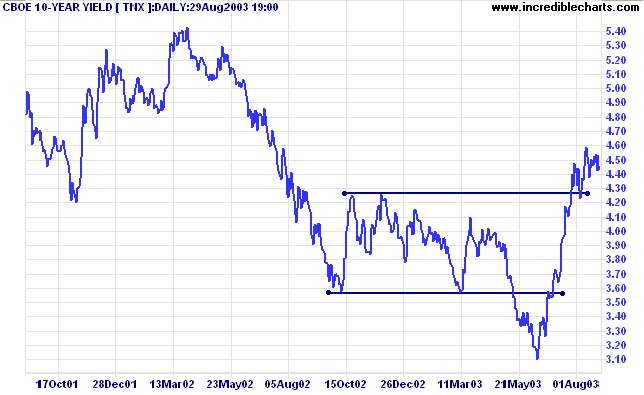 Gold
New York (13.30): Spot gold rose sharply, to end the week more than 12 dollars higher at $375.30.
The primary trend is up.
Price has broken above a symmetrical triangle formed since the start of the year (a slight change since the ascending triangle identified earlier this week). If gold rises above overhead resistance at 382, the target is resistance at the 10-year high of 420. The calculated target is 426 (365 + 382 - 321).
The All Ordinaries gained 6 points to close at 3203. The very heavy volume and weak close may forewarn of a correction: low volume (as in the US markets) signals a lack of buying support, but very high volume signals that buyers may exhaust their momentum.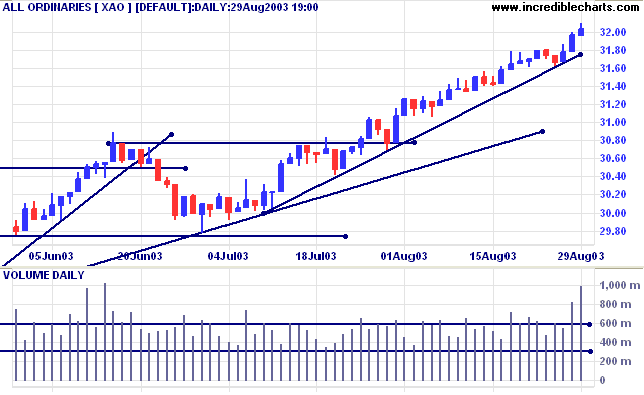 The weekly chart shows healthy intermediate and primary up-trends. 

MACD (26,12,9) whipsawed above its signal line; Slow Stochastic (20,3,3) is above; 
Twiggs Money Flow signals strong accumulation, but stay on the alert for a bearish divergence.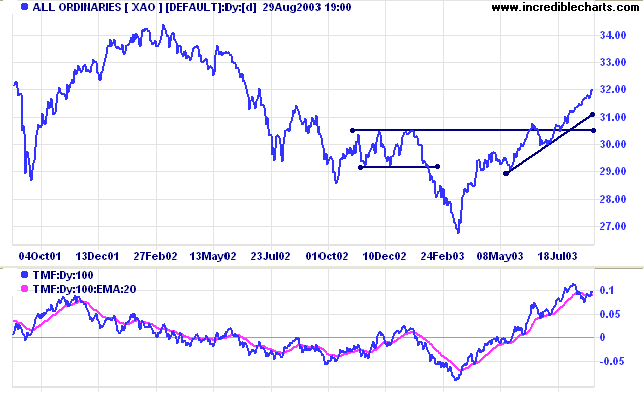 Market Strategy
Short-term: Long if the All Ords is above 3197. Short if the intermediate trend reverses.
Intermediate: Long if the index is above 3160.
Long-term: Long if the index is above 2978 .
Sector Analysis
Changes are highlighted in bold.
Energy [XEJ] - stage 2 (RS is rising).

Materials [XMJ] - stage 2 (RS is rising)

Industrials [XNJ] - stage 1 (RS is level)

Consumer Discretionary [XDJ] - stage 2 (RS is rising)

Consumer Staples [XSJ] - stage 1 (RS is falling)

Health Care [XHJ] - stage 2 (RS is rising)

Property Trusts [XPJ] - stage 2 (RS is falling)

Financial excl. Property Trusts [XXJ] - stage 2 (RS is falling). 

Information Technology [XIJ] - stage 2 (RS is rising)

Telecom Services [XTJ] - stage 2 (RS is rising).

Utilities [XUJ] - stage 2 (RS is falling)
Sectors: Relative Strength
A stock screen of the ASX 200 using % Price Move (1 month: +5%) declined to 71 stocks (compared to 131 on April 11, 2003; and 8 on March 14, 2003).

Diversified Commercial (5)

Diversified Metals & Mining (4)

Diversified Financial (4)

Gold (3)

Health Care Facilities (3)

Banks (3)

Construction & Engineering (3)
Daily Trading Diary
Stocks analyzed during the week were:
BHP Billiton - BHP

Centennial - CEY

Iluka - ILU

Jubilee- JBM

Portman - PMM

Rio Tinto - RIO

Sims Metal - SMS

Brambles - BIL

Collection House - CLH

Coates - COA

Spotless - SPT

Tempo - TEM

Transfield TSE

Croesus - CRS

Kingsgate - KCN

Lihir - LHG

Newcrest - NCM

Oxiana - OXR

Sons of Gwalia - SGW
Colin Twiggs
One structural property common to all more highly integrated systems is that of regulation by so-called feedback cycles or homeostases. In order to understand their action we must imagine a working structure consisting of a number of systems supporting each other functionally in such a way that system A sustains the action of B, B that of C, and so on, until finally Z supports the function of A. Such a cycle of 'positive feedback' is, at best in a state of unstable equilibrium; the smallest increase of a single action will lead to snowballing of all the system functions, and, conversely, the slightest decrease to the ebbing of all activity. As technology has long known, such an unstable system can be converted to a stable one by introducing into the cycle a single link whose action on the subsequent one in the chain of effects decreases in proportion to the increase in strength exerted by the link preceding it. Thus a regulating cycle is set up, a homeostasis or 'negative feedback'.....................In nature, there are countless regulating cycles. They are so indispensable for the preservation of life that we can scarcely imagine its origin without the simultaneous invention of the regulating cycle. Cycles of positive feedback are hardly ever found in nature, or, at most, in a rapidly waxing and just as rapidly waning process such as an avalanche or a prairie fire (Colin: or a blow-off spike). These phenomena resemble various pathological disorders of human society.

~ Konrad Lorenz: Civilized Man's Eight Deadly Sins (1973)
(Colin: chart patterns apply not only to financial markets).
---
Includes the Daily Trading Diary and Incredible Charts Premium version with hourly updates.
---
---
Back Issues
Access the Trading Diary Archives.
---