---
---
Chart Forum: Saving Images
Select File >> Save Chart As Image.
We recommend that you save the chart size as 651 x 395 pixels
Select a folder to save the chart image.
Save the chart as a PNG file.
Complete your post on the Chart Forum, leave a space below the last line and then select the Upload Attachment button:
Insert a short name for the chart (Eg. "BHP")
Use the Browse button to locate the chart file (Eg. "bhp_ax09Apr02_to_13Feb03.PNG")
Click the Upload button to upload the image
Select Preview/Post Message.

---
Trading Diary
July 31, 2003
These extracts from my daily trading diary are intended to illustrate the techniques used in short-term trading and should not be interpreted as investment advice. Full terms and conditions can be found at Terms of Use

.
USA
The Dow rallied strongly in early trading before retreating to a weak close at 9234 on higher volume.
The intermediate trend is up. A decline below 9000 will signal a down-turn.
The primary trend is up.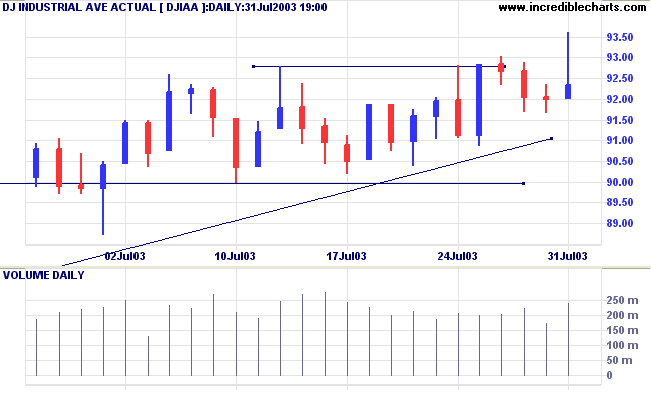 The S&P 500 encountered selling pressure in late trading, after an earlier rally, closing 3 points higher at 990 on strong volume.
The intermediate trend is up. A fall below 976 will signal a down-turn.
The primary trend is up.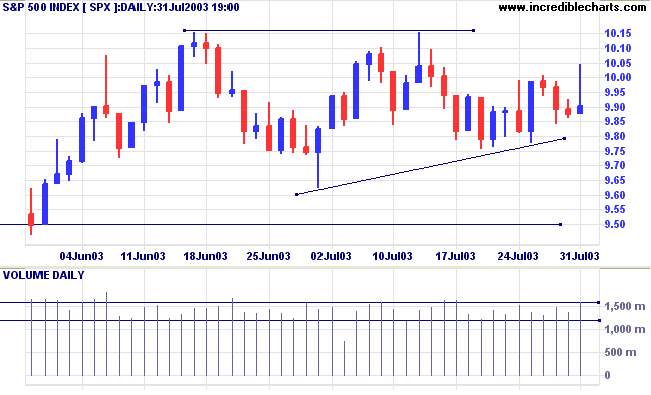 The Nasdaq Composite also retreated in late trading to close at 1735 on higher volume.
The intermediate trend is up.
The primary trend is up.
Short-term:

Long

if the S&P 500 is above 1000. Short if the index falls below 976.
Intermediate:

Long

if the S&P is above 1015. Short if below 962.
Long-term:

Long

if above 962.
GDP growth
GDP growth almost doubled to 2.4% in the second quarter.
(more)
Treasury yields
CBOE: The yield on 10-year notes is in a fast up-trend, closing at 4.47%.
The intermediate trend is up; the primary trend is up.
Gold
New York (21.00): Spot gold eased further, to $US 354.60.
On the five-year chart, gold is above the long-term upward trendline.
The All Ordinaries shows trend strength, recovering 2 days of retracement in a single day rally. The index closed 30 points higher on strong volume.
The intermediate trend is up.
The primary trend is up.

MACD (26,12,9) is above its signal line; Slow Stochastic (20,3,3) is below; Twiggs Money Flow (21) signals accumulation.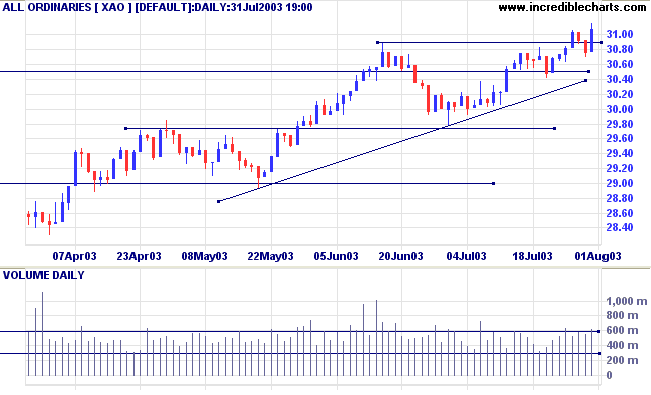 Short-term: Long if the All Ords is above 3093. Short if below 2978.
Intermediate: The primary trend is up; Long if the All Ords is above 3093. Short if below 2978.
Long-term: Long if the index is above 2978.
Taking profits
It pays to set a definite target, when you enter a long or short position, at which you plan to exit from a trade. This does not mean that you should sell at a set price; you would be disappointed if the stock kept on rising (or falling) after you have exited. Rather adjust your stops to take you out of the trend at the first sign of a reversal:
Jubilee Mines [JBM]
JBM broke above a long-term ascending triangle in February 2003. Relative Strength (price ratio: xao) has also made new highs. 
The target for the breakout is 2.60, calculated from the base at 1.00 to the high of roughly 1.80. Price has rallied strongly through 2.60 and risks forming a spike (or "blow-off").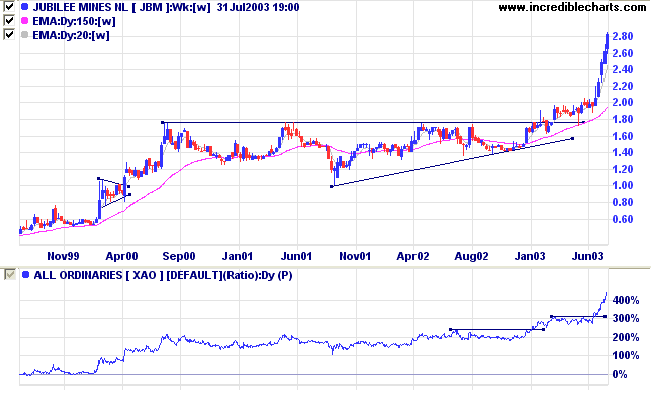 MACD completed another bullish trough above zero, While Twiggs Money Flow (21) signals accumulation.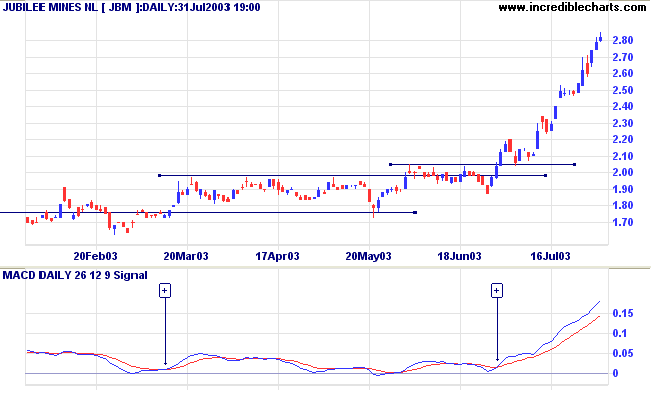 On the daily volume chart there was a break above resistance at [1] but lower volume warned of possible weakness. Price then ranged sideways before a bear trap at [2] on low volume; followed by a rally above resistance, with strong volume. The pull backs at [4] and [5] were of short duration and on low volume, presenting further entry opportunities. The next correction at [6] again showed low volume, signaling trend strength. The correction at [8] was very short and on higher volume; the trend may be "overheating". Volume has dried up on the next rally; a bearish sign.
It is advisable to introduce tighter stops for at least half your position: below the most recent downswing at [8] and adjust up with each short-term correction. Introduce trailing % stops if price starts to form a spike: gapping upwards and making wide ranging days.
Caltex [CTX]
Caltex has rallied strongly off the primary trendline, reaching resistance at 3.30. Twiggs Money Flow (100) and Relative Strength (price ratio: xao) are rising strongly.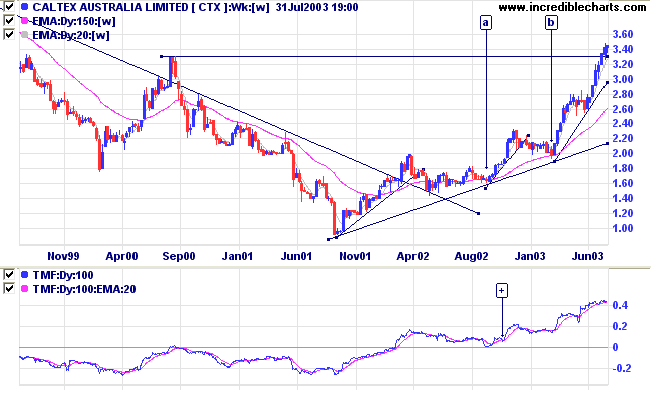 MACD is close to a crossover after a bullish trough above zero at [+].

Price has reached the initial target and tighter stops should be introduced (for at least half of your position). The latest stop should be placed below the low of [1].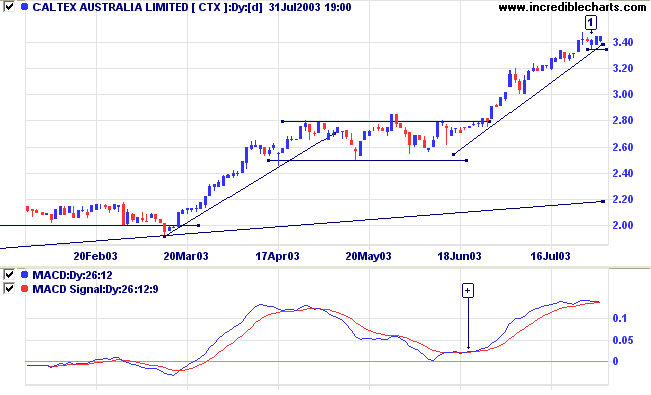 Rules Conditional # 1

It is better to "average up" than "average down"................

But "buying up" is the reverse of the method just explained;
 that is to say, buying at first moderately and as the market advances adding slowly and cautiously to the "line".
This is a way of speculating that requires great care and watchfulness,
for the market will often (probably four times out of five) react to the point of "average".
Here lies the danger. Failure to close out at the point of average destroys the safety of the whole operation.
Occasionally (probably four* times out of five) a permanently advancing market is met with and a big profit secured.
In such an operation the original risk is small, the danger at no time great, and when successful the profit is large.
This method should only be employed when an important advance or decline is expected,
and with a moderate capital can be undertaken with comparative safety.

~ S.A. Nelson: The ABC of Stock Speculation (1903)
* I believe that this is a typographical error and should read "one time out of five".
---
Stock Screens: Ranging Stocks
Directional movement can also be used to identify stocks that are in a valid up- or down-trend. To select stocks in an up-trend:

(1) Select ASX 200 from Indices and Watchlists and 200 as the Maximum Return;
(2) Open Directional Movement;
(3) Select ADX Value Filter: ADX (14) maximum of 20;
(4) Submit.

This will return stocks in an intermediate or long-term trading range.
---
---
Back Issues
Access the Trading Diary Archives.
---