---
---
WineOrb, Australia's premium fine wine broker, are offering a free Masterclass for you and your partner, to show you what to look for when making an investment in wine. Complete the form on our site and tell us in less than 25 words why you would like to attend. The best entries will be invited to join us at the Masterclass on the 16th May 2003.
Click here to enter.
---
Trading Diary
April 8, 2003
These extracts from my daily trading diary are intended to illustrate the techniques used in short-term trading and should not be interpreted as investment advice. Full terms and conditions can be found at Terms of Use

.
The Dow moved sideways, closing almost unchanged at 8298. The narrow range and lower volume signal uncertainty.
Monday 17th's
follow through
signal remains valid (as long as the index holds above 7763). 
The intermediate cycle is down; a rise above 8552 will signal a reversal; a fall below 7903 will signal continuation.
The primary trend is down.
The Nasdaq Composite closed 0.5% lower at 1382.
The intermediate trend is down; a rise above 1430 will signal a reversal.
The primary trend is up.
The S&P 500 closed 1 point lower at 878.
The intermediate trend is down, until the index breaks above 895.
The primary trend is down.
The
Chartcraft NYSE Bullish % Indicator
increased to 46% (April 7), after a
Bull Correction
buy signal. 
Iraq and the economy
The market is weighed down by increased civilian casualties, including several journalists, and poor economic news on the home front.
(more)
Gold
New York (17.50): Spot gold is level at $US 323.00.
ASX Australia
The All Ordinaries retreated to 2920, but rallied to close at 2941 on strong volume, signaling continuation.
The intermediate up-trend continues. 
The primary trend is down.

MACD (26,12,9) is above its signal line; Slow Stochastic (20,3,3) is above; Twiggs Money Flow (21) signals accumulation.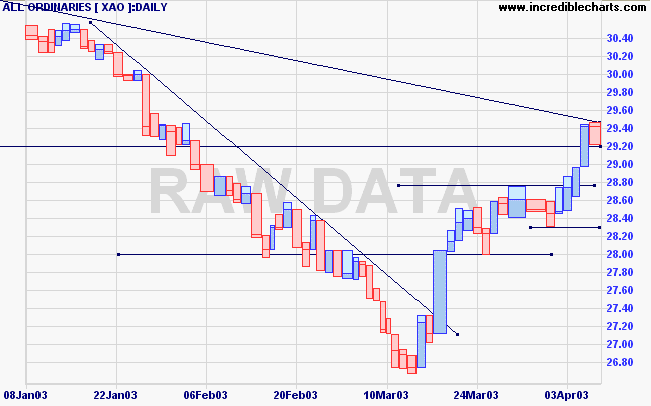 Strategy
Short-term: Long if the index rises above 2947 (keep stops tight in case of a false break); short if the index falls below 2830.
Intermediate: Long if XAO is above 3062; short if the index is below 2666.
Long-term: There are already two bull signals: the March 18
follow through
and April 3
Bullish % signal
. Wait for confirmation from the intermediate signal.
Bank of Queensland [BOQ]
Last covered on
March 25, 2003
.
BOQ established a new high on Monday, reaching 8.15 before retreating sharply on strong volume. Tuesday opened at 8.00 but closed at 7.99, again on strong volume. Twiggs Money Flow is cause for concern, showing a strong bearish divergence.
Relative Strength (price ratio: xao) is rising and MACD is positive.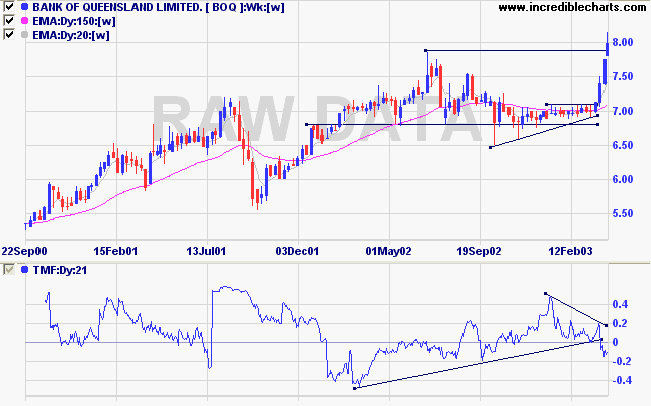 The daily equivolume chart offers some reassurance: the two consolidations in the latest up-trend, at [1] and [2], show big volume but very little retreat in price; a bullish sign. But the breakout at [3] has a very weak close and [4] failed to make further progress, despite strong volume. The behavior reflects significant profit-taking and it would be prudent to wait for a pull-back (or consolidation) before taking further long entries.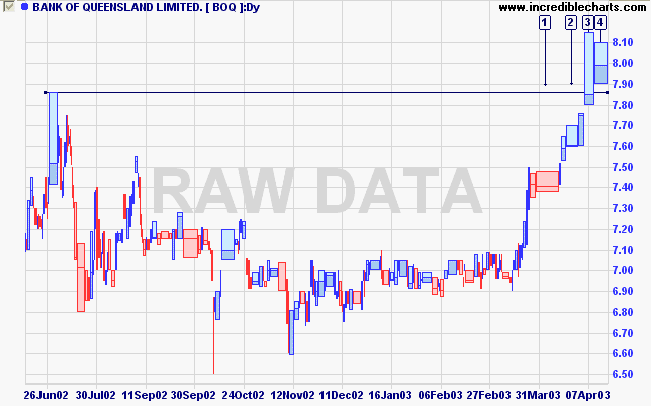 Colin Twiggs
Do not be desirous of having things done quickly.
Do not look at small advantages.
Desire to have things done quickly prevents their being done thoroughly.
Looking at small advantages prevents great affairs from being accomplished.

- The Analects of Confucius.
---
Back Issues
Access the Trading Diary Archives.
---