---
---
Delayed Diary

The Bigpond cable connection was down for more than 6 hours this morning.

---
Trading Diary
April 2, 2003
These extracts from my daily trading diary are intended to illustrate the techniques used in short-term trading and should not be interpreted as investment advice. Full terms and conditions can be found at Terms of Use

.
The Dow put in a strong rally, rising 2.7% to close at 8285 on higher volume.
Monday 17th's
follow through
signal remains valid (so long as the index holds above 7763). 
The intermediate cycle is down; a rise above 8552 will signal a reversal.
The primary trend is down.
The Nasdaq Composite gapped strongly upwards, closing 48 points higher at 1396.
The intermediate trend is down; a rise above 1425 will signal a reversal.
The primary trend is up.
The S&P 500 rallied 22 points to close at 880.
The intermediate trend is down, until the index breaks above 895.
The primary trend is down.
The
Chartcraft NYSE Bullish % Indicator
is at 38% (April 2). 
The method of calculation has changed slightly.
Tech Stocks 
Hopes for a quick end to the war boosts technology stocks, with Microsoft up more than 5%.
(more)
Gold
New York (22.06): Spot gold fell sharply to $US 327.60.
ASX Australia
The All Ordinaries made a second test of resistance at 2785, but gave back most of its gains to close 3 points up at 2847 on lower volume. Expect a strong showing today following the gains in the US markets.
The intermediate up-trend has lost momentum; the long upper and lower shadows signal uncertainty. 
The primary trend is down.

MACD (26,12,9) is above its signal line; Slow Stochastic (20,3,3) is below; Twiggs Money Flow (21) signals distribution.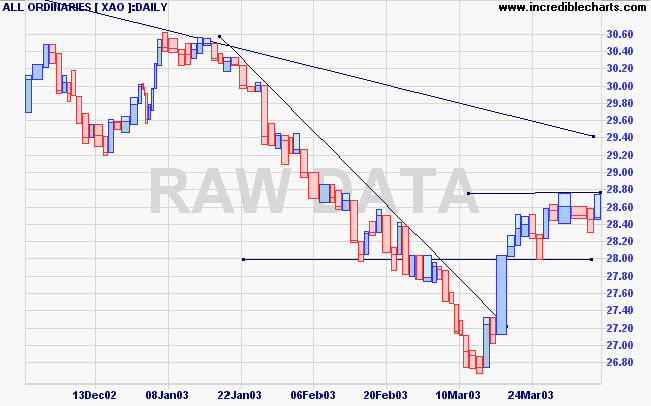 News Corporation [NCP]
Last covered on
March 24, 2003
.
NCP broke above the long-term downward trendline before forming a double top at [3] and [4]. The latest trough has respected the broken trendline.
100-day Twiggs Money Flow still shows distribution; a rise above zero would be a bull signal.
Relative Strength (price ratio: xao) is level; while MACD and Twiggs Money Flow (21) are neutral.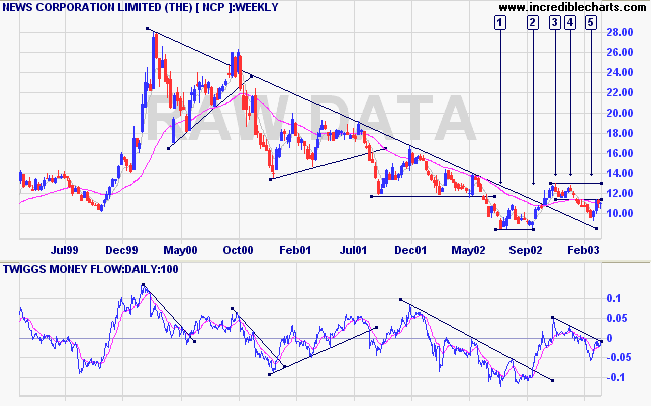 The daily equivolume chart shows NCP has rallied to test resistance at 11.50. The pull-back is well above the previous low of [5].

A break above 11.50 on strong volume will be bullish for short-term traders. A break above the high of 13.00 would be a strong long-term signal.
A break below 10.45 would be bearish.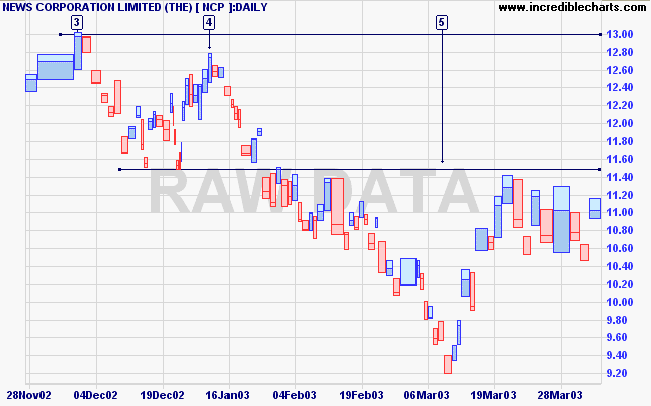 Short-term: Long if the All Ords breaks above 2875; short if the break is below 2800.
Medium-term: Avoid new entries.
Colin Twiggs
If a man is offered a fact which goes against his instincts, he will scrutinize it closely,
 and unless the evidence is overwhelming, he will refuse to believe it.
 If, on the other hand, he is offered something which affords a reason for acting in accordance to his instincts,
he will accept it even on the slightest evidence.

- Bertrand Russell.
---
Back Issues
Access the Trading Diary Archives.
---