---
---
Sector Analysis
Explains how to use the [Sectors ASX 200] project file
and how to set up Sector Comparison charts.
---
Trading Diary
March 24, 2003
These extracts from my daily trading diary are intended to illustrate the techniques used in short-term trading and should not be interpreted as investment advice. Full terms and conditions can be found at Terms of Use

.
Coalition forces meet stiff resistance from the Iraqis, causing a 3.6% fall in the Dow. The index closed at 8214 on lower volume. The
follow through
signal remains valid as long as the index holds above 7763. 
The intermediate cycle is down, although the trendline has been broken.
The primary trend is down.
The Nasdaq Composite gapped downwards to close at 1369.
The intermediate trend is down, despite the large correction.
The primary trend is up.
The S&P 500 plummeted to 864, down 31 points.
The intermediate trend is down, but the trendline has been broken.
The primary trend is down.
The
Chartcraft NYSE Bullish % Indicator
remains at 36% (March 21).
Bonds rise as the dollar falls
The yield on 10-year treasury notes fell to 3.97% from 4.10% on Friday. The US dollar fell to $1.0638 per euro.  (more)





Gold
New York (17.25): Spot gold is up 370 cents at $US 329.20.






ASX Australia

The All Ordinaries failed to make progress above the 2850 resistance level, closing 10 points down at 2829 on lower volume.
The intermediate trend is down, despite the break above the trendline.
The primary trend is down.

MACD (26,12,9) is above its signal line; Slow Stochastic (20,3,3) is above; Twiggs Money Flow (21) signals distribution.




News Corporation [NCP]
Last covered on
February 24, 2003
.
After a long stage 4 down-trend NCP formed a narrow double bottom at [4] and [5] before breaking the downward trendline at [W]. The breakout weakened after equal highs at [6] and [7],  retreating to test support at [13].
100-day Twiggs Money Flow has formed a higher trough but is still below zero.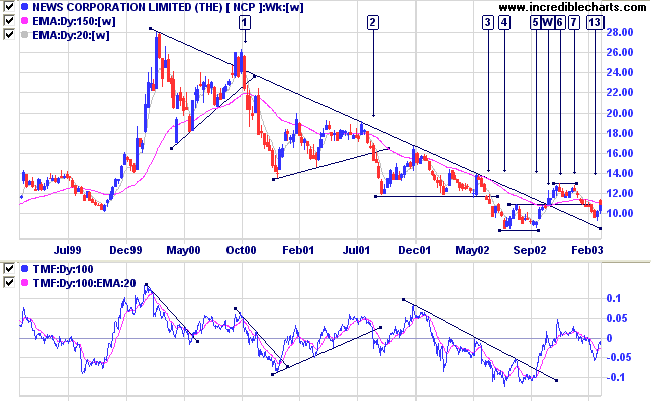 The daily chart shows that the latest rally met resistance at 11.50; the intervening low between [6] and [7].

MACD has just crossed into positive territory while 21-day Twiggs Money Flow is still negative.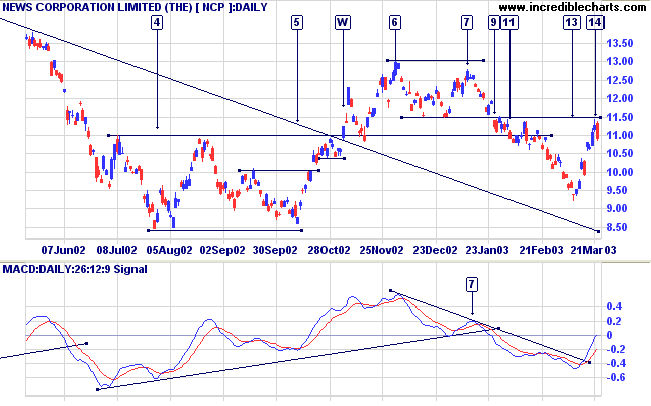 Strong volume on the latest pull-back, after testing resistance at [14], signals further weakness and increases the likelihood of a re-test of support levels.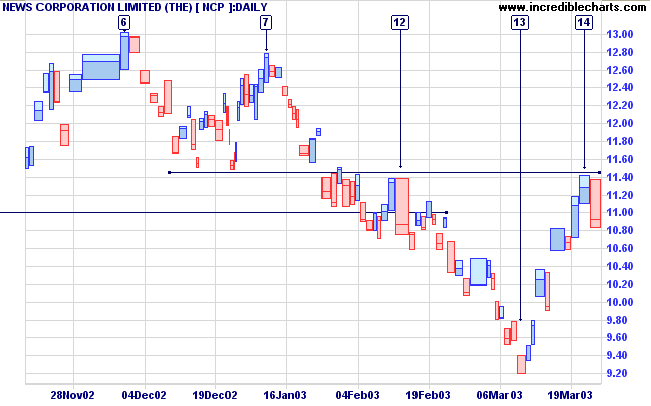 The most important signs are on the weekly chart. NCP has broken above the long-term trendline and the next trough has respected that trendline. The stock is building a broad base between 8.50 and 13.00. A break above resistance at 13.00 will be a long-term bull signal.
Short-term: Long if the All Ords rises above 2850. Slow Stochastic and MACD are above their respective signal lines.
Medium-term: Avoid new entries.
Colin Twiggs
Alice: Which road do I take?
Cheshire Cat: Where do you want to go?
Alice: I don't know.
Cheshire Cat: Then... it doesn't matter.

- Lewis Carroll: Alice in Wonderland.
---
Back Issues
Access the Trading Diary Archives.
---