---
---
Sector Analysis
Explains how to use the [Sectors ASX 200] project file
and how to set up Sector Comparison charts.
---
Trading Diary
March 18, 2003
These extracts from my daily trading diary are intended to illustrate the techniques used in short-term trading and should not be interpreted as investment advice. Full terms and conditions can be found at Terms of Use

.
The Dow gained 0.6% to close at 8194 on lower volume. Monday's
follow-through
day is a reversal signal used by William O'Neil to pick market bottoms.
The intermediate cycle is down; until a higher low is formed, followed by a new high.
The primary trend is down.
The Nasdaq Composite rose 8 points to close at 1400.
The large correction does not alter the intermediate trend, which is still down.
The primary trend is up; a fall below 1108 will signal a reversal.
The S&P 500 closed up 4 points at 866.
The intermediate trend is down.
The primary trend is down; the next support level is at 768.
The
Chartcraft NYSE Bullish % Indicator
is still at 36% (March 17).
Fed leaves rates untouched
The Federal Reserve decides to leave rates unchanged at 1.25%, expressing uncertainty about the effect of the war. Their undertaking to "closely monitor" the economy increases the likelihood of an adjustment before the next policy meeting.
(more)
Gold
New York (16.50): Spot gold is up 200 cents at $US 338.50.
ASX Australia
The All Ordinaries jumped 3.4% to close at 2804 on strong volume. The intermediate and primary trends are down.

MACD (26,12,9) has crossed to above its signal line; Slow Stochastic (20,3,3) is above; Twiggs Money Flow (21) is rising.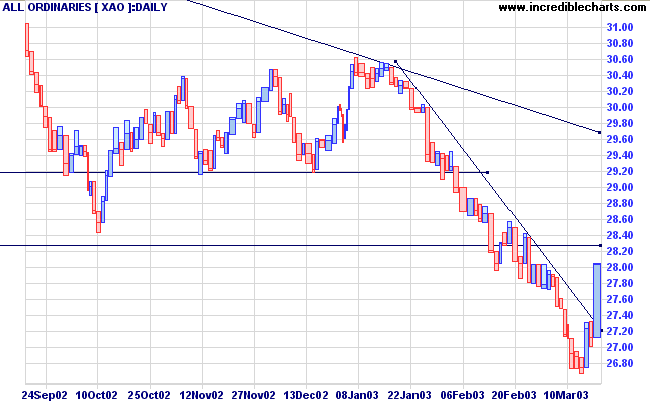 The weekly chart depicts the larger picture: at this stage the rally is merely a correction back to the downward trendline.
Twiggs Money Flow (100) shows a break of the intermediate trendline.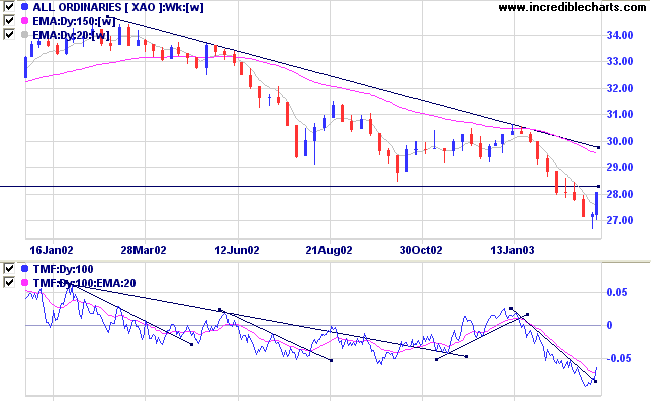 St George Bank [SGB]

Last covered on
October 14, 2002
.
SGB started a stage 3 top in 2002, in the form of a triangle. The stock has twice tested the long-term trendline and retreated into positive territory, before the latest upward breakout from the triangle.
Relative Strength (price ratio: xao) is rising; MACD is positive, threatening to break above the downward trendline; and Twiggs Money Flow displays a bullish trough above zero. 
Price gapped above the upper limit of the triangle; a bullish signal. The breakout is not accompanied by a strong surge in volume, placing some doubt over its' strength. It would be prudent to wait until the pull-back, to see if this respects the supporting trendline, before taking long entries.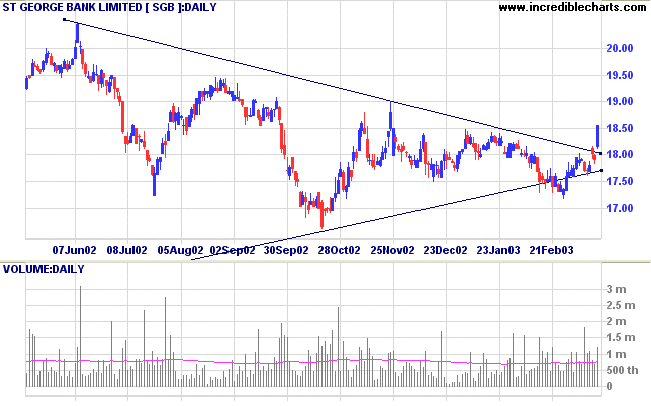 Stock Screens: Volatility (Schwager) and Volume Spike
Coles Myer and NCP showed high volatility and volume. CML tests its' long-term downward trendline.
Stock Screens: MA Crossovers (100,5)
Bullish crossovers in the ASX 200 included three banks: WBC, BOQ and SGB.
Short-term: Long. Slow Stochastic and MACD are above their respective signal lines.
Medium-term: Avoid new entries.
Colin Twiggs
All that is necessary for the triumph of evil
is that good men do nothing.

- attributed to Edmund Burke, 18th century British statesman.
---
Back Issues
Access the Trading Diary Archives.
---