---
---
Market Statistics

The new Premium data will include market statistics:
New Highs/Lows, Advances/Declines and Advance/Decline Volume.

---
Trading Diary
March 13, 2003
These extracts from my daily trading diary are intended to illustrate the techniques used in short-term trading and should not be interpreted as investment advice. Full terms and conditions can be found at Terms of Use

.
The market showed relief at the expected delay of war in Iraq, with the Dow rallying 3.6% to close at 7821. This is just a counter-trend at this stage, albeit on very strong volume. The intermediate cycle is down; the next support level is at 7500.
The primary trend is down.
The Nasdaq Composite gapped up 4.8% to close at 1340.
The intermediate trend is down, with the next support level at 1200.
The primary trend is up; a fall below 1108 will signal a reversal.
The S&P 500 was up 27 points at 831.
The intermediate trend is down.
The primary trend is down; the next support level is at 768.
The
Chartcraft NYSE Bullish % Indicator
fell to 36% (March 12).
Iraq
The UN Security Council vote is postponed until next week.
The US government depicts Saddam Hussein's regime as fragile, disclosing that some elements of the Iraqi military are "secretly" negotiating surrender terms.
(more)
Tech stocks rally
Bargain-hunters focused on tech stocks, with Microsoft, IBM and Dell showing strong gains.
(more)
Retail sales slide
February retail sales fell 1.6%, the biggest drop in non-auto sales since September 2001.
(more)
Gold
New York (16.16): Spot gold dropped more than 12 dollars to $US 334.00.
ASX Australia
The All Ordinaries closed 14 points lower at 2673. The continued weak closes and higher volume, together with the rally in the US, mean that a consolidation is likely. The next support level is just below 2400.
MACD (26,12,9) is below its signal line; Slow Stochastic (20,3,3) is above; Twiggs Money Flow signals distribution.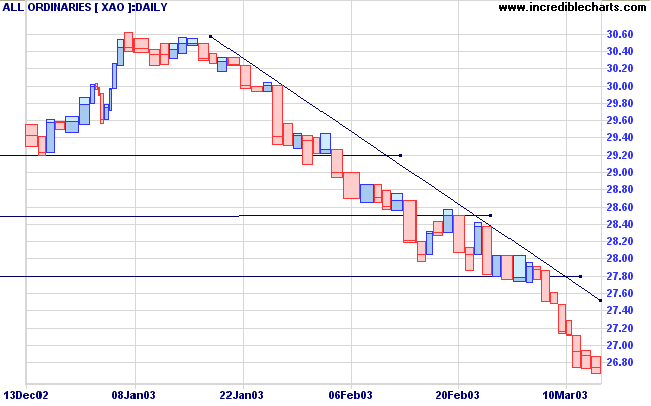 Bristile [BRS]
Construction Materials sector is still relatively strong, with only ABC showing recent weakness. BRS, on the other hand, has broken above a large symmetrical triangle and is making new highs.

On the weekly chart we can see that BRS respected the support level, from an earlier breakout, at [B] and [C]. The stock then entered a stage 2 up-trend before a large consolidation, starting at [F], in the form of a symmetrical triangle. Bear in mind that, in a bull market, more than 50% of consolidations do not resolve as stage 3 tops but as continuation patterns in an up-trend. The percentage is obviously lower in a bear market. We can study the consolidation pattern for clues as to whether this is a top:

Volume tends to be heavier on tops than on continuations;

Volume dries up during a continuation pattern, not during a top;

A continuation pattern is likely to slope downward, regaining energy;

Tops continually attempt to overcome a strong resistance level, expending energy.
Relative Strength (price ratio: xao) is rising and MACD shows a strong bull signal, with troughs above zero.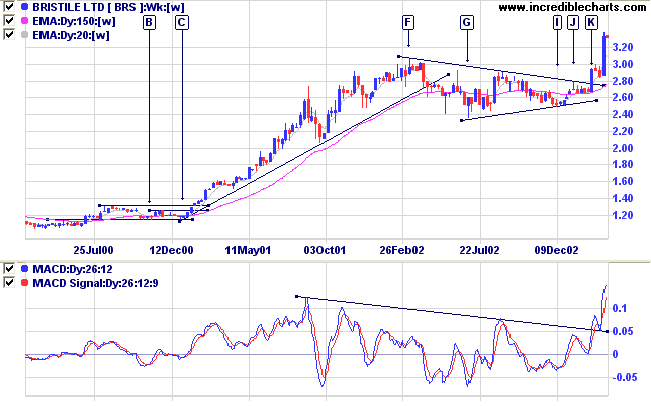 The daily chart shows that [F] was a false breakout above the 3.00 resistance level. The triangle then formed before a bullish sign after [J], with congestion forming near the upper border of the triangle. The breakout at [K] was followed by a strong bullish signal, with a short pull-back respecting the previous high at [J].

Twiggs Money Flow has not yet given a clear bull signal, retreating back towards the zero line.
The equivolume chart shows a power box at [L], breaking above the 3.00 resistance level. Subsequent over-square days signal resistance at 3.30 to 3.40 and we can expect another test of support levels. If price holds above 3.00 this will confirm that the up-trend is strong.

A break above resistance will be a bull signal ( a break below 3.00 would be bearish).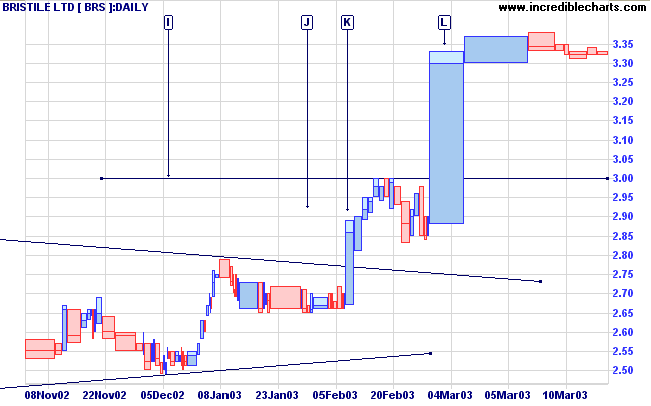 Short-term: Avoid new entries. Slow Stochastic and MACD are on opposite sides of their respective signal lines.
Medium-term: Avoid new entries.
Colin Twiggs
Our doubts are traitors,
and make us lose the good we oft might win,
by fearing to attempt.

- William Shakespeare: Measure for Measure
---
Back Issues
Access the Trading Diary Archives.
---